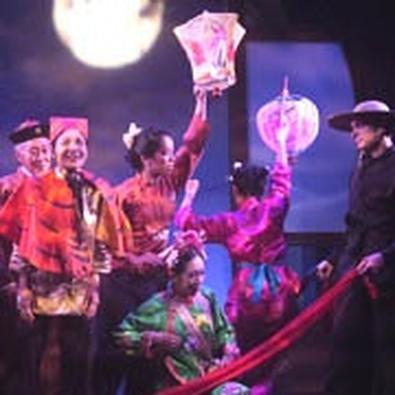 The Joy Luck Club, with its panorama of the lives of four immigrant Chinese women and their American-born daughters, is lovingly rendered in this revival by Pan Asian Repertory Theatre. The property has certainly been around the block, but the production's palpable affection for the characters and their stories overcomes any feeling of déjà vu as well as the script's meandering nature. The project seems to exude the sense of a welcome visit with old friends.
Susan Kim's play is based on Amy Tan's best-selling 1989 novel, which became a movie in 1993. The play was first produced in Shanghai and Hong Kong in 1993 and then at Connecticut's Long Wharf Theater in 1997. .Pan Asian Rep presented the New York premiere in 1999, directed by Tisa Chang, who also helms this revival.
In 18 scenes plus epilogue, the script bulges with flashbacks and straight-to-the-audience narration as it dramatizes key events from the mothers' lives in feudal China, interspersing these with dramatic scenes set in 1980s San Francisco. The title refers to the regular mah-jongg games of the four mothers, who function as "aunties" for each other's daughters. As the daughters learn of their mothers' histories, they are able to solidify their own identities as Chinese-Americans and come to terms with their heritage.
Among the big plusses are vivacious performances by Dian Kobayashi, Wai Ching Ho, Virginia Wing, and Lydia Gaston as the mothers. As the daughters, Han Nah Kim, Rosanne Ma, Sacha Iskra, and Tina Chilip offer appealing characterizations, while others in the 15-person cast convincingly take on multiple roles. Carol Pelletier's costumes lend the proceedings a colorful aura, particularly in a Moon Festival celebration ending the first act.
Despite the uncertain narrative thrust and some sentimentality, the show's message that daughters have something to learn from their mothers is heartfelt and continues to provide genuine catnip for moms of all ethnicities and their female progeny.
Presented by Pan Asian Repertory Theatre at the Julia Miles Theater, 424 W. 55th St., NYC. Nov. 7-Dec. 1. Tue.-Sat., 7:30 p.m.; Sun., 3 p.m. (No performance Thu., Nov. 22; additional performance Sat., Nov. 24, 3 p.m.) (212) 239-6200 or (800) 432-7250 or www.telecharge.com.