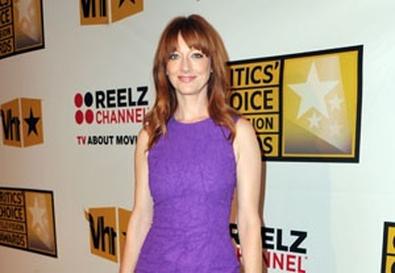 Judy Greer
is living proof of the adage that there is no such thing as a small part. A renowned scene stealer in films such as "27 Dresses" and "13 Going on 30," Greer frequently makes the most out of roles that could fade into the background. In Alexander Payne's "The Descendants," she pulls off perhaps her most remarkable feat to date: creating a living, breathing woman of complex emotions in only three scenes.
Greer plays Julie Speer, a loving wife and mother who is unaware that her husband (Matthew Lillard) was having an affair with Elizabeth, the wife of land baron Matt King (George Clooney). In Julie's first two scenes, she knows nothing of the affair and exchanges pleasantries with Matt. Her final scene takes place in Elizabeth's hospital room, where Julie comes ostensibly to forgive her competition, only to break down in tears and tirades. It's a powerhouse performance, as heartbreaking as it is hilarious, and is earning Greer some of the best notices of her career.
She immediately credits the script, by Payne, Jim Rash, and Nat Faxon, for creating a fully realized character in a short time. "It was there on the page," she says. "Having played a lot of supporting characters, I would say it's the smallest but most well-rounded character I've ever played on a page. A lot of times you get a script like that and you worry, 'What am I going to do with this?' But it was all there."
Greer auditioned for the role, which she says is typical for her in film. "When it comes to movies and television, I feel like I have two completely separate careers," she reveals. "In movies, I feel like I fight tooth and nail for every part that I get, and when I get it I feel like I earned it and I'm so happy to do it. In television, just right this second, it's coming much easier for me." For "big auditions like this," Greer says, she turns to her good friend
Sean Gunn
, best known for his seven seasons as Kirk Gleason on "Gilmore Girls," whom she has known since they studied together at DePaul University's Theatre School. She auditioned only once for Payne—and landed the role. "To be honest, I didn't think I was ever going to get it, so I had no fear whatsoever," she recalls. "So I walked into the room with the attitude of just being available and ready to work in the moment. And I got the job."
Greer shot her first two scenes before heading to New Orleans to work on another film. "As I was leaving," she says, "I asked Alexander, 'How do you want me to prepare for the hospital scene?' He said, 'Don't do anything different; just do what you did in your audition.' And it made me feel so reassured; he's just so happy with his casting." The shooting of that scene stretched out over two days. "I remember being really bummed out because I didn't want to have to feel that way all night long; I just wanted to be done," Greer says. "But even though it was really hard to do, the entire experience was really fun."
She admits she was "overcome with nerves" working with Payne and was glad she had worked with Clooney in the 1999 film "Three Kings," in which they share a passionate—and funny—sex scene. But Payne quickly allayed her fears. "He has a very calm, intimate way of directing," she says. "Like Spike Jonze, who I worked with in 'Adaptation,' he stands next to the camera, so he's with you all the time."
Greer can next be seen in "Jeff, Who Lives at Home," from brothers Jay and Mark Duplass, playing the possibly adulterous wife of Ed Helms' character. She admits that after she worked with "the trifecta of Jennifers"—Garner, Lopez, and Aniston—she made a conscious effort to change up the type of roles she was playing. "It's been my bread and butter for so long, and I think some actors make a mistake by biting the hand that feeds you," she says. "But after that, I did say to my team of people, 'Maybe let's dig and find some tiny roles in independent movies that aren't the best friend—just for me, for fun, to do something different and challenging.' So I did 'Love and Other Drugs' and 'Henry's Crime' and 'Peep World,' and got 'The Descendants' and 'Jeff, Who Lives at Home.' I really haven't been doing too much sidekicky stuff lately. And I actually kind of miss it!"
Outtakes
Other films include "American Dreamz," "The Village," and the cult hit "The TV Set," in which she plays David Duchovny's publicist, who has never seen "Taxi Driver" (she calls it "The Taxi Driver")
TV credits include the series "Miss Guided," "Mad Love," and a recurring part on "Two and a Half Men"
Studied acting in L.A. with Jeffrey Tambor, who played her lover on "Arrested Development"