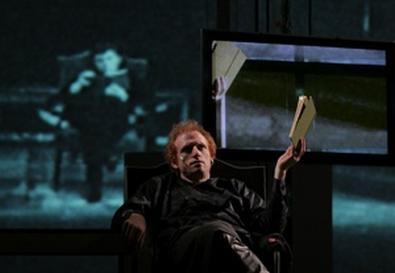 If you're ever curious to get inside the head of a theater performer, "
Process in Performance
" is a place to go. The monthly Monday night interview series, started by actor Nick Westrate, creates a dialogue between theater artists in order to deepen understanding of one another's work and shed light on the process.
The series, a part of the New York Theatre Workshop's Larson Lab, has featured the likes of Ellen Lauren ("Freshwater"), David Greenspan ("Go Back to Where You Are"), Elizabeth Marvel ("True Grit," "Burn After Reading") and a founding member of The Wooster Group, Kate Valk.
After graduating from Juilliard's drama program, Westrate joined NYTW, performing in last season's production of Lillian Hellman's "The Little Foxes," directed by Ivo van Hove. For Westrate, the non-traditional production and his interest in the type of work that "wasn't strained by realistic parameters" was the turning point that pushed him to create Process in Performance.
"Nick had made such a big discovery in working with Ivo, having come out of more traditional training with his Juilliard school," said Associate Artistic Director Linda Chapman. "He realized there were other ways than the typical Stanislavski-based traditions that most actors are taught. He wanted to interview other performers who had taken non-traditional paths in their careers in order to open up the conversation to other students who've come out the situations he knows, [such as] the NYU acting students, the Juilliard students."
The subjects for the series span generationsand methods. For Westrate, the most difficult part is sitting down with "people [who] are my idols and thinking of myself as someone worthy of sitting down in this conversation with someone like Kate Valk or Ruth Malaczech.
"They're my movie stars so I often get tongue-tied and nervous before starting, more nervous than I would be if I was performing," he said.
While the interview is important, it's the dialogue that emerges afterwards at Stillwater, a bar across the street that's the most rewarding.
"A big part of the series is that we all go out after every one of these [interviews] and drink across the street," said Westrate. "It's just as important as the interview itself. It's the time where everyone gets together and talks to each other about their reactions and feelings about what just happened and to create a real dialogue in the community and new allies. There's lots of new collaborations from people who have met in that room who've never knew each other before."
For Chapman and NYTW Artistic Director James Nicola, it was Westrate's contagious passion for thinking outside of himself as a performer and his goal of developing a safe space for dialogue among his fellow artists.
"That's part of Nick's brilliance at this -- he really puts [his subjects] at ease and coaxes out of them things I'd never heard before from them," says Nicola. "These are people whose careers I've followed for decades. I've heard them speak, read things they've said and written, but his particular talent of drawing them out has made for some pretty unforgettable nights."
The next installation of the series will take place on May 14 at the NYTW's rehearsal studio. Westrate will be interviewing Scott Shepherd, who plays Hamlet in The Wooster Group's presentation of the Shakespeare production. To RSVP email PinP@nytw.org.