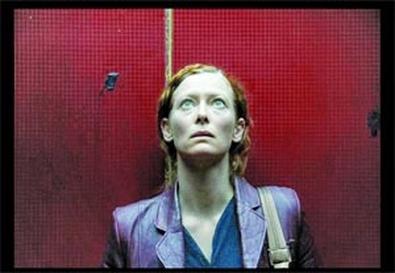 Looking like it was inspired in part by John Cassavetes' 1980 melodrama
Gloria
(and its unnecessary 1999 remake with Sharon Stone) comes this hyperintense variation in which Tilda Swinton plays a tough-talking dame on the run with a cute child. But unlike Gena Rowlands' Oscar-nominated turn as the ex–mob mistress who nabs the boy and flees the bad guys, this is not another shopworn remake or even an homage. Instead, director Erick Zonca (
The Dreamlife of Angels
) reinvents the relationship and ups the ante for Swinton's title character, who gets in way over her head in a kidnap-for-ransom scheme that takes her and her 9-year-old charge into extreme danger in some of Mexico's seediest crime-laden towns.
In this
Julia
(no relation to the 1977 Jane Fonda film), we meet a desperate alcoholic at wits' end who sees her life falling apart, particularly as she's tossed from a cab and left in the gutter. Julia drinks and lies and barely gets by. When she gets axed from her job, she finally heeds ex-boyfriend Mitch's (Saul Rubinek) advice to attend an AA meeting. There she meets the colorful Elena (Kate del Castillo), who convinces Julia to help kidnap Tom (Aidan Gould), the son Elena says she is not allowed to see. Julia goes along and finds herself caught up in a major crime that keeps careening further out of control, even as her demands for a $2 million ransom from the boy's wealthy grandfather are being met.
What starts out as a character study of a 40-something woman in a downward spiral makes a 180 degree turn into a vivid crime meller and film noir update as Julia invades the space of very frightening low-level hoods in Mexico who get wind of her windfall, grab the boy (believing he's her son), and insist she get the money and turn it over to them or the kid dies.
A movie built like this depends on its star being able to bring us along for the unlikely ride, and the incomparable Swinton, who continues to astound with every performance, does just that. Though it's almost impossible to like the character, Swinton imbues her with just enough recognizable humanity and vulnerability to keep this soufflé from falling. No question Zonca's tale is often difficult, notably in the high-pitched confrontations in Mexico, but Swinton makes it work. Although this is Swinton's show, Rubinek is wonderfully effective in his few scenes, as is del Castillo, who makes the rather pathetic Elena electric in her crucial turn in the film's first third. Gould is serviceable as young Tom, and Bruno Bichir is amusing, if not fully three-dimensional, as Diego, the main baddie.
Genre: Drama. Written by Aude Py and Erick Zonca. Directed by: Erick Zonca. Starring: Tilda Swinton, Saul Rubinek, Aidan Gould, Kate del Castillo, Bruno Bichir, Jude Ciccolella, Horacio Garcia Rojas.