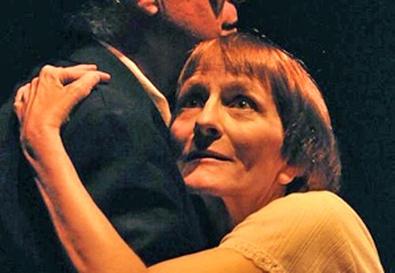 Vince Melocchi's new play, sensitively directed by Guillermo Cienfuegos, is eloquently understated and gracefully melancholic, subtly packing an emotional punch. Though the story encompasses the subject of Alzheimer's disease and the devastating effects it has on a victim's loved ones, Melocchi also explores themes of lost love and lifelong regrets. A pitch-perfect cast makes the most of the incisive dialogue in this telling and compassionate portrait of human strengths and foibles.
In the small town of McKeesport, Penn., in 2004, the eccentric, elderly Lou (Richard Fancy) enters a tacky coffee shop indifferently run by moody Steve (Keith Stevenson). When Steve's good-natured friend Frank (Haskell Vaughn Anderson III) converses with Lou, the frail codger confides that he is hoping to have a reunion with his teenage sweetheart, Julia, whom he hasn't seen in more than 50 years. Following a flashback scene to 1951, in which young Lou (Justin Preston) and young Julia (Karalynn Dunton) have an awkward rooftop encounter, the action shifts back to 2004. In a nursing home, Lou comes face to face with Julia (Roses Prichard), in an advanced state of dementia, not even recognizing her son Steve. The couple's long-delayed reunion leads to a poignant conclusion.
Melocchi's script offers a resonant depiction of small-town life, illuminating crushing disappointments experienced by ordinary people. The production boasts a remarkable sense of verisimilitude, thanks to the cast's superbly nuanced work and Cienfuegos' adept staging. The director's masterful segues from the seemingly mundane to the quietly profound ring true. Fancy delivers a brilliantly layered portrayal, capturing the almost unbearable sadness of a man who desperately wishes he could turn back the clock. Prichard is compelling in a haunting characterization, conveying the plight of a woman whose mental confusion can't forestall the instinctive need for human connection. Anderson offers comic relief as the boisterous and devoted family friend, and Stevenson earns our empathy in a role that could be unsympathetic if played with less dimension. Preston and Dunton offer strong support as the flirtatious but inexperienced youngsters.
Norman Scott's smartly conceived and finely detailed set, William Wilday's excellent lighting, and ambient sound effects by Stevenson and Cienfuegos add the perfect finishing touches to this lovely production.
Presented by and at Pacific Resident Theatre, 705 Venice Blvd., Venice. Dec. 11–Jan. 30, 2011. Thu.–Sat., 8 p.m.; Sun., 3 p.m. (Dark Dec. 23–Jan. 2, 2011.) (310) 822-8392. www.pacificresidenttheatre.com.