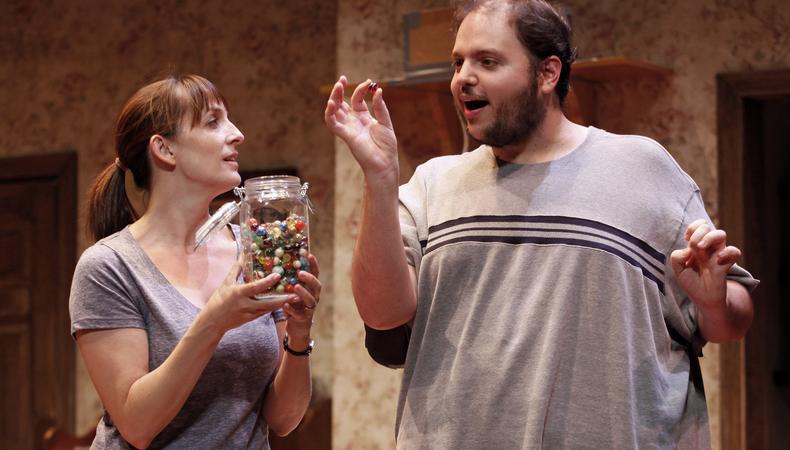 Josh's favorite activity is tilting open a cardboard box full of white feathers that's perched on a wall shelf just above his head and letting the contents fall on his face. It is among the few calm moments in his day. Josh is 18 years old, overweight, autistic, and aggressive in "Falling," Deanna Jent's fascinating play being given a stellar production at the Minetta Lane Theatre.
"Falling" focuses on Josh's effect on his family. The toll seems heaviest on his mother, Tami (Julia Murney), who with Josh's father, Bill (Daniel Pearce), has developed an endless series of routines, rituals, and little games to distract or entertain her son to get him through the day and keep him from attacking people. Daniel Everidge gives a brave and persuasive performance as Josh, portraying a big, awkward baby who grunts and groans and speaks in sentences rarely longer than two or three words. He also gets easily frustrated and upset, whether because of the new cane that his grandmother (Celia Howard) brings with her on a visit or the barking stray dog that his resentful younger sister, Lisa (Jacey Powers), would like the family to adopt. When Josh gets sufficiently upset he has an "episode," lunging at people and knocking them down or pulling their hair while biting his own hand. The person most often attacked is his mother.
Jent strives to give dramatic shape to "Falling." Grammy Sue, a Bible toter and quoter who doesn't fully understand the challenges of raising Josh, is paying a rare visit to the household, which allows the opportunity for some exposition and semi-cathartic outbursts from family members. There is also a plot twist near the end that works better thematically than dramatically. But the play doesn't really go anywhere. That's all right; it doesn't have to. Its strength is in the unsentimental, precisely observed scenes that bring home what it is like to care for a loved one with special needs. (Jent has an autistic son.)
What makes this work so well is the standout performance by Julia Murney, whose encounters with Everidge invest the play with an authentic and harrowing feel. Murney plays a woman too busy to fall apart but too stressed out not to express the strain in myriad ways. Watch her face when Tami writhes her way out from under the deadly grip of her son. Director Lori Adams wisely guides the five-member cast to emphasize the everydayness of their interactions. Pearce gives Bill a forced cheerfulness that masks a fatigue tinged with desperation. Howard plays Grammy Sue's shock at the goings-on with restraint.
Adams, who helmed the original production of "Falling" at the Mustard Seed Theater in St. Louis, smartly has brought along set designer John Stark, whose realistic interior subtly helps to establish the obstacle course that is the characters' lives, and lighting designer Julie Mack, who guides us from harsh reality to interludes of escape. Their work anchors this newly cast production of a play that makes clear how little support exists for families such as Josh's.
Presented by Terry Schnuck, James and Catherine Berges, Crystal Beuerlein, and Michael and Noémi Neidorff at the Minetta Lane Theatre, 18 Minetta Lane, NYC. Opened Oct. 15 for an open run. (800) 982-2787 or www.ticketmaster.com. Casting by Pat McCorkle.
Critic's Score: A-