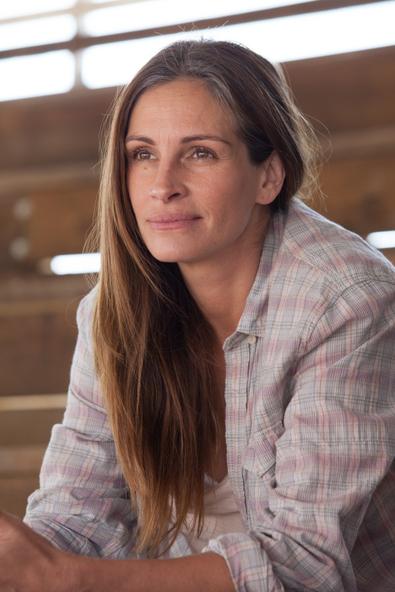 It would be incorrect to call Julia Roberts' captivating performance in "August: Osage County" a career comeback. Though Roberts has been choosing her projects carefully over the past few years—because, well, she can, and she also has young children—she is also a rare type of movie star, one that hardly exists anymore, for which the term "comeback" is irrelevant. Everyone knows who Roberts is. She could phone-in a performance, and the audiences would still flock to the cinema.
So why, then, would a mother of three leave her family for eight weeks to go to Oklahoma and tackle an entirely unglamorous, incredibly difficult role in the film adaptation of a Pulitzer Prize- and Tony Award-winning play?
"That Tracy Letts," the luminous actor says, crediting the award-winning playwright-turned-screenwriter. She saw the play on Broadway and "didn't really know what to expect," she recalls. "I saw it early enough that I hadn't heard too much about it and I mean my god, you're just throttled by the time you left the theater."
When Roberts' casting was first announced, many diehard fans of the play questioned if she could do Barbara Fordham justice. After all, the world knows Roberts as a glamorous celebrity, while Barbara is a down-home Midwestern mom, with graying hair and a struggling marriage. However, as Roberts talks, one forgets her celebrity status. She introduces herself with a simple, "Hi, I'm Julia"—as if anyone wouldn't know who she is—and speaks openly and honestly about her acting process. When asked whether Amy Morton's portrayal of the character on Broadway affected how she approached the part, her answer was surprising.
"Well, I wished they had come closer together so I would have remembered more what she did!" Roberts says, releasing her signature laugh as a reminder of both her power and unparalleled likability. "My memory isn't what it once was. I do remember though that feeling, just the leaving the theater and feeling exhausted and just wrung out. And that's really how we felt at the end of every day."
After watching the film, no one can doubt Roberts' rightness for the role, and the Oscar-winner and newly minted SAG Award- and Golden Globe Award-nominee has the accolades to prove it. She really approached the role from a place of wanting to understand the history of the fictional Weston family, particularly in terms of Barbara's relationship to her mother Violet, played by Meryl Streep, and the "hardwiring for bitterness" their inextricable connection creates.
Director John Wells also really emphasized the connections between all the characters, and he had the actors spend time with each other so they could mimic mannerisms and really start to look like a family—something that feels very close to home for Roberts.
"My sister and I, we really don't look alike. She's 5'2''. She has blonde hair and hazel eyes, but when we sit together and talk then we look just alike," Roberts says of her sister Lisa, who is also an actor. "I think [John] was looking for that kind of thing which is really so important playing this big extended family to have just the tiny details. Most of them will probably be missed by people, but it still lends itself to a feeling that these people are really connected to each other."
Roberts spent time with Julianne Nicholson and Juliette Lewis, who play her sisters, and particularly Streep, who is someone Roberts has been trying to work with for years. The two first met doing a benefit reading for Paul Newman's Hole in the Wall Gang Camp at Lincoln Center, where they shared a dressing room. "I was kind of sitting there being like, 'Do you want me to get you some water?'" Roberts remembers of being in awe of Streep's presence then, and the feeling hasn't changed at all.
"She'll never say, 'Let's ease up, let's stop.' Ever. Never," Roberts says of Streep's admirable dedication to the craft, calling her "the gold standard" of acting. "My favorite thing about Meryl as an actor is she doesn't make it look like a magic trick. You see how hard she's working. If you say, 'Do you want to run lines?' She'll run lines with you until the cows come home. She really is just gracious in that way, and it's a comfort as an actor to not have her just show up and be perfect."
But did she say stop when Roberts had to tackle her to the ground? No. In fact, she made it harder for Roberts.
"I had the strangest bruises across my legs. I didn't realize every time I jumped up from the table, I kind of hit the bottom of the table as I leapt over Margo [Martindale]—amazingly never hurting her which I was also worried about and attacking Meryl. It wasn't the way I saw the dream of being with her coming to life but she was amazing," Roberts says. "And god, it was really hard to get those pills out of her hand! I was like, 'You know I wouldn't have to be on you for so long if you would let go!'"
Movies based on plays seem to be something of a trend on Roberts' résumé as of late. After "August," she'll star in Ryan Murphy's HBO version of Larry Kramer's "The Normal Heart," which is scheduled to air in 2014. She made her Broadway debut in Richard Greenberg's "Three Days of Rain" in 2006, and while she says her experience working on stage didn't help her prepare for "August," she is thankful for her theater background and training.
"My dad used to take us to see plays at the Civic Center when we were kids," says Roberts, who grew up in Georgia. "He brought us to New York and we saw 'Hair.' I was, you know, 7. I was like, 'Ahhh, everybody's naked!' It's just this really magical thing, and it is the hardest you will ever have to work as an actor, certainly. I can't wait to do it again."