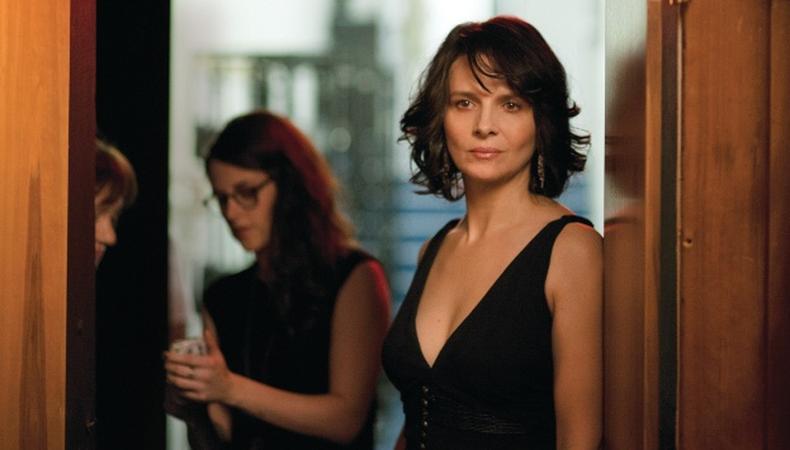 At 51, Juliette Binoche deserves consideration in any discussion about the world's greatest film actors. The winner of an Oscar as well as a César, a BAFTA, and prizes at the Cannes, Berlin, and Venice film festivals, she has worked with everyone from Krzysztof Kieślowski ("Three Colors: Blue") to Michael Haneke ("Caché") to Abbas Kiarostami ("Certified Copy"). Not that she's shunned Hollywood, occasionally dipping her toe into the mainstream with "Dan in Real Life" and "Godzilla."
Early in October, she spoke to students and aspiring directors at the Beirut International Film Festival, which opened with her acclaimed Cannes drama "Clouds of Sils Maria" (now in select theaters). Focused but warm and thoughtful, Binoche discussed her career, her approach to finding good roles, and what she loves about acting for the stage.
On how she chooses roles—and directors.
"Sometimes, it takes you by surprise," she said about what kinds of roles speak to her. "The roles choose you as well. [But] I'm always aware of why I'm choosing this role. Of course, when it's Kieślowski or Kiarostami, how can you say no?"
But although she's worked with some of the world's most venerated filmmakers, she insisted that an experienced director is not a criterion for her. For instance, she recently shot an Italian drama, "The Wait," with a first-time feature filmmaker, Piero Messina. "It's just the script and the intensity of his eyes," she explained about her decision to be in the film. "[There's] something about the eyes when you meet someone [who] is more into listening, into taking in…. When you have just a breathing between two people and there's a listening between two people, then you feel like, Oh, I can work with that person. You need to reveal things inside of you as an actor, and you have to have somebody who has ears and eyes and whose presence can be a partner.… It's about something which is deeper and more mysterious in a way."
On her favorite roles.
Asked to pinpoint the roles she's most proud of playing, Binoche responded that she doesn't think that way. Comparing her performances to different seasons of one's life, she said, "It feels like the dark as well as the light sides of your life are a part of your being and your understanding and your growing, so I would not define 'good' or 'bad.' I think it's all one."
That said, she did acknowledge that certain shoots were harder than others. "When you're going through a very difficult film, how do you transform it into a great experience?" she asked the audience. "That's really the challenge. When you have a DP chewing gum"—she mimicked an annoying smacking noise—"and you're trying to open your heart, how do you transform it into, 'OK, I'm going to have a great time with this guy'? You find ways to make it the best time when it's a nightmare."
On "Godzilla."
For all of her accolades, Binoche has probably been seen by more Americans in a small part in "Godzilla" than, say, "The English Patient." "I try not to [differentiate] because it's all about human beings," she said, referring to how she approaches a blockbuster versus an art-house project. "Even in 'Godzilla,' I had to deal with dying…so you have to go to personal areas."
After noting that she made more money shooting seven days on "Godzilla" than on the entirety of "Clouds of Sils Maria," Binoche said, "Movies are going through a crisis: To make a film that is not a big comedy thing or blockbuster, it's a struggle. We're in a war, almost, but you have to choose things you believe in. And meanwhile, I'm doing other things on the side so I can survive and have my choices…. I don't want to let go of the films I want to make."
As for her reasons for appearing in "Godzilla," she said, "Gareth Edwards, the director, wrote me such a letter, I couldn't say no. It was really [heartfelt] and special."
On finding complex characters.
It's a common lament of female actors that there aren't nearly as many meaty parts written for them as there are for their male counterparts. Binoche noted that for her, "It's never been a problem in the sense that I go to directors I want to work with. I think that if I [didn't] have [worthwhile] roles, I would direct and write and do something about it, to stay active and open. When you have a passion, you go for it. You can't be a victim of the system—you have to change the system.
"I mean, I have ups and downs. I had moments where I felt like, Well, I'm not working. It's part of life. [In Hollywood films] the woman belongs to a world that is mostly masculine. There're exceptions, but you have to be more intelligent than the system."
Inspired by this post? Check out our film audition listings!