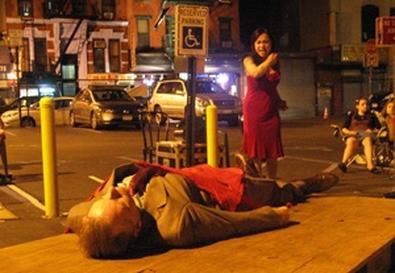 It's hard to tell where we're supposed to be in the Drilling Company's muddled production of "Julius Caesar," presented for free in a municipal parking lot on the Lower East Side. Everyone is wearing contemporary clothing, and the press material tells us it's set in an urban school, with mighty Caesar cast as the power-hungry principal, the senators as teachers and parents, and the Roman rabble as students. Yet the production opens as if we're in the middle of a political campaign, with "Happy Days Are Here Again" playing in the background while cast members parade around with signs for and against the election of the titular leader. There are also hints we're in the business world, with executives trailed by iPhone-toting entourages. Director Hamilton Clancy, who also plays Caesar and is the founder and artistic director of the company, should have chosen one concept or the other.
The school idea has some merit, but the parallels don't really work. For the war scenes, Clancy arms his Roman "soldiers" with yardsticks instead of swords. Cassius, played by a woman, does battle with a nail file she keeps tucked in her hair bun. The characters carry notebooks, briefcases, and BlackBerrys as if they were modern businessmen or students, but it's never apparent where they are going or what their collective community is all about. Clancy has a few interesting staging ideas, but they are ruined by the unclear overall vision. For instance, in the assassination scene, the director has the conspirators slowly surround Caesar as they pretend to plead for the pardon of a banished friend, creating a sense of menace and tension because we know they are about to slaughter him. But as the monarch is stabbed by Brutus and his fellows, we hear Frank Sinatra belting out "New York, New York." Huh?
In addition to the underdeveloped direction, the acting is wildly uneven, ranging from competent to amateurish. From a strictly technical standpoint, the cast has many challenges. In addition to the numerous distractions of passing cars, pedestrians, and street noises, the actors perform without amplification and employ only Con Edison street lamps for illumination, so it's difficult for them to be seen or heard. Mark Jeter is most successful at overcoming these restrictions and creating a clear character. His Brutus is a midlevel administrator earnestly trying to do what he believes is best for society as a whole. On the other hand, Selene Beretta makes Cassius such a hysterical screamer from her first entrance that she has nowhere to go. In another example of nontraditional casting, Ivory Aquino makes Marc Antony a "Sex and the City" party girl who transforms into a power executive. She handles the transition with verve. Clancy's Caesar and Bill Green's Casca barely register, while Leila Okafor's Calphurnia and Joann Sacco's Portia have greater impact, despite the brevity of their roles.
I have to admire the Drilling Company for putting on Shakespeare in the Parking Lot for free—this is the company's 11th production of the summer series—but this wildly uneven "Caesar" is a nonmoving violation.
Presented by the Drilling Company at the municipal parking lot, Ludlow and Broome streets, NYC. July 29–Aug. 14. Thu.–Sat., 8 p.m. (212) 873-9050 or www.shakespeareintheparkinglot.com. Tickets are free.