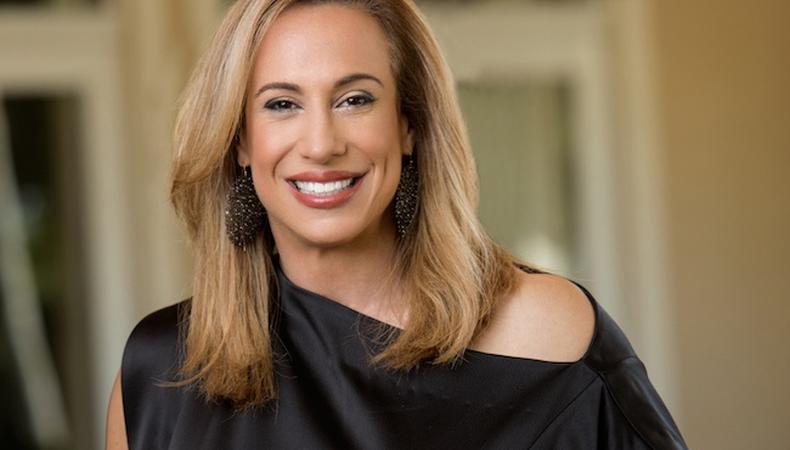 When it comes to "Jumanji: Welcome to the Jungle," the modern-day reboot of the Robin Williams classic, producer Dany Garcia of Seven Bucks Productions wants to ensure fans walk away from the movie with both a newfound appreciation for the original and, of course, give their seal of approval on the new story.
The film, starring Garcia's business partner Dwayne Johnson, Kevin Hart, Jack Black, and Karen Gillan, out Dec. 20, tested highly at first screenings. It marks one of the many mediums she's working on including television, digital, commercials, and more. With a background in finance, Garcia successfully transitioned into the entertainment business. She explains how she conquers it all.
How do you bring "Jumanji" to a modern-day audience?
I think the anticipation that it was going to be difficult was greater than the reality. There was nobody involved in this project who was not excited about the original movie. The thought was we could never do a remake—you cannot remake that experience. But I remember, like everyone else did, [in the original] when the game washed up on shore and the girls were walking on the beach, and it was, "What else is going to happen?" It was an easy jumping-off point, and everyone saw that ending.
READ: How to Create Your Own Content
What should actors keep in mind from a talent management and producing perspective?
An actor in 2017 is absolutely different than an actor in 1980 or 1990. Talent today has to understand that there is value in delivering as much of themselves as possible to the audience. It's not enough anymore to be in a film and [have it be] your only communication with your audience. Where else are you delivering something to the audience? That's what producers are looking for—talent that's invested, [so audiences feel] they know you personally so they want to be [a part of] what's happening on the screen. That is such a vital difference.
Does that mindset translate to the projects you're working on?
Totally. For me, it's hard to look at one project as a line item that delivers in one way. What I'm much more passionate about are projects that give birth to various media. Even something as fun as "Baywatch," we were able to create so much digitally. When you love something and the audience responds, it's always exciting to ask, "Can we get in there and pull out more to deliver more?" Whether it's a television show or a film, we have to see if there are multiple layers going on. I'm not interested in small, quiet conversations; I'm more excited about starting a process that moves the needle.
What advice would you give actors looking to get into talent management or production?
I would go back to the process that I did for Dwayne. Knowing that you're going to make a transition—and I love when talent transitions from in front of the camera to behind—it all starts with team-building. Learning to utilize the team that you have in place. It's not about running out and hiring four execs, it's really about carrying maybe one key person and utilizing the relationships that are already in existence; anyone who's in your circle that can extend the relationship. We happen to run a very tight ship on Seven Bucks Productions, but the reach that we have because of our agencies and producing partners is much broader. I would absolutely encourage talent to partner with producers they are happy and excited to collaborate with.
What advice do you have for women looking to start their own production company?
I don't want people to feel like you need to come through finance and then you enter into this space, because it's not necessary at all. I feel for women in particular that there should be an effort made toward the understanding of the business of our business. Being able to understand that the art that we do is within the confines of the business model. When I run across other female producers, there are these inherent traits that we have as women, whether it's multitasking, whether it's instinctual, whether it's that we're very comfortable with our emotions so we utilize them in business decisions. I find that when it's rooted in being a woman first, not trying to replicate something that a man does…and then you apply that to being a producer, usually what happens is you get this really wonderful, unique combination of an individual and a producer, someone who has depth and characteristics that maybe you wouldn't find in a male counterpart.
How do you navigate the business side of the industry versus the creative side, which tends to involve people's emotions around their craft and vision?
It's easier for me because I lived in a financial world for so long. I have a deep respect for the fundamentals of business to allow people, actors, producers, to do the things that they do every day. The end goal of everything we're doing is not, "The art that I produce has to be out there my way!" That's not the producer I am. That's not Seven Bucks Productions. We operate in the love of storytelling, knowing that the most important piece is that the story gets to the audience. To get to the audience, you need your partnership in business.
Check out Backstage's film audition listings!