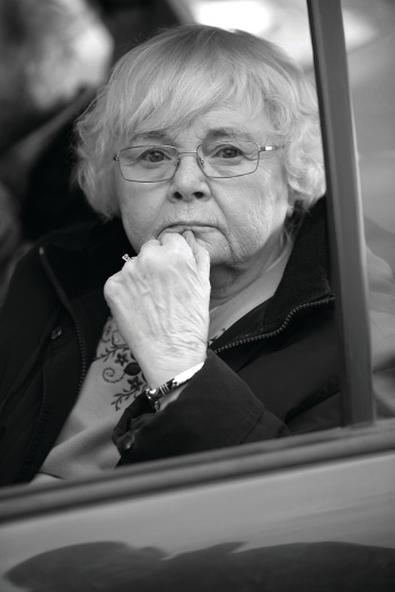 In a movie about fathers and sons, June Squibb's ornery matriarch is the real standout, cutting through sentimental machismo with a rage-fueled honesty. Father and son Woody and David Grant (Bruce Dern and Will Forte, respectively) may be revealing their true selves to one another for the first time during an ill-fated stopover in Woody's old hometown on a destined-for-disaster road trip, but Squibb's Kate, imperious, loud, and brutally frank, has always known (and loved) both for who they are.
"When I saw this script, I knew this woman," Squibb says. "This woman wasn't something out in space. She was very close to me. I knew why and what she was doing, just reading it. And I didn't actively use my mother when I was working on it, but the first time I saw it, I said, 'My God, that's my mother up there!' " She laughs. "So that tells you something about my mother."
Squibb's mother must have been a lot of fun, judging from her performance. Kate's every scene is a master class in loving ferociousness, from her harried early dismissals of Woody's insistence that he's won a million dollars, if he can only get down to Lincoln to collect it, to a scene in the backyard during a family reunion when she lambasts his extended family for their selfishness. But it's a scene in a cemetery, when Kate blithely trash talks the dead (and memorably flashes one former suitor), when one realizes that Squibb is doing something special.
That scene, as it turns out, helped her land the role. Having previously worked with writer-director Alexander Payne on "About Schmidt," Squibb was asked to put herself on tape doing two scenes, one of them the cemetery scene. And after a period when she was left in abeyance, as she puts it, Payne called to give her the news that the role was hers.
Payne also asked Squibb, Dern, and Forte to meet in Nebraska a week before filming to spend time together and develop a rapport. "I think it did help us because we did get to know each other, and that I think is a large part of what happened on screen," Squibb says. "As Kate says, 'I would kill for them.' And I really would. We just were so close."
That closeness no doubt helped Squibb's ruthlessness as Kate, giving her a solid foundation of respect and camaraderie to soften the character's relentlessness when it comes to revealing flaws. "Kate's very matter of fact," Squibb says. "And she does, I feel, think that everybody feels the way she does. I always thought that. So whatever she says is real and honest and true, because everyone thinks the same way except you. But I think ultimately she feels vindicated."
One of the joys of "Nebraska," which is a slow-burner of a film that pays high dividends by its conclusion, is that though we fall for both Woody and David, we never doubt Kate's veracity. But Squibb provides a bedrock of pragmatism to Kate that is as seductive as it is hilarious, one that shows she accepts the foibles of others even as she highlights them. And as she tells it, her relationship with Dern is just as fondly prickly. "I did 'Gypsy' on Broadway and I played one of the strippers," Squibb says, "and he started, a few months ago, telling people I was a pole dancer!" She laughs. "I never danced on a pole!"