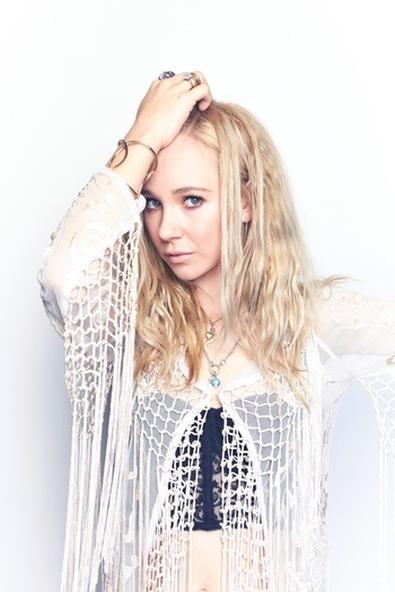 You don't have to look up Juno Temple's IMDb profile to find out how old she is. She'll tell you. You don't even have to ask.
"I did just turn 24," she says, volunteering the information. "That freaked me out a little bit."
Freaked her out? Why?
"That's close to becoming a proper grown-up."
Hollywood is home to a few successful female actors in their mid-20s who have been booking film roles since their early teens. Most of them are so polished that their only distinguishing characteristic is an ability to reflect back at you whatever you project at them. The rest are lighting themselves on fire in people's driveways. Temple falls into neither category. She greets her interviewer fresh from a rooftop photo shoot, her notoriously massive blond mane looking especially notorious and massive, an oversize red T-shirt swallowing her slender frame. Her English accent sounding here and there like America has taken its toll, she half apologizes as she applies deodorant, then proceeds in 45 minutes to drop more F-bombs than HBO on a Sunday night. When describing the research she did for her role as an exotic dancer and sex worker in new film "Afternoon Delight," she expresses regret at not having spent more time on the stripper classes. "I wish I'd started earlier because then maybe I could have climbed a pole," she says. Proper she is not.
Which isn't to say that she's not gracious, intelligent, or the type of person who, once you find yourself in the same room with her, makes you wish you were in the same room way more often. She's all these things. And the lack of self-consciousness—the willingness to toss propriety out the door and just be as cool and real as possible about as much as possible—is not a negative. It's key to her appeal as a human being to talk to and an actor to watch onscreen. It's part of her charm.
Filmmakers appear to understand this. It likely had something to do with Richard Eyre's decision to cast Temple in 2006's "Notes on a Scandal" (which she booked from an open call, her first-ever audition) and with Joe Wright casting her in her breakthrough part in 2007's "Atonement" (which came from her second-ever audition). It also likely had something to do with her having been cast in several highly sexualized roles over the last few years in American indies such as "Kaboom," "Killer Joe," and "Dirty Girl."
"Afternoon Delight" is another such role—sort of. Temple plays McKenna, a stripper-prostitute whose life becomes the fixer-upper project of a frustrated, affluent housewife (Kathryn Hahn). It is a female-centered movie, and unlike most of Temple's other films, a female-led one.
Jill Soloway, writer-director of "Afternoon," claims not to be familiar with Temple's complete filmography. "But I felt like in some ways we were rescuing her from the way that all these male directors have seen her and pulling her into this safe space of a female-created, woman-agency sex story," Soloway says. "So she wasn't really having to be the kind of objectified thing that she might feel like in certain guy-centric movies."
Temple, for her part, sees "Afternoon" as a logical addition to her résumé.
"I mean, for me it doesn't really matter, male or female [director]," she says. "Maybe one day I'll be directed by an ape."
As for the number of times she's been presented nude or in sexualized situations onscreen, Temple writes it off as a byproduct of her baby face and her lack of hang-ups.
"Being a teenager is fucking crazy," she says. "So I think it's more that in a lot of the scripts there have been a bunch of sexual elements, and I'm not afraid of it." She adds, "I don't believe in explicit, useless nudity. But I'm very European. I grew up with everyone sunbathing topless and shit."
Temple grew up, to be more specific, near London, in a household of artists. Her mother, Amanda Pirie, is a movie producer. Her father, Julien Temple, is a director, best known for "The Great Rock 'n' Roll Swindle" and "The Filth and the Fury," both about the Sex Pistols. An armchair psychologist would posit that those are exactly the conditions likely to yield a confident, eager artist who would forgo university and the rigorous classical training that we Americans assume all British actors have, in favor of a straight leap across the Atlantic and into the dream factory.
But if it ever occurred to Temple that she should have stayed in England and fought her way into acting school, she doesn't show it. She shrugs off questions about training, noting that the only advanced schooling she ever considered was the study of lingerie design.
"I never wanted to go to drama school," she says. "I thought that was too many eggs in one basket. I also wanted to go out into the world very quickly. I wanted to smell different things and see different things and taste different things."
She did, and in the process she built a career more intriguing than most 24-year-olds can claim. While not self-conscious, she is self-aware when it comes to her work.
"When I was younger, I played a lot of upper-class English girls," she says. "Then I came to America and everyone was like, 'She's very believable as trailer trash.' " Here, for the first and only time in the conversation, her word choice becomes careful. "But I've been so lucky with the girls I've gotten to play, because they are so real, which means that you learn so much playing them." That maneuver deftly executed, she moves on to talk about the people she's met and places she's been that inspire her—how they take the place of the training she lacks. "I think being in touch with your emotions is very key as an actor, and I think experiencing life is the only way to be in touch with your emotions."
If that's the philosophy of Temple's career, it's proved to be a winning one. Soloway pokes some fun at the manner in which a trained actor will break down a script "in that sort of dramaturgical way of like, every word…must be unpacked…a hundred times," then notes with relief that Temple does nothing of the sort. She adds that, on set, she and Temple developed a sort of code in which the director would whisper notes into the actor's ear between takes. Sometimes those notes were the kind she'd give any other actor. Other times they weren't.
"Once I was like, 'You're a shining, sparkly princess unicorn, and fuck all these people. That's what you're thinking right now,' " Soloway says. "She's the kind of person where I could give her that kind of note. I think the non-trained part of her opened up this part of me that would give that note."
And that's part of what's great about Temple. She brings out the sparkly princess unicorn in everyone.
Inspired by this post? Check out our audition listings!