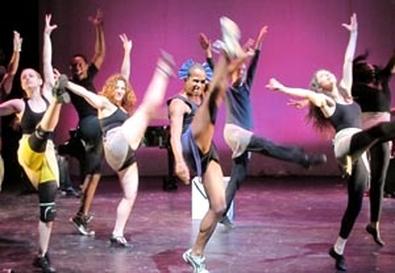 Not since "Rosencrantz and Guildenstern Are Dead" has there been such a playful re-imagining as "Jurassic Parq: The Broadway Musical." Writers Emma Barash, Bryce Norbitz, Marshall Pailet, and Stephen Wargo take the source material (Steven Spielberg's hit 1993 film, which was based on Michael Crichton's novel) and replace the human point of view with that of the largest—albeit speechless—characters: the dinosaurs.
As narrated by Morgan Freeman (Lee Seymour), the story revolves around a minor plot point from the original: To control the species, all the dinosaurs in the park must be female, but some have spontaneously become male and started to breed. In this case, T-Rex 1 (Tara Novie) tries to comfort T-Rex 2 (Natalie Bradshaw) after the latter suddenly grows a male organ and sets out to use it with Baby Velociraptor (Brandon Gill). Meanwhile, conflict grows among the dinos about who should lead them: Velociraptor of Faith (John Jeffrey Martin) or the outcast Velociraptor of Science (Mary Ellen Ashley).
Sounds a bit heavy, but the show is anything but. Crisply directed by Pailet, the musical pokes great fun at everything from celebrity to musicals to science, which is amazing considering the show is only about 65 minutes long. The writing is sharp and satirical, and Kyle Mullins' choreography is inventive and firmly integrated with the writing.
The cast is uniformly terrific, with special praise for Martin's sharp comic timing, Ashley's gutsy performance, and Bradshaw's animated delivery. Special props to the Mime-a-saurus (Brandon Espinoza), who steals the finale.
Presented by Bryce Norbitz as part of the New York International Fringe Festival
at La MaMa ETC, 74A E. Fourth St., NYC. Aug. 20–27. Remaining performances: Sun., Aug. 22, 6:15 p.m.; Wed., Aug. 25, 7:45 p.m.; Fri., Aug. 27, 4 p.m. (866) 468-7619 or www.fringenyc.com.