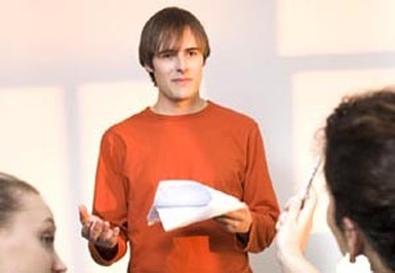 Over the course of her two-decade career, Los Angeles–based casting director Heidi Levitt has worked with an impressive list of high-profile directors—everyone from summer blockbuster king Michael Bay ("The Rock") to indie darlings like Wim Wenders ("Don't Come Knocking") and Isabel Coixet ("My Life Without Me"). She has also collaborated multiple times with Oliver Stone ("Nixon") and Neil LaBute ("Lakeview Terrace"), and one of her most recent projects, the star-studded "Mother and Child," bowed earlier this month at the Toronto Film Festival. For further details and contact info, visit her website,
www.heidilevittcasting.com
.
Material Issues
I look for films that have great stories and films that are filled with great characters. The person behind the film is important to me. If it's a first-timer, is it a person who I think has credibility that will be able to help sell to the community? At the end of the day, they might be the most interesting and exciting person, but if they don't have a great script, it's not going to help.
Certain types of material come to you; what comes to me is often based on what I've done already. A certain kind of project will come to my door that might not go to a colleague's door, because I've done a lot of drama rather than comedy. I don't do that many genre movies. I think with anything you work on, you want to be moved by it and you want to feel like there's something you can add to the picture.
Shifting Landscape
As a casting director, it's your responsibility to look at everything. Obviously, you have your agents that you trust, who have culled from the drama schools and from the actor pool out there and come together with their best talent and present that to you. At the same time, especially now, with the advent of Internet submissions, you're able to actually look at everything a lot quicker.
In the early days and in many of the movies that I cast, I did huge open calls. I love that process. I don't feel like today we get to do that kind of process. I think that process is probably done more for reality television than it is for feature films. Maybe now you're sending out open calls on the Internet. But I don't think it's ever the same as going there and getting a community together to come out to an open call. It's much more practical on one level, but I don't think you get the same kind of result.
Between the Lines
I really enjoy the process of reading with actors. But often, if I think it's a scene that would work much better with, for instance, a man rather than me reading with them, I will bring in a reader. If I don't feel that I can give them what they need out of a scene, then I will always bring in a reader. It's a 50-50 thing with me—it depends on what the project is. But I like to see what an actor brings in to an audition, and then after I see what they bring, that's when I'll try and help tweak the audition to what I feel might be something that the director is looking for or what I think the director should be open to.
Perspectives
I think casting helps a director mold their script. They come into casting with, hopefully, a close-to-finished product. But a script is never a finished product, because a script is not a novel. A script is a changing piece of material. It can be engaged, with talent bringing voice to its characters. So when you're in casting and you get to hear all these different perspectives, it is an amazing opportunity to deepen that character you have created as a writer or director.

Starting Out
I was in New York in the early '80s and I loved going to the theater, and there was a tremendous amount of energy then around what was going on in independent film. One thing led to another, and I read a couple articles about casting directors and thought it might be something I would be good at. That led me to write letters and start interning. I started in 1984, interning for Risa Bramon and Billy Hopkins at Ensemble Studio Theatre in New York. Juliet Taylor, who was Woody Allen's casting director, recommended them for jobs, so suddenly they became very busy, and I reaped those benefits. Then we became partners on some of Oliver Stone's films for many years.
All That Jazz
One of the very first movies I was a casting assistant on was a film that Alan Parker directed in the '80s called "Angel Heart." One of the main characters was a blues musician. I dug into searching for this musician and was given the opportunity to go out and look. I met every well-known jazz and blues musician all over the United States. I was sent to Chicago and San Francisco and I met legends like Dizzy Gillespie and B.B. King, and we actually cast the movie with a guy named Brownie McGhee. It was an amazing experience for a young woman—have camera, will travel.
On Stone and LaBute
Both are incredibly knowledgeable and understand actors and work very differently with actors. From my perspective, they were wonderful to work with because they trusted the people around them—the casting director—to give them a suggestion. We developed a collaboration, which is the best kind of thing. It was demanding at times—especially on some of Oliver's bigger movies, it was like running the gauntlet. With both of them, there wasn't this preconceived prejudice, "Oh, that person works in TV, so I'm not going to work with them," which is sometimes something that can happen. I wrote a note to Oliver when he cast Josh Brolin in "W.," because I remember auditioning him on "Born on the Fourth of July." I think strong directors like that definitely remember people.
Casting a Wide Net
I did a film with Wayne Wang that was a very interesting little movie called "The Princess of Nebraska." It was about a young woman who had come to the United States and she still speaks Mandarin, and Wayne was looking for nonactors. The experiences that he was going for in this movie in some ways called for less experience. The script wouldn't be so tight, and it would be improvised to a certain extent. It allowed us to look for people who weren't going to be so vetted and trained that they wouldn't be able to work in this offhand way. One of the leads of the movie, I found her on YouTube. I was looking for Asian-American actors, and I was going through websites of nonunion actors; I was really looking broadly. I came across this woman, Pamelyn Chee, and she had some of her reels online. And then I had her send in an audition of herself. In this case, I wanted to look outside of the traditional norm, because it fit this kind of film.
Heidi Levitt will be a speaker at Back Stage's upcoming tradeshow, Actorfest LA on Nov. 14 at the California Market Center. She'll participate as a panelist on "Behind the Scenes: Feature Film Casting." For more information or to register for Actorfest visit www.actorfest.com.