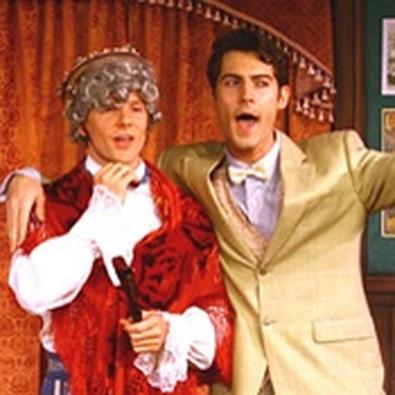 Brandon Thomas' classic 1892 farce Charley's Aunt served as the basis for Frank Loesser's 1948 musical Where's Charley? Co-adapter-directors William A. Reilly and Gary Lamb have cooked up a new musical version of Brandon's gender-bending frolic, transporting the story from 1890s Britain to 1918 Milwaukee. The collaborators liberally alter plot elements and characters and incorporate familiar songs from the early 20th century. The end result is a peculiar pastiche, though it has its charms.
Unfortunately, the opening night performance didn't sustain the comedic energy and precise timing required for farce. The frenetic comic tone called for was sometimes compromised by lackluster line deliveries. The insertion of songs -- ranging from brief snippets to full production numbers -- is only partially effective. Silly patter ditties such as "Aba Daba Honeymoon" and "Under the Bamboo Tree" seem to come out of nowhere; the love songs ("Margie," "My Buddy") integrate more smoothly into the scene contexts.
In the focal role of music teacher Babbs, who masquerades as widowed dowager Donna Lucia for far-fetched reasons, Casey Zeman misses comic opportunities in this plum role. During his rambunctious musical numbers ("Spanish Love," "Runnin' Wild"), Zeman capitalizes on the humor of a masculine youth who strains to feign matronly femininity, but between these high points his interpretation falls flat. As Jack and Harry, two scheming collegiate pals, Blake Edward and Chris Shepardson, respectively, fare better. Both are spry song-and-dance men, and they display a deft instinct for double takes and broad physical comedy. As the real aunt Donna, who shows up to throw the boys' machinations into a tizzy, Joanne McGee is a nimble farceur, and she boasts an excellent singing voice. Vsev Krawczeniuk, playing Jack's likable but somewhat opportunistic father, makes the most of his soaring ballads. James Loren elicits laughs as a befuddled codger who lusts after the gender-bent impersonator Babbs. Three ingénue parts are beautifully sung and winningly portrayed by Tara Brown, Sarah French, and Tracy Mulholland.
Choreography by Chelsea Rae Bernier and Mulholland offers sprightly fun, and Reilly's musical arrangements and piano accompaniment are zesty. Despite this effort's mixed results, the debuting NoHo company, Crown City Theatre, shows promise.
Presented by and at Crown City Theatre,
11031 Camarillo St., North Hollywood.
Fri.-Sat. 8 p.m., Sun. 2 p.m. May 17-Jun. 15.
(818) 377-4055. www.crowncitytheatre.com.