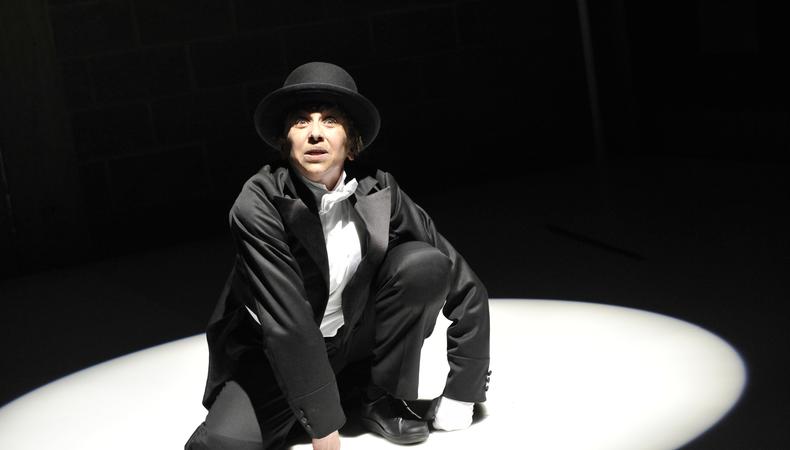 Before we get to the monkey, let's talk about Kathryn Hunter. Rarely has an actor's transformation so shocked my senses as this short 55-year-old woman's impersonation of a chimpanzee turned human turned vaudevillian. In a tuxedo with gloves, hat, and cane, she hobbles onto the stage with knees bent and arms askew and smiles nervously at her audience before beginning her presentation. The entrance is so convincing that I found myself wondering if in fact it were possible for an ape to become a man and how I would feel to find such a specimen standing before me. Only later did I realize that Hunter had no makeup on.
This trick both of the senses and of moral expectations is exactly what Franz Kafka had in mind when he wrote "A Report to an Academy" in 1917. The monologue presents an ape who, having been captured in West Africa and shipped to Europe, overcomes his situation by transforming himself into his jailers. He learns to walk, talk, think, and function in polite society, eventually making his living as a vaudeville entertainer. Between gigs, presumably, he graces the presence of an unnamed "academy" to report on his conversion from beast to European.
Kafka's dark joke is to throw the colonialist ideal, the enlightened savage, in the colonizers' faces and so to reckon with the loss inherent in such a notion of "progress." The temptation to confront a live audience and thus to "see" the ape is embedded in the story, though the mock academese in which it's written makes it not as theatrical as it appears on the page. Colin Teevan, who adapted this version, adds little but leaves many spaces for Hunter to demonstrate her athleticism (she dances, she splits, she climbs to the ceiling) and to play with audience members (picking "lice" from their hair, feeding them bananas). These are the one-hour show's most captivating moments, illuminating more about Kafka and Teevan's delicate text than its more narrative sequences.
Director Walter Meierjohann and set designer Steffi Wurster place a giant photo of a chimpanzee center stage, as though to tease—or mourn—the civilized protagonist. Mike Gunning and Nikola Kodjabashia use forceful lighting and underscoring, respectively, to highlight the dark irony of the proceedings without distracting from them. Teevan pushes the bar too far, though, by interpolating a condemnation of the "smell of humanity" near the end of the ape's monologue, succumbing to a didacticism that the disciplined Kafka wisely resisted.
No facet of the production offers more nuance than Hunter's performance. She manages to mock the pretensions of civilized society while keeping in view her character's wounded pride. This is an ape who has made pleasing his audiences a survival technique, leading Hunter, a seasoned actor at the top of her craft, to reveal the toll that a lifetime of performance can take on the ego. The portrait is heartbreaking but never maudlin. It's doubtful that Kafka's monkey could be better imagined.
Presented by Theatre for a New Audience, in association with Baryshnikov Arts Center, at the Jerome Robbins Theater, 450 W. 37th St., NYC. April 4–17. (212) 352-3101, (866) 811-4111, www.theatermania.com, or www.bacnyc.org.
Critic's Score: A-