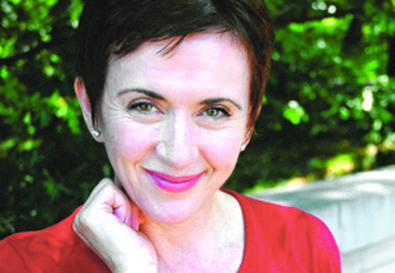 Actor Karin de la Penha admits she has "never been particularly enthusiastic" about writing a solo show for herself. So when she read the casting notice in Back Stage last year for "The Fly in the Fridge," a one-person play based on a young woman's life of prostitution, drug addiction, and eventual redemption, the U.K. native thought this might be her shot at doing one. After reading the script, she was more intrigued.

"It's a very muscular and at times extremely dark script that really wrestles with some rough stuff," says de la Penha. "And I thought the very fact that it makes my stomach flip over means that I should audition for it, because it's very challenging stuff. I had no idea if I had the chops to live in these characters and bring them to life, but I knew that I wanted to give it a whirl."

"The Fly in the Fridge," drawing on the experiences of Emily Minowitz, who wrote it with director Frank Christopher, introduces not only Minowitz but more than 15 other characters, including friends and family, pimps and dealers—all portrayed by one performer. But the challenge didn't faze de la Penha. "When we tell a story," she says, "if we're really animated storytellers, inevitably we kind of take on the characters we're talking about anyway, even if we're just talking across the dinner table."

Rather than read from the script at the audition, de la Penha decided to prepare her own versions of some of the play's characters. She didn't want to imitate Minowitz—who was present in the audition room—and chose not to interact with her much until after the first performance. According to Christopher, "We were more interested in an actress that could come up with her own interpretations of Emily and the other characters, rather than have them resemble Emily or other real people."

The audition was initially intended for a staged reading of the play for friends at Minowitz's surprise 50th-birthday party at Smoke Jazz & Supper Club-Lounge in New York City. But de la Penha felt that for all the work she was putting into the role, she should get off-book and they should mount a full production. Christopher concurred: "I figured that if she was game, so was I." "The Fly in the Fridge" ran at Smoke from mid-January to mid-May this year, with brunch performances once a weekend. It was also chosen for the 2010 Edinburgh Festival Fringe in Scotland.

Now making her second appearance in Who Got the Part?, de la Penha—a member of the Screen Actors Guild, Actors' Equity, and Equity U.K.—was once a child actor. She left the industry behind for many years, then returned to the stage in California. She recently moved to New York to continue her acting career, and Christopher credits her as the driving force behind "The Fly in the Fridge." "I thought it would be fun to show Emily her play read by a professional actress, and then it just kind of went on from there after Karin got involved," he says. "It really was all Karin. We just provided the skeleton, and she was the meat on the bones. Emily says it's the best birthday present she has ever had."



Has Back Stage helped you get cast in the past year? We'd love to tell your story. Be in the weekly column by emailing casting@backstage.com for New York or bswcasting@backstage.com for Los Angeles with "I Got the Part" in the subject line.