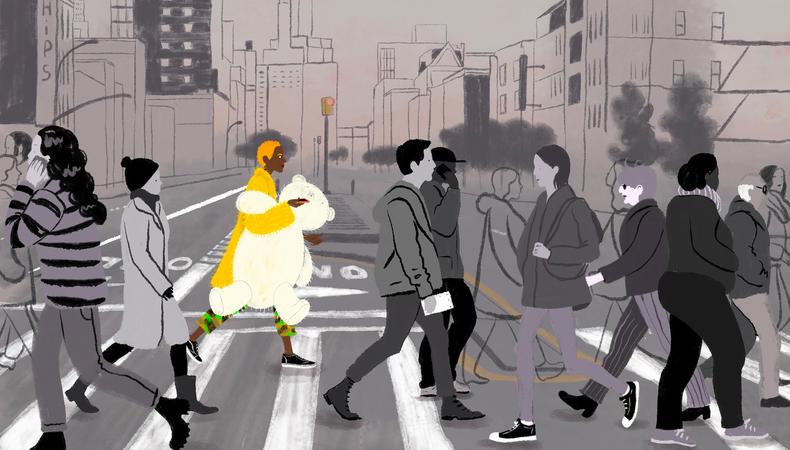 Kate Antognini has never been interested in casting the easy way. You can see her and casting partner Damian Bao's work in buzzy festival indies like "Port Authority," which was nominated for three awards at the 2019 Cannes Film Festival, and "Goldie," which earned deserved buzz out of the Berlin Film Festival that same year. For these projects, casting was particularly integral. The stories she's populating often depict young characters discovering their identities under circumstances that need to be treated with care. It's not unusual that she has to take to the streets to find her talent; many of the people she finds are not the type of actors who have an agent and a laundry-list résumé, and some aren't even actors until she turns them into one. Below, she shares with Backstage how she does it.
What draws you to a project, and why is independent film a fit for your casting style?
I look for directors who value the same things I do in casting. My work is very hands-on. I think that even small parts are important to making a world feel lived in and real. So, I like to supplement the traditional actor search with research and scouting outside the typical talent pool, whether through street scouting or social media research. When I tell a director about my process and they're willing to invest the time, that's a good sign!
What kind of research do you do to prepare for casting a project?
If the project involves street scouting, particularly scouting outside New York City, the research can be very extensive. It usually starts with demographic research. From there, it may involve finding local fixers, speaking to locals in other states to get tips on where to scout, or researching festivals and other events that draw thousands of people.
What does street casting mean for you and how do you do it?
I have trained scouts who spend long days approaching people and taking their photos. Where they look depends on the project and role. It could be skate parks, malls, concerts, coffee shops, dive bars. I also constantly stop interesting people that I pass on the street.
"My work is very hands-on. I think that even small parts are important to making a world feel lived in and real. "
What are some of the challenges that come with casting an indie project, especially one with sensitive or specific subject matter?
You have to be more creative about finding people. No matter how amazing the script and director [are], if the film doesn't have a major production company backing it, it can sometimes be more challenging to get actors on board, particularly if the subject matter is sensitive or not trendy in some way. But that challenge can also lead to better casting work because it forces you to look outside the typical pool and discover new talent.
How can working on an indie film benefit an actor's career?
Indie films are where most actors get their start. They also give young actors the opportunity to take on meatier parts, whereas they may only get small supporting parts in studio films or on TV shows.
What can an actor do in an audition that will make them memorable to you, even if they don't get the part?
Acting as a career is scary, because there are so many variables outside of your control that factor into your success, so it's important to focus on the things that you can control. Be persistent and professional. Show up on time, be easy to work with, always be prepared. It sounds basic, but just mastering those simple things will really set you apart.
When casting nonactors to appear with actors in a film, what considerations have to be made so those differences in experience aren't apparent on camera?
I find that casting veteran actors alongside nonactors tends to elevate the performances of the nonactors, so I typically try a hybrid approach, drawing from both talent pools. When casting non-actors it's usually best to find people who are very similar to the characters, so they are just being themselves onscreen. Also, it's important for the director to be open to allowing the non-actors to improvise some of the dialogue to fit their own words.
"I'm typically looking for somebody who embodies a certain spirit or world, who isn't acting but is comfortable being themselves onscreen, which is surprisingly hard to find."
How did you end up assembling the casts of "Port Authority" and "Goldie"?
A lot of casting is very by the numbers. Casting directors have lists of actors that they put up for jobs over and over again, and it's very easy to just suggest the same names and settle. On every film or project I've cast, after reaching out to the agencies, I'll also put up a national casting call on sites like Backstage and I'll go through thousands of headshots and résumés. I'm not exaggerating—I actually spend days doing this, but it's led me to some great, unrepped people. It's a lot of work, but it's worth it when you find that one needle in a haystack. I'm also always watching tons of obscure movies and TV shows, and taking note of interesting new faces I see.
Outside the industry, my search goes even deeper. I'm typically looking for somebody who embodies a certain spirit or world, who isn't acting but is comfortable being themselves onscreen, which is surprisingly hard to find. Depending on the project, that "real people" search may mean hiring a team of scouts to scour the streets across the country, or hitting the streets myself. This part of casting is a little like being a private detective. You have to ask yourself where the type of person you're looking for would likely hang out. Then, even after you find people, it's just the beginning. Because they don't have acting experience, it often takes weeks or months of working with them to get them used to acting and being themselves on camera.
When casting through nontraditional channels like social media or on the street, what catches your eye?
It's so much more than just their features. You know, sometimes I see someone who is beautiful, but I avoid them because their eyes feel vacant. I look for people whose faces tell a story, that elusive quality that draws you in and makes you want to know more about a person.
What advice do you have for actors?
Make yourself easy to find. Have a website and put an email address on it. I can't tell you how many times I've skipped an actor because they have one of those contact pages that makes it difficult to email them when I'm sending out lots of messages. And if you don't have a website, have a public Instagram [account] with an email address listed.
What can an actor expect from auditioning for you?
I try to make the audition experience as fun and painless as possible for the actor. I'm quite friendly and open, and I'm always happy to give advice. One of the main reasons I was drawn to casting was the idea of giving people who lack a voice in the media more representation, so I'm not trying to close doors on people. I'm really hoping every person reading for me gets the part.
This story originally appeared in the June 11 issue of Backstage Magazine. Subscribe here.
Looking for remote work? Backstage has got you covered! Click here for auditions you can do from home!