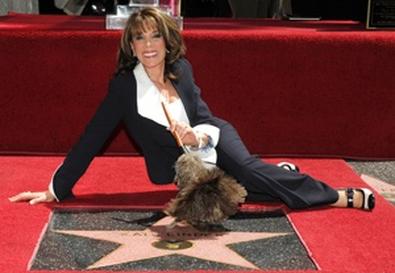 When her plane arrived in Denver, flight attendant
Kate Linder
checked her messages and learned she was receiving a star on the
Hollywood Walk of Fame
. "I couldn't catch my breath," she remembers as if it had just happened, though four years have passed. "I started crying. Another flight attendant thought someone had died. Later, the captain came out and announced to the plane, 'Kate Linder, your purser, is receiving a star on the Walk of Fame.' Everyone applauded and cheered."
Most people don't know Linder as an airplane attendant, but rather as comic relief Esther Valentine, Mrs. Chancellor's good hearted and exploitable maid, on CBS's daytime drama,
"The Young & the Restless."
On April 8, Linder will have appeared on the 39-year-old soap for 30 years. She continues to serve passengers in the skies.
Linder takes the improbability of her dual career in stride. "I've thought about not flying anymore, but it seems stupid to throw it away for some foolish ego thing," she says. "I've been doing them both for so long. I fly on weekends and sometime during the week, though of course 'The Young and The Restless' comes first."
She adds that flying is equivalent to making personal appearances. On virtually every flight she's recognized. In one light-hearted exchange, a Turkish male passenger told her she was his mother. He explained that his real mom in Turkey is an actor who dubs Esther's lines.
Many flyers are aware before boarding the plane that Linder is a flight attendant, while others are completely shocked when they recognize her. "One woman on the plane kept checking my picture in a soap magazine and then looking at me and then back at the magazine," Linder recalls.
Comic Relief
Growing up in Arcadia, California, Linder frequently played the lead in school productions before matriculating at San Francisco State University where she majored in theater arts. Her immediate career trajectory was not encouraging.
"I did summer stock, I tried to get an agent, I didn't get an agent, and then I met one agent who said to me, 'You're not pretty enough for TV. Stick with the stage. On stage you're far enough way from the audience.' I went home devastated and that's when I became determined to proved her wrong."
Clearly, Linder's major turning point was being cast on "Y&R," thanks to the Screen Actors Guild (SAG) casting committee who sent her to an open audition for the series. Linder left her tape with the CD and shortly thereafter was cast in the tiny role of Mrs. Chancellor's maid. "I had one line, 'Mrs. Chancellor. Dinner is served.' I have many friends who would not have taken it," she says.
Within short order the role blossomed. The previously nameless domestic spontaneously became "Esther" when Jeanne Cooper who plays Mrs. Chancellor started calling her that name for no known reason. Later the soap held a national contest to find the character a last name. The producer picked two entries, Diamond and Valentine. Linder picked Valentine because she was married on Valentine's Day.
From the outset Linder approached the role with enthusiasm, forging a comic character when humor was virtually unknown on soaps. "With comedy there's a fine line because you still have to play the reality," says Linder. "And that's especially true on soaps where comedy is so rare. But I knew I had to take a chance. The character was not going anywhere."
No one can accuse Esther of being a non-descript figure anymore. She's had several failed marriages, been kidnapped, and her first husband murdered Mrs. Chancellor's husband during an attempted robbery. Along with the fun factor, the chance to watch a role evolve with the times has been gratifying. Consider this: Esther now has a career as a drug counselor, has learned the computer, and become health conscious.
Still, playing one character on a day time drama for 30 years is not without its limitations, most pointedly few opportunities to play other roles. Time constraints and type casting have been consistent stumbling blocks for Linder.
Recently, however, Linder has been cast against type in the soon to be released "Hysteria" and "The Expatriate." In the former she tackles a comic 19th century British doyenne, while in the latter she's a contemporary high school principal.
Linder has no regrets about her time spent with "Y&R" or United Airlines and plans to continue doing both as long as she can. "I love what I do," she admits. "When the alarm goes off in the morning, I'm happy to jump out of bed. I don't push the snooze button."
Outtakes
—An active participant in the USO, she has visited troops in the U.S., Afghanistan, Pakistan, Korea, and Guantanamo Bay
—Was elected for a two year stint as the Governor of the Daytime Programming Peer Group of the Academy of Television Arts and Sciences
—Works for such charities as ALS (Lou Gehrig's disease), cancer, AIDS, and the Make a Wish Foundation