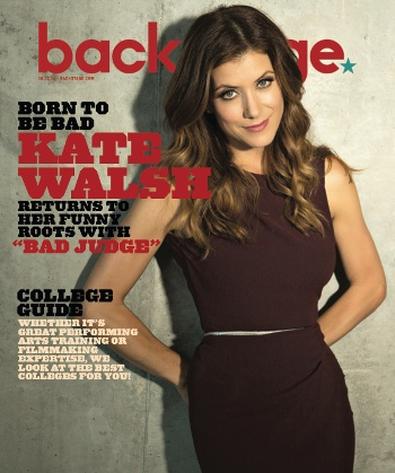 In the sun-splashed conference room at L.A.'s Funny or Die HQ, Kate Walsh is apparently not the model of composure she appears. "It is awesome and awful," she says with a laugh about her new job as executive producer and star of NBC's new Thursday night comedy "Bad Judge."
The titular character, Rebecca Wright, is a criminal court judge who doesn't suffer fools gladly but should be passing judgment on her own train wreck of a personal life. The show's opening scene features a hung-over Wright comatose on her bed, butt and sparkly panties in the air. "I wanted to be in child's pose, basically; arse-up, passed out," Walsh says. "I could see the movie 'Arthur' playing when I read it and thought, Yes, this is good." Seconds later, Rebecca is swallowing pills without counting while on the way to work in denim cutoffs so short they might as well be underwear, before having sex on her desk with her casual boyfriend (Ryan Hansen).
Audiences used to seeing Walsh as Dr. Addison Montgomery, world-renowned neonatal surgeon, on "Grey's Anatomy" and then "Private Practice" might not have anticipated her casting as the very first star of a Funny or Die–spawned comedy TV series. But Walsh initially made her mark on TV in comedies: a couple of episodes of "The Mike O'Malley Show," then five of "The Norm Show," and five years of guest spots as Drew Carey's love interest–wife on "The Drew Carey Show." "That was my first real TV comedy gig. I was bleached blond and in a fat suit for most of it," she says. "But yes, I always did comedy and drama, from being a kid doing school plays to training in Chicago where I did tons of theater and was always in both communities."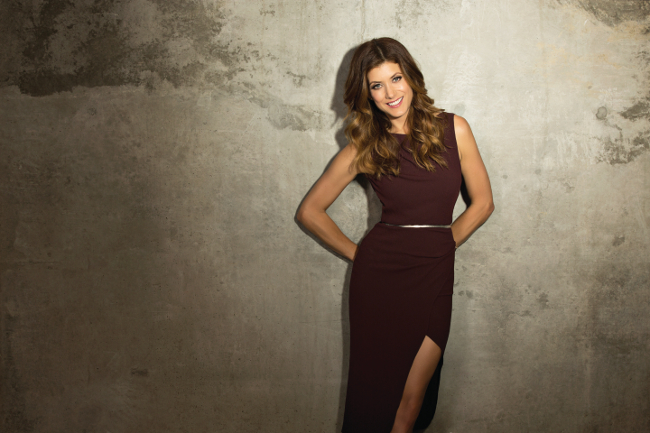 Booked for five episodes of "Grey's," Walsh had the ShondaLand team enthralled and stayed for 59 before making nearly twice as many of "Private Practice." Gary Sanchez Productions (the company behind Funny or Die that includes Adam McKay and Will Ferrell) is similarly enthralled but hardly new to the Walsh fan stable. "I've known Adam for more than 20 years," Walsh says. "In fact, I introduced him to his wife [Shira Piven, sister of Jeremy], who was my dramatic contingency; I did lots of plays she directed."
After almost a decade away from TV comedy, Walsh has observed a substantial shift in the small-screen landscape for funny women. "I'm so excited to be back doing comedy now. Before, I was more the 'straight man' to the guy's funny, the wife-girlfriend roles that I call the 'Oh, honey' parts. There was Jenna Elfman, and 'Friends' was happening, [so] things were already changing; but the single-camera half-hour comedy wasn't happening yet. Now we can make one which can be character- and story-driven and not 'Let's get a laugh every 30 seconds.' I was also very intent that it didn't become something with superquick, hand-held, fast editing. I feel like comedy plays well in two shots, and in wider shots when you can let the audience choose and let the joke play out. That was really important to me."
Though the show might appear to share a sensibility with "Bad Teacher" (in which Hansen also starred), Walsh quickly deduced it did not. "I watched half an episode of that, and I in no way mean that disrespectfully. It's just that the character [played by Ari Graynor] was so different from Rebecca. We really wanted to get into this character that's supersmart and cares deeply but is fallible. It's in the zeitgeist, like 'House.' Rebecca is strong and unapologetic but still self-deprecating. She is humiliated ritually with her mistakes but isn't shameful or neurotic. She's hopefully a strong, funny character with a little bit of fantasy in her. Sometimes it's real, sometimes it's absurd."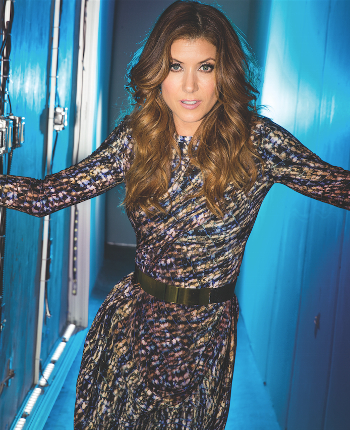 Also attractive was the prospect of ensemble comedy. "It's a workplace comedy in the end, and I get to lead a great ensemble of actors [including Tone Bell, a standout as her sardonic bailiff, and John Ducey as an attorney]," Walsh says. "Ensemble work is the world of improv and that has always spoken to me. The improv scene was something very fresh and indigenous to Chicago at that time. So that's where I feel comfortable, playing off of people and watching everyone contribute."
Walsh did not trawl the plethora of one-hour legal shows for inspiration but instead drew from a female Los Angeles judge. "She was such a wealth of really great, interesting stories. She actually just forwarded me a story about two California judges being censored for having sex in their chambers. Yet I keep getting questions like: 'Could you really get away with that?' I say this is a fantasy and we're having fun. If you can get away with it, why wouldn't you? I mean, look at 'Mad Men.' Don Draper is up to no good all the time in that damn ad agency!"
As for the irony of the show airing against ABC's Thursday night ShondaLand powerhouse trio—"Grey's Anatomy," "Scandal," and "How to Get Away with Murder"—Walsh is more interested in a bigger TV picture. "We're in such an interesting time where the pie is divisible by 1,000," she says. "There's so much choice I get overwhelmed. It's like going to the grocery store for cereal. There are 400 and I just want Raisin Bran. But it's awesome for writers and actors that people are watching TV in so many different ways."
Is she nervous, excited, or both? "I feel completely riddled with anxiety and totally excited and thrilled," she admits. "In the beginning, I felt like I was being prepared for a public execution: 'Look, we're making the princess really beautiful before we sacrifice her to the gods.' But I welcome it. I'm having a great time and putting everything I have into it. We want to entertain people, we don't want to change lives!"
Inspired by this post? Check out our television audition listings!