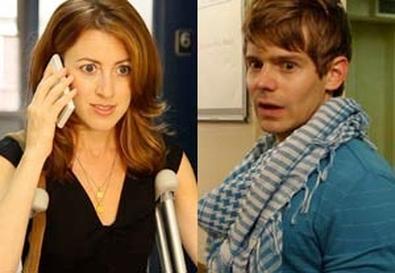 Bad auditions are a blessing, at least for Kate Wetherhead and Andrew Keenan-Bolger. The dynamic duo behind the web series "Submissions Only," which takes a loveable look behind the scenes of the New York theater scene, turn their audition room mishaps into comedy.
"Eighty percent of the time, those situations have actually happened to one of us," says Keenan-Bolger. "Or even if we think we're making something up, someone will tell us, 'Oh that totally happened to a friend of mine.'"
Now in its second season, "Submissions Only" has partnered with BroadwayWorld.com as the site's first scripted series. Episode five of the second season launched on Monday, and Wetherhead and Keenan-Bolger shared with Back Stage how the show has informed their work as actors.
"We're making something that the people are responding to in a really great way," Wetherhead explains. "Andrew and I are actors, but clearly we want to do a lot more. This is a way to announce to our community, we're willing and ready to do more than just be an actor."
Back Stage: How did you come up with the idea for the show?Andrew Keenan-Bolger:
We were doing "It's a Bird…It's a Plane…It's Superman" together at the Dallas Theater Center. During the run, I was commissioned by Music Theater International to do backstage videos of their new work. We made a couple videos together, and I was like, "She's really funny and really smart and has all these good ideas."
Kate Wetherhead:
My husband Jeff Croiter, who was our lighting designer on that show, observed the burgeoning friendship and collaborative potential. He and I were having a conversation about what was next because you always have that conversation as an actor. He said,"You need to stay in touch with Andrew because he knows how to get stuff out there." Then he said, "You guys should make a web series together," which was really out of left field. It was one of those light bulb moments where that suddenly seemed to make sense.
Back Stage: How did you cast the series?Wetherhead:
I've never cast anything before. We know a lot of people, but it wasn't necessarily about these are my six best friends. It was really about, well, we've made these characters and of the people we know who would be the right fit?
Keenan-Bolger:
We would go through our mutual friends on Facebook. We've never auditioned anyone.
Wetherhead:
Now that we're in our second season, we have to branch out a little bit more and we're starting to request people that we don't necessarily know personally.
Back Stage: Had you written or directed before this?Keenan-Bolger:
YouTube came out when I was a sophomore in college, and I feel like I was one of the first people to put musical theater stuff online. I had directed a lot of video blogs and travel videos but nothing as long as "Submissions Only."

Wetherhead:
I had not directed anything ever. I used to write a lot when I was young and really liked it and sort of always thought I'd be an actress-writer but then the acting took over in terms of what I felt passionate about. Three to four years ago, I started to feel a little creatively antsy. I had thought writing for TV would be fun; I like the challenge of telling a story efficiently. This has been sort of the most significant writing I've done in my adult life. And it's really fun.
Back Stage: How do you balance the writing and directing between the two of you?Keenan-Bolger:
Kate writes the majority of the dialogue. We bounce ideas off each other. Kate works more with the actors. I work more with the crew.
Wetherhead:
We're lucky that the actors are really game. Not one person has been difficult. Everyone understands that we're figuring this out as we're going along.
Keenan-Bolger:
A lot of directing is good casting.
Wetherhead:
It's thrilling to watch your seed of your idea take shape and be better than you thought. Everyone gets to have their moment. The ensemble nature of it is really important. It's weird to direct your friends but after awhile, you get used to it.

Keenan-Bolger:
You would think at a certain point people stop looking for direction, and it really has not been the case. When we worked with Kristen Chenoweth and Chita Rivera, they were so much like, "Are we doing the right thing? Do you want more of this?" And you sort of don't expect that. Giving direction to these ridiculous Tony winners is always sort of mind blowing.

Back Stage: Kate, you play one of the central characters in the series. How do you balance being in the show and directing?
Wetherhead:
If I'm in a scene with someone, I'm watching them as my character but I'm also watching them as their director and as the writer. It's a very odd experience.
Back Stage: Andrew, you're in the Broadway cast of "Newsies." How do you balance working in another show while doing the web series?Keenan-Bolger:
From the beginning, we just had to realize that everybody was doing this for fun. I've been lucky that at least the roles I've been doing, I have a lot of downtime. I've been able to read the recent drafts, edit in my dressing room, chat with Kate at intermission, and see how the dailies are going. I've surrounded myself with people who are also very talented. I can't do it on my own. Knowing at the end of the day you get to go home and you can work on your own project is super rewarding as an actor.

Wetherhead:
That's changed my life. The dividends I'm reaping just emotionally and psychologically are unprecedented for myself.

Keenan-Bolger:
It's also informed everything that we've done as actors. I feel like I audition differently from always being in an audition room filming stuff.

Back Stage: Does being recognized from the series help you get other roles?Weatherhood:
The truth about casting is if you're right for something, you're right for something. Even though we're making something that casting directors are responding to, it still doesn't mean that we're going to get the job just because they like our show. It might get us the audition though. You have to be right for the part.