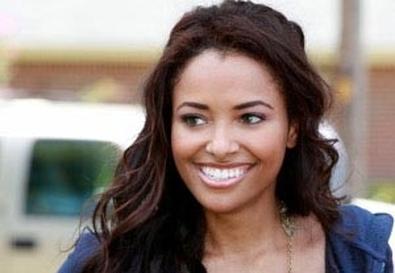 "I'm very strange, I'm not going to lie", says Katerina Graham. Strange? Perhaps. But only in the best sense of the word. A woman of many talents, Katerina sang with Will.i.am and Snoop Dogg, danced with Missy Elliott and the Black-Eyed Peas, and got a degree in recording engineering from the Musicians Institute all before she could vote.
Now she's starring as Bonnie in the CW's breakout hit "The Vampire Diaries," based on the popular series of books. This winsome
wunderkind
also speaks five languages, but feels she yet to reach her full potential. Katerina wants to connect with people through her music and acting, and help the less fortunate around the globe.
Chosen as this week's Girl2Watch, Katerina will be featured in a series or articles, fun facts and social media tweets through this week for subscribers of
Girl2Watch.com
.
In this Back Stage Actor2Watch exclusive, Katerina shares her thoughts on acting and getting roles.
ACTOR2WATCH: What was your first real break as an actor?
KATERINA GRAHAM: This maybe? I had a few little ones. I didn't really get a big break. I don't know if that necessarily applies to me but I did "Movie Surfers" when I was like 13 or 14 for the Disney Channel when I would interview different people from different films and that got me a lot of recognition.
Fanta was a big campaign that got me some recognition. It's always like after these shows are finished, you're sort of back to where you began, back to the auditioning room.
So I feel like "Vampire Diaries" is the biggest thing that I've had that's turning into something beyond whatever I've experienced before. But I don't know if I've ever really gotten a big break before this. I feel like I've had opportunities and then they're gone.
A2W: How did you start out as actor?
KG: I read Back Stage magazine! I actually got a play from auditioning for something in Back Stage magazine.
For plays, me and my mom would sit at the coffee table going through different things I could do to work. So big props to Back Stage because they really help a lot of actors out and I encourage all actors when you're starting out to go get Back Stage magazine go through different plays and get your experience that way because it is such a great magazine for actors. It's really good.
A2W: What kind of training did you get and who did you study with?
KG: I had a coach when I was younger called Darryl Mori who really is such a phenomenal teacher. I'm with Simmons and Scott Management and they do classes, not just for their clients but for everyone else, so I would encourage everyone to please take their classes because I honestly started working because of them.
I'm also working with an acting coach for "Vampire Diaries" who's out here and works with all the actors. Her name is Lisina Stoneburner at The Company Actor's Studio in Atlanta.
A2W: How do you approach auditions?
KG: If I have an audition, I go to the audition in character. I'm in character when I walk in the room. I mean, I'm still sweet to everyone, but I'm very much the character. I fully get in it, I fully dress the character, I do the makeup of the character, I do the hair of the character.
I completely took off my eyebrows one time for a screen test. I hadn't even gotten the role yet. So you have to have a commitment. A lot of actors go in and they might do it half-assed because they don't want to just commit. But at least if you commit to a character they'll remember you.