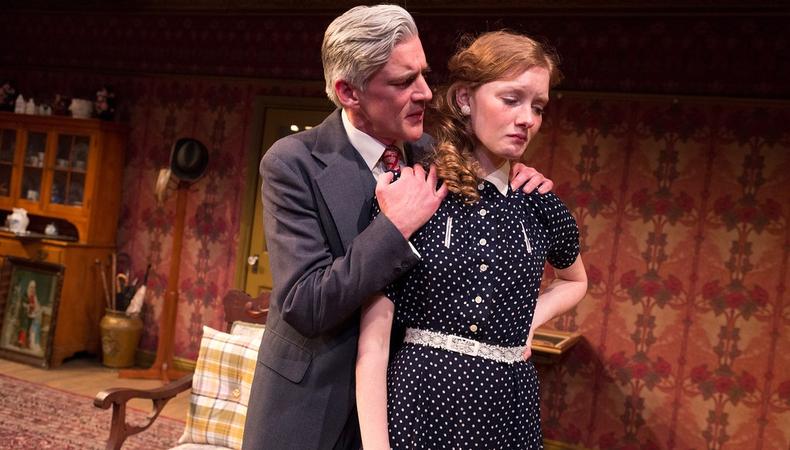 "I'm done with humble. I was meant to be proud." So says the titular heroine of Irish playwright Teresa Deevy's 1936 comedy-drama "Katie Roche," upon discovering early in Act 1 that her illegitimate parentage involved a highborn family. It's an assertion that will be both her undoing and her refuge in Mint Theater Company's first-rate production of this odd work, Deevy's most popular but less compelling than "Temporal Powers" and "Wife to James Whelan," both of which preceded it in the Mint's crusade to resurrect the reputation of the gifted dramatist.
Katie lives and works as the maid in the country cottage of placid spinster Amelia Gregg, whose fastidious architect brother, Stanislaus, often visits from Dublin. A lifelong bachelor, he wants to marry Katie, possibly because he loved her outcast mother, who nevertheless rejected him as too young. Katie initially prefers the handsome Michael Maguire, a village lad who asks her to wait for him to establish himself in life before marrying, despite his mother's disapproval. Katie's newborn desire for greatness alters her wild heart, though, and she impulsively accepts Stan as Act 1 ends. Act 2 observes the marriage's quick descent into discord, and in the third act Michael's proximity torments Katie until Stan makes a decision to bring his unruly wife to heel.
Judy Friel, who directed a 1994 revival in Dublin, says that " 'Katie Roche' shows a patriarchy fully colluded in by women," something most visible in the character of Margaret Drybone, Stan and Amelia's smugly judgmental married sister, here embodied with shrewd economy by the excellent Fiana Toibin. Katie's actions are meant to illustrate how we are usually the progenitors of our own unhappiness, but despite Wrenn Schmidt's compelling, emotionally resonant turn, it too often feels as if Deevy is imposing the choices on Katie rather than letting them spring naturally from character. Patrick Fitzgerald plays his cards close to his vest as Stan, keeping both Katie and us wondering what he'll do next in a smartly concentrated performance notable for its physical precision. As Michael, Jon Fletcher provides plenty of charm and spirit in a rather standard-issue role.
The production's highlight comes at the top of Act 3, when Frank Lawlor, who has loved Amelia for years but never had the nerve to act on his feelings, shows up to at last ask for her hand. The superb John O'Creagh arrives for his one scene full of bluster and apprehension, and the equally fine Margaret Daly joins him for a memorable comic dance of desire, beautifully orchestrated by director Jonathan Bank. Rounding out the company are Jamie Jackson, as Reuben, an itinerant lay dispenser of religious advice, and David Friedlander, as Jo Mahony, Michael's sidekick, with both actors contributing sturdy work.
The Mint consistently creates top-drawer physical productions, and this one—set by Vicki R. Davis, costumes by Martha Hally, lights by Nicole Pearce, sound by Jane Shaw, props by Joshua Yocom—adds immeasurable atmosphere. Deevy's writing may be uneven, but the presentation most assuredly is not.
Presented by and at Mint Theater Company, 311 W. 43rd St., 3rd floor, NYC. Feb. 25–March 31. (212) 352-3101, (866) 811-4111, www.theatermania.com, or www.minttheater.org. Casting by Amy Schecter.
Critic's Score: B