In another universe, the phones kept ringing for Ke Huy Quan. After his childhood roles in '80s staples "Indiana Jones and the Temple of Doom" and "The Goonies," he moved on to more jobs and more successes. He transitioned from kid sidekick to leading man as the types of roles that were offered to Asian actors evolved for the better over the course of the 1990s.
He remained a Hollywood favorite; he never had to step away.
But the multiverse is vast and full of endless possibilities, and we live in the version where Quan found himself approaching middle age, decades removed from his last major acting gig and wrestling with thoughts of opportunities not taken. "I was so afraid I would reach 60 years old and have a lot of regrets," he tells me, his voice shaky.
The sentiment is understandable. Quan's is a comeback tale that would get tossed out at a pitch meeting for being too improbable. After nearly 30 years (minus a small role in 2021's "Finding 'Ohana"), Quan returned to acting in "Everything Everywhere All at Once," a universe-hopping sci-fi–action-comedy-thriller hybrid from Dan Kwan and Daniel Scheinert. Known collectively as the Daniels, the two are best known for turning Daniel Radcliffe into a farting corpse in 2016's "Swiss Army Man" and directing the gonzo 2014 music video for DJ Snake and Lil Jon's "Turn Down for What."
Even with a March release and an Asian leading cast—and more butt plugs and fistfights than your average Oscar play—"Everything Everywhere" now leads this year's Academy Awards with 11 nominations. That includes four individual acting nods, all of them first-timers: Michelle Yeoh for best actress; Jamie Lee Curtis and Stephanie Hsu for supporting actress; and finally—cue tears from anyone with a pulse—Quan for best supporting actor.
This career high comes after years of low moments. "What drove me to give voice to this dream, to step in front of the camera again not knowing what the outcome was going to be, was that fear of regret," he says. "I don't want to live my life with regrets."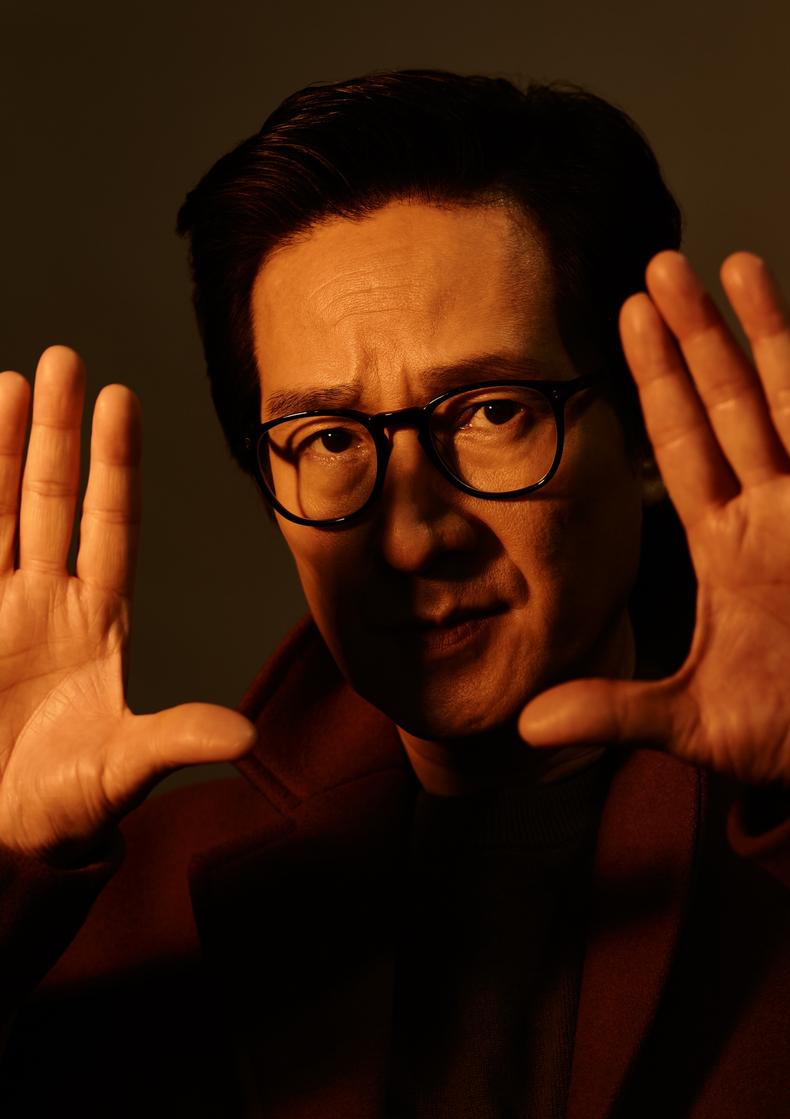 In the film, Quan plays three different versions of the same character, Waymond Wang: an endearingly earnest laundromat owner (Tax Waymond); a solemn multibillionaire who can't buy contentment (CEO Waymond); and a confident, fast-talking ass-kicker (Alpha Waymond). Snapping from persona to persona, Quan is the audience's way into the complex material. He's the one who tells his wife Evelyn (Yeoh) that "the smallest decisions can compound into significant differences over a lifetime" and that "every tiny decision creates another branching universe."
It's a concept Quan found familiar; he was "content" when he left acting behind. After graduating with a film degree from the USC School of Cinematic Arts, he worked as a stunt coordinator and assistant director. But in quieter moments, he found himself poring over the decisions he'd made and the ones he hadn't: alternate versions of himself who went left when he went right or took a better job at a better time.
"I do think about it. How can you not? It's what our movie is about," the actor says. "[Especially] when I was in my 20s and my 30s, I always wondered: Could my life have been different had I chosen a different path? Those thoughts were on my mind all the time: Did I miss an opportunity? When I was much younger, people said, 'You should go and network more; you should go out more.' [But] I'm a very private person."
"I like the feeling of not knowing. It keeps me grounded; it keeps me feeling grateful. Optimism is a great feeling…. I didn't have it in my younger days, but I have it now."
He recalls one particular night in Macao. It was the early aughts, and Quan was assistant directing on Hong Kong auteur Wong Kar-wai's "2046," watching the filmmaker's muse Tony Leung give one of his trademark brooding performances.
"I had this weird feeling, watching [Leung] in front of the camera while I was behind the camera," Quan recalls. "I loved it; I'm a big fan of Tony Leung. But I was also just standing there watching him and remembering when I was in front of the camera—all of those wonderful memories I had. [I was] just missing it—really missing that part of my life."
It would take nearly two decades of doubting and second-guessing before Quan decided to take the leap back into acting. As luck would have it, that decision coincided with the Daniels putting out feelers for "Everything Everywhere." It felt like fate—like, finally, the right part had come along at exactly the right time.
After his first audition, Quan heard nothing for two months. "I was miserable. As each day passed, I was doing exactly what I was doing when I was younger: waiting for that phone to ring," he says. But his wife, Echo Quan, kept the faith. "She told me every single day, 'Just wait,' " the actor recalls. "Two months is a long time. I told her, 'They're probably negotiating with another actor right now.' But she never gave up. Because of how much I wanted it, and from watching my reaction reading the script, how emotional I got, she said, 'You're perfect for this.' "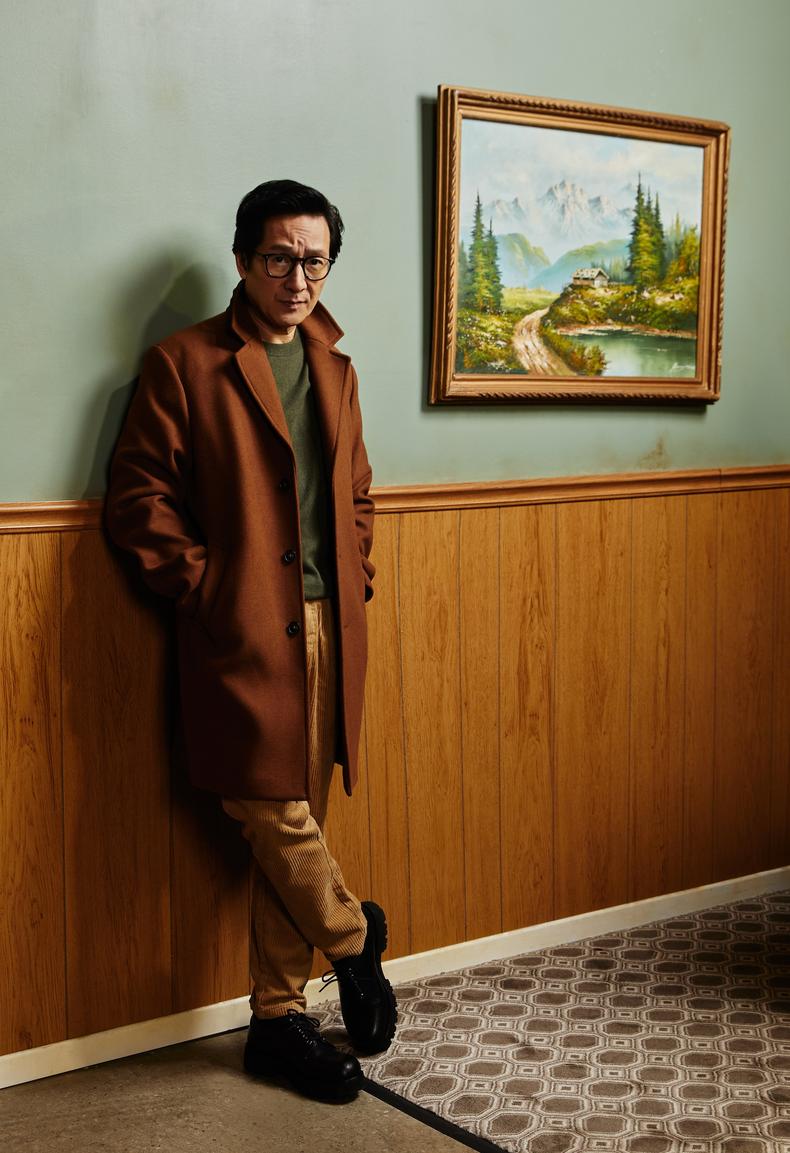 She was right. That phone call finally came, and it was time for Quan to make his triumphant return to the screen. But first, he needed to print out dozens of photos of squirrels, foxes, and birds.
Actually, let's back up.
After getting the part, Quan called his agent immediately. "I said, 'I need a lot of help. I love this role so much, but I don't think I can do it alone,' " he remembers. Inspiration struck when the actor came across an interview with Margot Robbie. "She mentioned that she always finds her characters with a body movement coach," he says. "That's exactly what I wanted for the versions of Waymond. I wanted the audience to be able to clearly distinguish between which version is up on the screen."
Quan went right to the source: Robbie's go-to movement coach, Jean-Louis Rodrigue, a practitioner of the Alexander Technique who helped the actor find his way into the material. "He goes through the script and finds a different animal he thinks is perfect for a particular character," Quan says. Rodrigue assigned him three: a squirrel for Tax Waymond, a fox for CEO Waymond, and an eagle for Alpha Waymond.
"My homework, before we even started our first session, was to go on YouTube and watch countless hours of these animals," he says. "Not only that—he wanted me to print out pictures of different-looking squirrels, different-looking foxes, different-looking eagles. I went to a printing shop and printed out, like, 50 or 60 photos of just these three animals. I taped them all over my wall."
Quan had pictured his return to acting for years; but somehow, an image of himself on the floor imitating a squirrel never factored into that vision. And yet, he says, "I would do that over and over again and slowly transform into my character. It's a fascinating technique." That's the beauty of most body-based acting training: It sounds incredibly silly right up until it starts to work. Quan arrived on set in California's Simi Valley comfortable with the idea of switching between personas, if not yet entirely confident in his ability to pull it off.
"I still didn't think I'd be able to do [this role] until the end of the first week of shooting. I remember the very specific shot [that changed my mind]," he says. He's referring to a moment at the end of the film's first act in which timid Tax Waymond transforms into Alpha Waymond midsentence. "It was that shot that Jamie Lee Curtis saw on the monitor. She ran up to me, gave me a big hug, and said, 'Ke, that was fricking incredible.' Whatever doubts I had before that were completely gone. She gave me a lot of confidence and a lot of courage to really dive in."
In a full-circle moment so serendipitous that it feels preordained, Quan's spent his last day on set shooting scenes as CEO Waymond in a sequence inspired by Wong's cinematic aesthetic. He needed to channel Leung, whom he had once watched perform from the other side of the camera. "The feelings I had when I had to step away, those feelings of confusion, of feeling completely lost—all of that just came flooding back in," Quan recalls. "All those times wondering, What would my life have been like had things worked out much better for me?"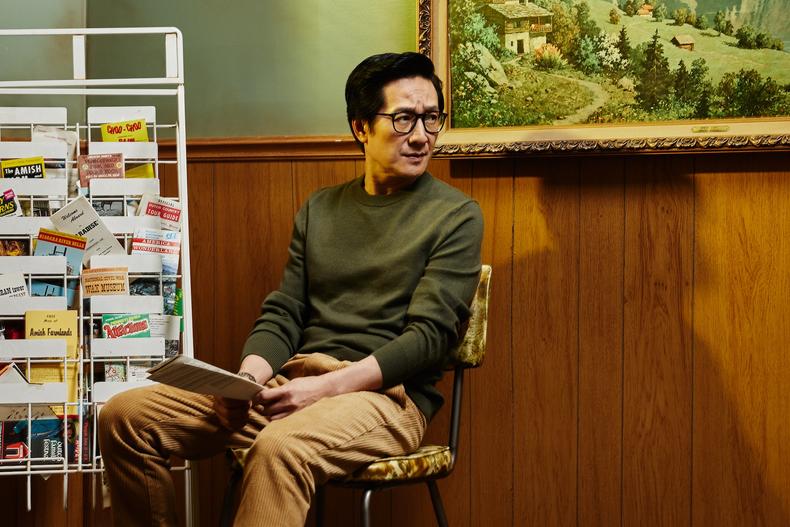 Quan took those memories and applied them to what is sure to be his Oscar reel moment: Waymond's remorseful, melancholy admission to Evelyn that "in another life, I would have really liked just doing laundry and taxes with you."
"This is to the credit of those beautiful words the Daniels wrote; they just took [me] over," he says. "I love that line, but I didn't think it would resonate with audiences the way it did. It was just [based on] me having serious FOMO all those years and feeling lonely. That's what CEO Waymond is: He's very lonely, even though he's very successful. He has all the money in the world, but he doesn't have the love of his life."
The next day, production shut down for eight months due to the pandemic; on the other side was a single day of pickups. "When they did my last shot and said, 'Ke, that's a wrap for you,' I was so happy and so grateful. I remember giving the Daniels a big hug and thanking them over and over again for this amazing opportunity," Quan says. To him, it felt like the start of a new chapter. After having weathered every twist and turn, surely he was finally here to stay.
But then 2021 came and went without a single follow-up gig. And when the calendar flipped to 2022, he lost his health insurance. "I was auditioning left and right, and I could not land one single job—not even one callback," Quan says of the year and a half between wrapping "Everything Everywhere" and the film's debut. "I was so sad and nervous. I thought, once again, Was this just a one-time thing?"
With the film in postproduction and his phone still silent, Quan reached out to "Everything Everywhere" producer Jonathan Wang. "I said, 'You've seen the movie many times. Can I ask… Am I any good in it?' " Quan remembers. "He said, 'Ke, why are you asking me this stupid question?' And I said, 'Jonathan, I cannot land a job.' "
Wang offered the same advice his wife had given him years earlier: "Just wait."
Ever since "Everything Everywhere" premiered early last year, Quan's patience has paid off in dividends. It's not just the Oscar nod—it's also the slew of other nominations that led up to it, including from the BAFTA and Screen Actors Guild Awards. It's not just that he won a Golden Globe—it's the moment he looked out from the stage and saw Steven Spielberg, the director who gave him his start way back in 1984, leading a standing ovation. Not only did a wide audience embrace the weirdness of "Everything Everywhere," but scores of people continue to tell Quan that his "story inspired them—that it's encouraged them to keep on dreaming."
"For a long time, people said, 'Where did you go, Ke? What happened to you?' " Quan recalls. "I would get interview requests from journalists who wanted to do the piece: 'Where Are They Now?' The truth is, I've been here the whole time. Never did I think that opening up or sharing my story would inspire people. That's the greatest joy out of all of this."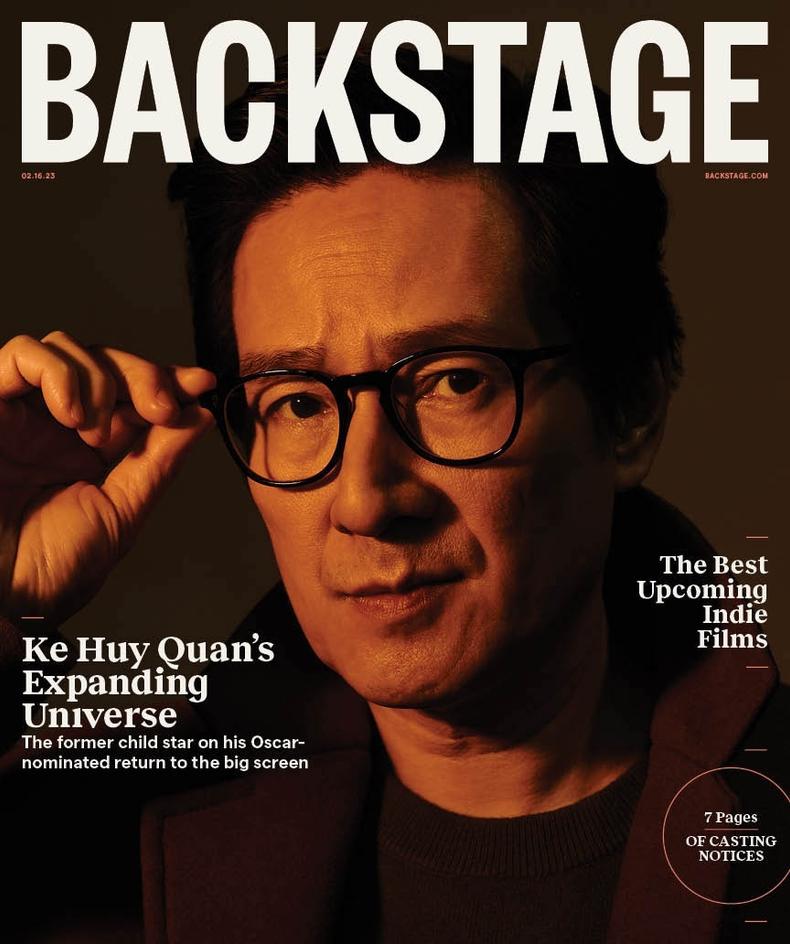 Quan now has a few exciting projects in the can. The Disney+ action-comedy series "American Born Chinese," which will premiere this spring, reunites him with Yeoh and Hsu; soon after, he'll join the Marvel Cinematic Universe on Season 2 of "Loki." And then? "I don't know what my next project is, and that's the truth," the actor says. But that blank slate feels different these days. "I like the feeling of not knowing. It keeps me grounded; it keeps me feeling grateful. Optimism is a great feeling…. I didn't have it in my younger days, but I have it now."
He still thinks about them, though—those versions of himself who did things differently. He knows there are a few hundred million universes where the path was straighter. But Quan took this one, and he couldn't be happier.
"Life is supposed to be full of ups and downs. It's the peaks and valleys that make a beautiful landscape," he says, voice steady. "I wouldn't change a thing."
This story originally appeared in the Feb. 16 issue of Backstage Magazine. To hear our full conversation with Quan, listen and subscribe to In the Envelope: The Actor's Podcast.