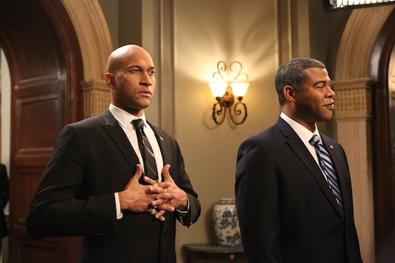 Last night, Emmy nominee Keegan-Michael Key of "Key and Peele" made quite the entrance for his Emmy series SAG Foundation Q&A, moderated by Backstage's editor-in-chief Mark Peikert.
After the screening of tonight's new episode of the Comedy Central show, Key ran down the aisle from the back of the auditorium, giving out high fives and soliciting applause and cheers.
The performer—who can also currently be seen on USA's "Playing House"—earned his first acting nod this year for outstanding supporting actor in a comedy series; the show itself is nominated for writing for a variety series and writing for a variety special.
Key said when he learned of his nomination he kissed his dogs and his wife—"in that order."
Maintaining an infectious energy throughout the Q&A, Key shared his secrets to creating characters, what he believes makes a successful sketch, and more.
On creating characters.
"You have to have your antenna up all the time when you're a sketch performer and just say, 'What's this behavior? What's that vocal signature? What's that person doing? Now…why would anybody walk like that?'
"When I was in graduate school and would teach students I'd say, 'When you go on the subway in New York City, you may be looking at someone across the way with your friends and making fun of them, but I'm thinking, That person's gonna win me a Tony.' Because you're culling material from life. It's the best way. Because the more specific you are, the more general it is. It's so funny…the more specific you make a person, the more people can enjoy it."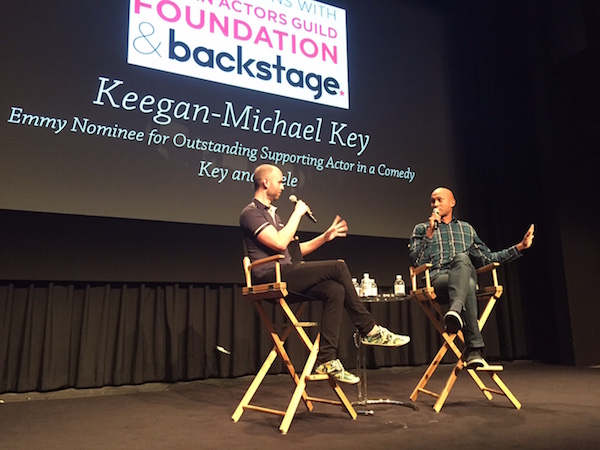 On what makes a successful sketch.
"A sketch should be treated like a small movie—like a very short, three-minute movie. So there should be a beginning and a middle and an end. The hardest part is always the end. And the other thing, of course, is there should always be an element of surprise in the midst of it."
On his favorite type of sketch.
"There's a type of sketch that Jordan [Peele] and I call 'peas in a pod.' The valets are a peas-in-a-pod sketch, where both characters are extremely excited about the same thing. So there's no conflict between the characters; it's just heightening, heightening, heightening."
"You're just watching me and Jordan perform as if you'd be watching us on a stage. We're doing a performance piece [and] it's less about the genre than it is about the performance. So those are my favorite, favorite sketches to do. They're the most fun because we're truly interacting with each other in the moment as much as we can."
On his advice for anyone who wants to go into comedy.
"Observe human behavior, because that's where you're gonna find truth. You find the truth in other humans and how they react in situations. That's my big thing. Observe how other humans behave in situations as opposed to how you do, and literally just start cataloging it."
Inspired by this post? Check out our television audition listings!