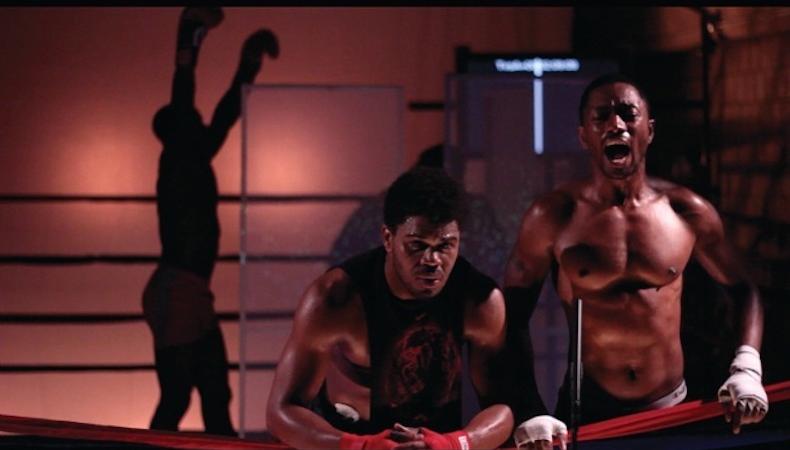 The actors in the ring jab, weave, block, and punch. Then you hear it. Smack! Did he just hit that guy in the face? Yes. Yes, he did—and it looked like it hurt.
Unlike with most stage combat, in Reid Farrington's "TYSON vs. ALI"—which depicts an imaginary match between heavyweight champions Mike Tyson and Muhammad Ali—the four actors have learned to take actual punches.
"It's a visceral experience," director Farrington explains about his immersive new media production combining dance, theater, and finely tuned video projections, which premiered this month as part of New York City's COIL festival. "We're trying to engage the audience in the actual sport and talk about the sport and build on top of it with an engaging dynamic experience."
Which meant that the actors didn't just learn stage combat; they trained to be boxers. "I told them, 'We're going to wear headgear,' " Farrington says. "And they said, 'What, is this going to be the greatest amateur match ever?' They've asked more of me. Because they are willing to go there, I'm here to support them."
Boxing is in the zeitgeist—at least onstage. Last year, Seth Numrich honed his skills for the Broadway revival of "Golden Boy." This spring, Andy Karl plays a version of Sylvester Stallone's Rocky Balboa when the musical adaptation of "Rocky" premieres on the Great White Way. According to Karl, he put on 12 pounds when he decided to reach an actual heavyweight's minimum weight. It's one thing to sculpt your muscles and practice a great uppercut; it's quite another to go eight or nine rounds as icons Iron Mike and The Greatest.
Of the four actors in "TYSON vs. ALI"—Dennis Allen, Roger Casey, Femi Olagoke, and Jon Swain—only Swain had boxed before. In fact, he'd been an amateur fighter for close to eight years when an injury forced him to reconsider, and he decided to focus on acting. The other guys, who all have experience in martial arts, immediately noticed the difference after they began training with Martin Gonzalez at Brooklyn's famed Gleason's Gym last summer.
"There's 'in shape' and there's 'in fighting shape,' " says Allen, who has a black belt in Soo Bahk Do. "When you're up there, those three minutes become the longest three minutes of your life. Jon is conditioned in that way, so he would stay in all the rounds when we were training, and we would switch out. He'd have six rounds and we'd have two, and we'd be sucking wind."
Olagoke, a fitness model, dancer, and athlete, agrees. "I came already trained and conditioned but with boxing, you have to learn new ways of using your body, how to breathe properly, pace yourself," he explains. "You don't want to get too tired easily. If you're throwing all these hard punches, after the first minute, you're done. It's like running an 800-meter race. You're not gonna sprint the first 400, because you have to make the last stretch."
That stamina is essential, as 26-year-old Casey, a combat choreographer himself, knows, but it's also transformed them at a deeper acting level. "You can't fake fight. We're taking blows, giving blows," Casey explains. "It also gives you humility. It's a pure confidence, but with an understanding of your limitations."
This is another reason such a deep camaraderie has been forged among the cast, which also includes Dave Shelley as a referee. They've been working together for seven months "building" the ensemble piece in grueling eight-hour days. "There's a lot of trust, and we know there's no bad intentions," Casey says, adding that they've left their egos out of it.
The extreme preparation has also seeped into other aspects of their lives. The guys admit that dating is tough when all you want to do is eat, stretch, and sleep. "It's very method," Casey quips. And Shelley adds that there's not much socializing at bars after rehearsals. "It's the first group I've worked with that if I say, 'Hey, man, let's get a beer,' they just want a low-carb protein shake. Or they say, 'No, man, we're gonna go home and get some ice.' "