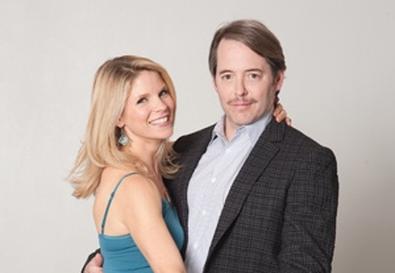 Kelli O'Hara wouldn't let herself sing the George and Ira Gershwin ballad "Someone to Watch Over Me" for a long time. "It was sung a lot so I never let myself," O'Hara says. But with "Nice Work If You Can Get It," which opens April 24 on Broadway starring O'Hara and Matthew Broderick, she and Broderick are finding new reason to bring the classics to life. Broderick, for one, can't get enough of O'Hara. "I like everything she sings," he says. If he had to pick just one as his favorite? "'But Not for Me,' I guess," he says.

The songs have long been standards, boasting recordings from multiple iconic singers, but O'Hara is excited about offering a fresh take on the material. "If I was singing it cabaret, I would probably think, 'Oh my gosh, how would I sing this song to stand up to Ella Fitzgerald or Frank Sinatra?'" she says. "That's the great thing about this. No one's played these roles before. The pressure is just our own, my own ability to fall on my face." Broderick isn't nervous. "Those songs are going to be fine," he says calmly.

Check out Back Stage's cover story with Matthew Broderick and Kelli O'Hara on newsstands on Thursday!