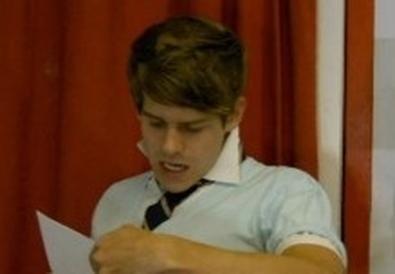 Things are coming up roses for Broadway's favorite Web series "Submissions Only." After a successful Kickstarter campaign, it was announced today that the show will return for a third season. Tony Award-winning producer Kevin McCollum has also attached himself to the project.
"I admire new voices finding their way in this industry," said McCollum in a statement. "[Co-creators] Kate and Andrew's determination had an extreme influence on me, and I am committed to doing anything I can to facilitate this venture that I wholly believe in."
McCollum's producing credits include "Rent," "Avenue Q," "The Drowsy Chaperone," and "In the Heights."
The "Submissions Only" group launched a Kickstarter campaign in November and was able to raise $60,000, exceeding their fundraising goal by $10,000.
"The demand from our fans for a Season Three has been strong and clear," said Wetherhead and Keenan-Bolger in a press release. "We're very excited to tell people that we're moving forward."
Created in 2010, "Submissions Only" is a Web-based sitcom showing audiences what life is really like backstage. The series follows the friendship of two theater professionals, an actor and a casting director, as they build their careers.
"Submissions Only" has become known for its celebrity guests, such as Nick Jonas and Kristin Chenoweth, with Kelli O'Hara and Will Swenson set to appear in this season.