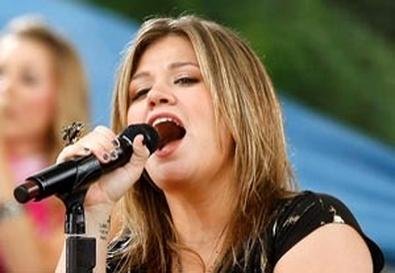 LOS ANGELES (Reuters) – Singer Kelly Clarkson says she's perfectly happy about her fluctuating weight. So why did
Self magazine
, in which she made the remarks, retouch its cover photo of the "American Idol" champ to make her look much thinner than she is in real life?
"Only to make her look her personal best," says Self editor Lucy Danziger, adding that retouching is standard practice in the glossy magazine business.
Danziger's admission in a blog this week on Self.com
has touched off a furor only a few months after singer Jessica Simpson made celebrity news headlines when she was pictured looking heavy in an unflattering pair of high-waisted jeans.
Clarkson's case is ironic because the singer talks about her weight in Self's September issue, which is called the "Total Body Confidence Issue," yet the magazine radically altered her appearance on its cover.
"My happy weight changes. Sometimes I eat more; sometimes I play more. I'll be different sizes all the time. When people talk about my weight, I'm like, 'You seem to have a problem with it; I don't. I'm fine!'
"I've never felt uncomfortable on the red carpet or anything," Clarkson, 27, told Self.
It's not the first time that Clarkson, a Grammy winner who has sold more than 20 million albums since winning "American Idol" in 2002, has been slimmed down for promotional reasons.
In January, she wrote on her blog "they have definitely photo-shopped the crap out of me" on the cover of her latest album "All I Ever Wanted."
Photoshop, of course, is the computer software program photographers and others use to digitally alter a picture.
Explaining the decision by Self, a beauty and fitness women's glossy, Danziger wrote that "A (magazine) cover's job is to sell the magazine...In the sense that Kelly is the picture of confidence, and she truly is, then I think this photo is the truest we have ever put out there on the newsstand."
Readers have reacted with a mixture of fury and resignation. "This issue would have sold like crazy without you editing her photo...What is a shock is that you practically gave her someone else's body," wrote shannichapman on the Self.com comment page.
But reader cdv2003 wrote it was no surprise that magazines airbrush their photos. "Good luck finding any women's magazine that adheres to your high ethical standards, Magazines are marketing tools, but I still love reading them!"
(Reporting by Jill Serjeant; Editing by Bob Tourtellotte)
---
COPYRIGHT: (c) Reuters 2009. All rights reserved. Republication or redistribution of Reuters content, including by caching, framing or similar means, is expressly prohibited without the prior written consent of Reuters. Reuters and the Reuters sphere logo are registered trademarks and trademarks of the Reuters group of companies around the world.