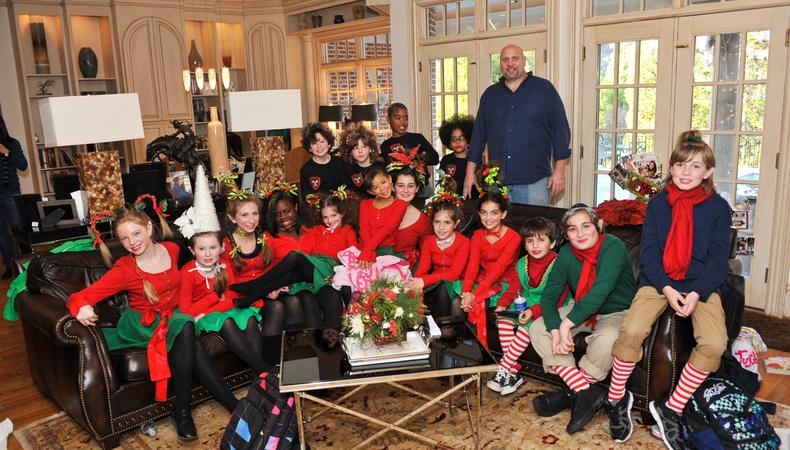 With his bulky 6-foot-4-inch frame and shaved head, it's no surprise that Ken Feinberg was regularly cast as demons, bikers, convicts, and prison guards on shows like "Buffy the Vampire Slayer," "Charmed," "Alias," "The District," and "Star Trek: Enterprise." Though he happily worked as an actor in Los Angeles, the Georgia native ultimately decided to return to Atlanta and share what he had learned with other aspiring actors.
"My dream was to be an actor in Hollywood, but to come in and choke someone with a billy club wasn't what I imagined," he says. "About ten years ago I opened Creative Studios of Atlanta and have been training actors and making films since then."
Through his film academy (as well as his day camps at Atlanta Workshop Players), the award-winning filmmaker teaches all aspects of acting, from business and marketing to auditioning and improvisation. After students graduate from the film academy, Feinberg takes small groups of students on trips to L.A. and Italy for networking with casting directors, screenwriting courses, and other continuing education. Though his focus is on kids and teens that are serious about becoming working actors, Creative Studios also offers classes for adults. At the end of each 31-week course, the students learn what it's like to be on set, going through wardrobe and makeup, while making a film in which they all have speaking roles.
"The last class is a red carpet premiere where the kids all put on tuxedos and gowns and take a limo from the class to the movie theater," he says. "They all walk the red carpet while the parents act like paparazzi and take flash pictures, then we go in the theater and screen the film. We get agents and casting directors to come and our goal is to see if agents will pick up some of the actors."
After creating more than 100 short films and a few features, Creative Studios' biggest production yet is the new holiday family comedy "Santa's Boot Camp," which won the Directors Gold Award at the International Family Film Festival last month. Having begun production four years ago, the film utilizes Atlanta-area attractions like Stone Mountain Park to create a North Pole filled with elves, special effects, and more than 70 film academy actors.
"We wanted to finish the shoot before the kids grew up," says Feinberg. "Some of the elves grew up and couldn't be elves anymore. If you look closely, there are actors that are elves in one part and teengers in another part because they've grown up. Luckily our six lead teenagers didn't grow up too much."
Since he started training kids and teens seven years ago, Feinberg has seen many of his students go on to book regular film and television roles. The cast of "Santa's Boot Camp" is no exception; several of the film's stars appeared in movies and shows including "12 Years a Slave," "The Hunger Games" series, "The Walking Dead," and "Nicky, Ricky, Dicky & Dawn."
Having previously worked in casting and various other aspects of the industry, Feinberg teaches his students how to conduct themselves in a professional manner with casting directors and how to learn from their mistakes in the classroom so they don't repeat errors during auditions.
"I've had the unique experience of being on all sides of the casting room: as an actor, a casting director, a producer, a director, an assistant, a camera person," he says. "The main thing Atlanta actors need to know is that you have to be prepared, you have to be professional. Actors that think they're good enough without being trained properly create a bad reputation for professional actors in Atlanta who are working hard to do it right. I know because I was one of those bad actors a long time ago. I used to get all the lead roles in theater when I was young and I thought I was the bomb. When I started auditioning for films, I thought, 'I'll just do what I do in theater.' Once I got trained in L.A., I realized I was doing everything wrong. If an L.A. director comes in, they're expecting actors to perform at a certain level. If an Atlanta actor comes in and isn't performing at that level, they're not going to get hired and the message going back to L.A. is going to be that Atlanta actors aren't ready to perform larger roles."
Even once you've left his academy, Feinberg advises his students to continue learning from their mistakes in order to be successful.
"No matter if you book it or don't book it, the casting director will remember you if you do a good job," he says. "Casting directors always need good actors they can count on. You may need to audition for a casting director numerous times before they see a consistency in your auditioning to have the confidence to put you in front of the producer and director."