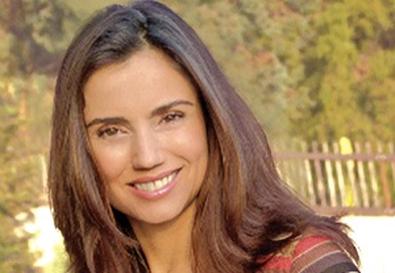 You might have to be 6 feet tall, thin as a weed, and drop-dead gorgeous to be a runway model or make a fashion magazine cover. But there are a host of print modeling gigs that employ the mature, the chunky, the average, and the quirky. And the majority of "models" who grace the pages of lifestyle features and/or advertising copy are actors. While the lousy economy has diminished the number of such stints, there is still supplementary money to be made in the field. Actors have been doing it for decades, though it continues to be a well-kept secret.
Dina Paisner, for example, says her modeling and acting careers have dovetailed for more than 50 years. For the most part, she has enjoyed her modeling assignments thoroughly, even though they don't pay much. She is especially drawn to editorial work that tells a human-interest story. Her more intriguing assignments have included illustrating features on pet adoption, divorce among the elderly, and a son visiting an ailing mother in a nursing home. They give her a chance to act, within parameters. Other actors agree. Still, there are challenges.
Nuts and Bolts
For starters, the competition is stiff. There may be dozens—and in some instances hundreds—of actor-models who show up for any one project. In New York, it's not an uncommon requirement for actors to bring their own clothes and do their own makeup, though wardrobe and makeup artists are on hand if the client is an upscale advertiser. It's a little different on the West Coast, where most of the clients are advertisers and there are fewer editorial gigs. Caara Shayne, a Los Angeles–based actor-model, likens editorial modeling to stage work, meaning it may be more artistically satisfying than print work for advertising copy but it doesn't pay much.
Most actor-models have representation. In L.A., models are more likely to be signed with an agent, whereas in Manhattan it's largely a freelance arrangement. On both coasts, actors are sent out on "go-sees," where their portfolios are viewed. Usually at go-sees, some photos are taken simulating the job or campaign. Sometimes the photos are emailed to the clients; other times the clients are present at this initial interview. If the model's style and appearance coincides with what the client is seeking, the model may be called back or even book the job.
In the best of times, actor-models can be sent out on a host of go-sees each week. In today's rugged economy, weeks or even months may go by without a go-see. If you book the job, fees can range from a few hundred dollars to $1,500 a day or more depending on the product, model, and agency. Some projects generate pay on an hourly basis; others bring a flat fee. Agents typically earn 20 percent of the fee from the model and an additional 20 percent from the client.
A Different Kind of Acting
A shoot can last eight hours or longer. Actors are given directions and adjustments by the photographer and/or art director. In many ways, the experience is not all that different from any other
acting gig.
"I think of it as acting frame by frame," says L.A.-based Josh Friehling, who has been modeling since high school. "I don't think of print work as distinct from acting. Whether you are a performer in TV, film, or still photography, you are performing. The directions are very specific, and it's not unlike doing a commercial. I did an ad for a sports-clothes company, and I was playing a runner, and my direction was to look determined. And that was my preparation: to feel determined."
Paisner talks about the need to emotionally justify every shot. "It's not simply looking good but feeling whatever it is they want from the inside," she says. "In my last print ad for a Jeep, I had to look like a wealthy woman who could afford it. A challenge is keeping my body and imagination flexible."
Desiree Hall says frankly her biggest challenge is dealing with the inevitable rejection, closely followed by feelings of intimidation thanks to the "gaggles of beautiful women" who often surface at the casting calls.
Most actors we interviewed came to modeling at the same time they launched their acting careers or shortly thereafter. Others started their professional lives as models, viewing it as a steppingstone to an acting career. Still others had their sights set on modeling without any thought to acting. Shayne, who has been modeling for 25 years, was a successful model and had never viewed acting as a goal until a talent agent saw her pictures and felt he could find her acting work. She feels her years as a model gave her a jump-start. "Modeling trains you to be comfortable and look good in front of a camera," she explains. "You also learn something about angles, lighting, and makeup."
Print work is the most common vehicle for actors who model, but there's also "spokesmodeling." Jennifer Cetrone, who has worked as a trade-show spokesmodel, says clients are usually looking for "an attractive person who can speak well on behalf of the company, make guests feel warm and welcome, and answer people's questions." When times were good, Cetrone worked on average two conventions a month, each running three to five days. The aftermath of Sept. 11 and the current economic downturn have diminished the spokesmodel opportunities, she says. Still, the experiences honed her acting skills—"You have to sound truthful and warm and honest"—as well as business skills that are currently serving her well as founder and artistic director of the bicoastal theater troupe From the Ground Up.
It's a Business
How does one get into modeling? Landing representation is the first step, and while there may not be as much demand right now as in better times, agents are on the lookout for new talent. Indeed, the three agents we interviewed (two in New York and one in Los Angeles) say they look at all headshots and composite cards that come in, insisting they never know what types will be in demand—at the moment ethnic and ethnically ambiguous looks are hot—and there's frequently a need to replenish their databases. A repeated refrain, however, is that photos should be professional and look like the actor, whether it's an 8-by-10 glossy or composite card. The latter typically features the actor in several different personae—ideally from paid bookings. If the actor doesn't have professional print credits, he or she can still demonstrate several different personalities with composite shots.
"You're going to have to be willing to spend some money for good photographs," says Carol Scott, at CESD Talent Agency in Los Angeles. "That may mean spending between $300
and $750."
Ramona Pitera of Ramona's Model & Talent LLC in New York strongly urges actors to do research on a photographer before doling out money. She says being drawn to the photographer's work in addition to feeling comfortable with him or her is very important. If nothing else, good photographs show a seriousness of purpose and a willingness to approach modeling as a business.
Professionalism is essential at every step of the process, adds Lauren Green of Lauren Green Agency LLC in New York. "Be prepared, get enough sleep, and be on time," she advises. "Bring your headshots and/or composite cards. And expect that it may take between 60 and 90 days to get paid. Expect rejection."
But even during the downtimes you should make sure you're on your agent's radar, says Pitera: "Re-establish that relationship with your agent, reach out, call, and I don't mind if you drop by once a month.