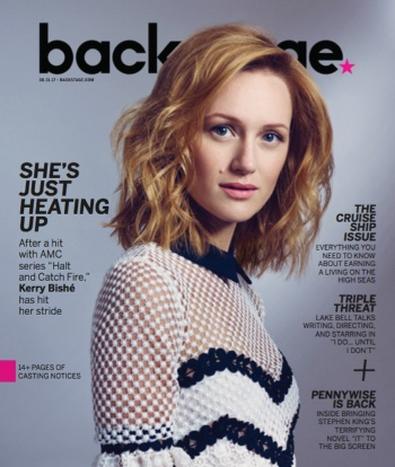 Kerry Bishé will hug you before you introduce yourself. She'll spend much of lunch hoisted on an elbow as if willing the wall-length banquette at Temple Court (formerly Fowler & Wells) in Manhattan to recline like a La-Z-Boy. Before the check arrives, you might compare photos of your worst recent sunburns—except yours came during a bike ride around Governors Island, and hers happened in Colombia while playing a Harvard-educated cokehead and money launderer's wife on Season 3 of "Narcos." Details.
A series regular role on an established Golden Globe–nominated Netflix drama is just the latest on the 33-year-old's formidable list of acting accomplishments. In her 20s, she landed roles on Broadway ("Pygmalion"), in a best picture Oscar winner ("Argo"), and most notably in the AMC series that inherited its coveted "Mad Men" time slot: "Halt and Catch Fire," now in its fourth and final season. Directors she's worked with include the late, great Alan Rickman, Edward Burns, Kevin Smith, Zach Braff, and Ben Affleck. However, she's far from complacent about her success.
"The point to me isn't to play [a] spectacular character, it's to play all of the spectacular characters," she says, undaunted. "The diversity of things is really engaging and enticing to me. I can discover and affirm all of the many different parts of myself."
That internal discovery process was admittedly immense for "Halt." Despite describing herself as a "Luddite" when compared to "computer genius" Donna Clark, Bishé has become fascinated with every aspect of science, from supporting President Obama's Computer Science for All initiative and Alan Alda's Center for Communicating Science at Stony Brook University to taking a five-day build-your-own canoe course (an endeavor chronicled in "Popular Mechanics").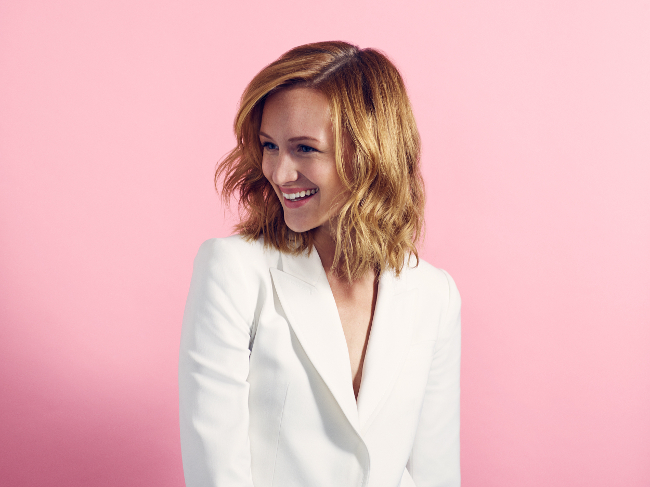 "Halt" wrapped production in late July, six days prior to our meeting. "That week, I'd look at a sunset and I could just want to cry," she says about her feelings on leaving the show behind. "You kind of have to put [characters] away, and I don't know how to do that yet, exactly." But Bishé has known for a while how it feels to lose oneself in a character.
During her childhood in Glen Ridge, New Jersey, while rehearsing a production of "Macbeth" alongside 50 of her fellow seventh-grade witches, she learned what "letting go of your idea of your presentation of yourself" and reveling in "being ugly and disgusting" meant. But her extracurricular duties as an acolyte at her local Catholic church, where she'd light candles and prepare the altar for Mass, was where she discovered what was, for her at the time, the most "meaningful, real theater you can have." "I'm not Catholic anymore," she clarifies, "but I was really into it."
Her youthful commitment to the church and participation in its performative rituals morphed into an ardent pursuit of theater. Now, she chuckles at the complex weight she put on herself by "doing theater to try and talk to God," and the challenges she came up against for never fully acknowledging the logistics of auditioning for a living before she committed to a career in acting. "You get out in the world and you have to start compromising," she says about shifting her spiritually driven perspective. "I auditioned for commercials and it was hard to, like, eat the bowl of cereal [on camera]"—especially when her initial reason for acting felt so much more sacred.
She's past that particular point in her career and is currently a regular on two popular TV series, but the former Northwestern University theater major (and mime company member) says she still has an eye for the stage. "I miss it a lot. You do a straight play for three months, four months, maybe. It's so brief. And then you're on to the next thing. I loved that. I love that rhythm and that pace." Comparatively, she says her TV tenure on "Halt," playing a competitive co-founder of an '80s startup and mother of two, felt a little claustrophobic at times. "You feel like you're squeezing yourself into this Donna Clark box." Plus, working in TV means "you're really at the mercy of a lot of people around you.... You maybe make a lot of decisions about who you think this [character] is, and then you get the script for the next episode and you realize that none of those things can be true."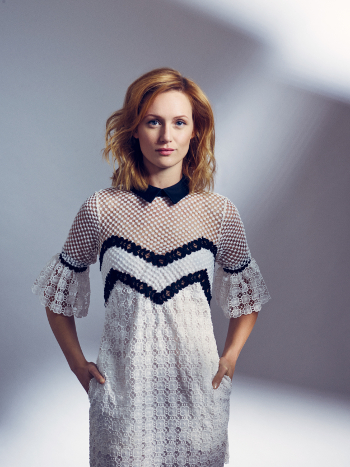 She picked up another important lesson on characterization when shooting her first film role as Twenty-Something Girl Dreaming—she peers through a shop window—in the opening moments of "Sex and the City: The Movie." "I'd never really been on camera at all before," says Bishé. In the audition, director Michael Patrick King instructed her to "do, like, 100 percent less," on her second take. She's convinced that she did her best mime. "It's humiliating to think about it now but it was probably just enormous." For actors beginning to navigate performing for the camera lens versus for an audience, Bishé repeats a bit of advice from her "Pygmalion" co-star Jay O. Sanders: "Always know what the frame is and then treat that like it's the proscenium of the theater. So if the frame is from head to toe, that's a little bit more like what it would be like in a theater—they can see your whole body. If the frame is from your chin to your eyebrows, imagine that's the entire proscenium."
The notion of prioritizing the audience experience also echoes what Rickman once told her as director of Bishé's first solo show, "My Name Is Rachel Corrie." ("Doing a one-person play feels like you've just discovered you had a superpower," Bishé says.) When she got in front of her first audience, the actor recalls confessing her nerves to the crowd, to which Rickman replied: "It's not about you.... You've got a job to do and it doesn't really have to do with your feelings." Instead of feeling scolded, Bishé was liberated: "You stop worrying about yourself [and think], Oh, how wonderful!"
It was likely these hard-earned lessons about her role in the actor-audience relationship that, at least in part, led to Bishé booking "Halt."
"We needed an actress with great depth and craft, even though you might not have guessed that on the page or in the pilot," casting director Sharon Bialy tells Backstage over the phone. "You also needed someone who could portray a very high IQ by virtue of her job; Kerry has both of those in spades." Bialy also thought Bishé's "quiet, serene beauty" would counteract the impulsiveness of her onscreen husband, played by Scoot McNairy. Despite a slight hesitation, since McNairy and Bishé had already played spouses in "Argo," Bialy remembers: "I honestly said, 'I don't give a fuck—she's so perfect for this role.' " Additionally, Bialy credited the flexibility of Bishé's agent, Scott Henderson. In Bialy's experience, agents and actors often believe that a job can't be booked by "reading [solely] for the casting director, if the creators are not there, the producers are not there. [Bishé]'s a shining example of it being possible."
Soon, the actor will gain even more insight into the production and network audition process from the other side of the table: She just sold an original pilot to AMC Networks for one of its streaming platforms. "I can't say too much about it," Bishé admits, other than that she's "very excited." It'll be new territory for the actor, who has never taken on a creative role behind the scenes.
"One of the ways that I think about my being an artist and an actor is…it's an experiment," she says after the plates are cleared, pouring sugar onto the heart-shaped foam of her latte. "I want to find out why you are this way, why you behave that way, why I feel the way I feel, and what does it mean?" We'll have to wait until her show premieres to find out.
---
Surviving the Survival Job
After college, Bishé moved to New York City and quickly found herself (as many young actors do) in a such a slump, she was forced to start temping. She threw up after her first day on the job, convinced "This is what I do now. This is who I am now." But that same week, she landed her first two theater jobs: One was a production of Eugene O'Neill's "The Hairy Ape" at the Irish Repertory Theatre ("I was very bad," she says); the other was the lead in "My Name Is Rachel Corrie," a 90-minute solo show about a Washington-born activist who died in the Gaza Strip at age 23 when she put herself in the path of an Israeli military bulldozer. "[A solo show] is a thing that seems completely impossible until you do it," she says. "Argo" screenwriter Chris Terrio happened to attend a performance, and Ben Affleck was later impressed by her work in Kevin Smith's "Red State." They cast her as Kathy Stafford, one of six U.S. embassy workers rescued in 1980 during the Iran hostage crisis. It goes to show: You never know what opportunity is around the corner.
If you're looking for your next opportunity, check out these TV audition listings!
Styling by Kemal Harris. Suit by Styland. Dress by Self-Portrait.