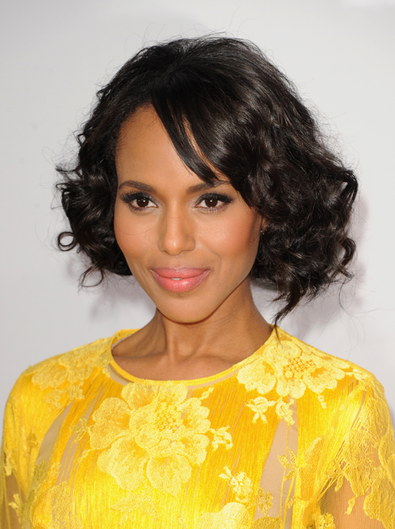 Kerry Washington so perfectly embodies the complications of Olivia Pope on ABC's "Scandal"—a hard-charging crisis manager who is also caught in a star-crossed romance with the president of the United States—that thinking creator Shonda Rhimes wrote the role for her would seem safe. Not so, Washington says; she auditioned.
"People always ask if this part was written for me, and the answer is absolutely no," Washington says. "She kind of knew of me, but I had never worked with Shonda. So first we had a meeting just to talk about it because it's a big commitment to step into the network television world from the world of film, and she wanted to see if I was up for that challenge. And I wanted to talk about what that would look like. And after that I auditioned."
This year Washington is learning firsthand just how different network television is from film. The seven-episode first season of "Scandal" premiered in the spring; Washington is currently filming the second season, and she is heavily featured in Quentin Tarantino's upcoming "Django Unchained." On the day she spoke about "Scandal," she had just come from a photo shoot and was going through hair and makeup for an appearance on the American Music Awards red carpet. Clearly Washington knows a thing or two about the kind of schedule her workaholic character keeps. Has Olivia rubbed off on her?
"I think it's hard to say when you're doing television," she says. "She's a woman who belongs to so many different people and places and situations and has a through line of integrity, but she does have to be a different person to different people. But she's also a much better dresser than I am."
What separates "Scandal" from other Shonda Rhimes shows is its fresh take on the office environment. Instead of a procedural laced with sex and romance, "Scandal" and Olivia Pope take on messy clients in Washington, D.C., from a governor who shot his wife's rapist to trained assassins threatened with exposure. Olivia and her team do what they can to minimize the fallout, often outside the lines of conventional morality. But Washington is right when she says that Olivia has a through line of integrity; despite her questionable methods, Olivia is always focused on right and wrong. And that's where her love for the married president provides so much delicious conflict.
"The thing I first loved about the script was, you have this woman who's kind of larger than life in the public sphere," Washington says. "She's Olivia Pope; she's everything you've heard; she doesn't believe in crying. And yet by the end of the pilot episode, she's alone in a coat closet crying over her very personal scandal. That dichotomy of both power and vulnerability and confusion, that was what really drew me to her."
If Washington regrets a filming schedule that limits her movie output, she gives no indication of it, raving about the collaborative aspect of television. "In a film, I may be playing multiple layers in a fully realized character over the course of two-and-a-half hours," she says. "In that case, I've done nine movies [with 'Scandal']. The writers are bringing such complicated, rich material that you have to keep unpeeling the layer of the character, which is so fulfilling and challenging. I'm still discovering who she is as the writer gives me more information. This job is just so much more fulfilling than anything I would have prayed for."