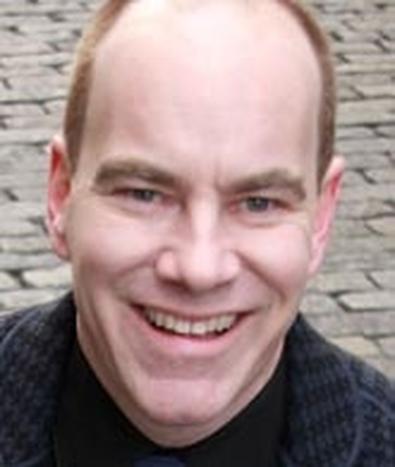 Kevin Dozier has a baritone fully stocked with feeling, especially as it lifts into higher-register reaches. He has the appealing personality of that fine fellow who lived down the block when you were a kid. He has a receding hairline that proves yet again buzz cuts are really hot.
For the follow-up to his June Metropolitan Room debut, he also has the services of pianist-arranger Christopher Marlowe, whose compellingly idiosyncratic arrangements include not only the expected drums (John Redsecker) and bass (Dick Sarpola) but also cello (Peter Sanders) and reeds (Kenny Dybisz on oboe and sax). All the sidemen are Broadway pit vets, which tells you where the Dozier-Marlowe sensibility is.
As the set's title Love-Wise promises, Dozier hands out love songs as if they were fragrant posies, although venturing away from them occasionally — as in his opener, the Fred Ebb-John Kander "Yes," and later a jokey setting of "The Mexican Hat Dance" with a lyric by Cheryl Wheeler about potatoes, called, funnily enough, "Potato." Of course, you could take the view that "Yes," with its positive attitude, indicates a love of life, and "Potato" indicates a love of potatoes.
Dozier is worth keeping on your radar for several reasons. There's the voice, of course, but how he deploys the voice is of particular interest. Yes, he sings warmly and makes audiences aware as early as his second ditty, "Billions of Beautiful Boys" (Marshall Barer-Joseph Thalken) that he's concerned primarily with same-sex encounters. (Has he thought of announcing his phone number? Elaine Stritch does.)
Dozier's truly unusual tactic is unconventional phrasing. I suspect that has plenty to do with the Marlowe arrangements and even the choices director Scott Barnes has suggested to him. He phrases conversationally, often rushing lines along. The way he scoots through the beginning of the lyric to the Tom Jones-Harvey Schmidt "Soon It's Gonna Rain" is one instance; another is his approach to the Sammy Cahn-James Van Heusen "Call Me Irresponsible."
Curiously, Dozier sometimes probes the sentiments in these songs from the get-go and sometimes just seems to be getting the words out — until, that is, the crescendoing codas Marlowe regularly provides. For example, it wasn't until the later stages of "Soon It's Gonna Rain" that Dozier found the song's urgency and expectation. The reticent habit can lend a dullness he certainly means to avoid to the first 16 bars.
Having returned to New York City from San Francisco — where he worked the Plush Room and was named male cabaret performer of the year at the 2003 San Francisco Cabaret Competition — Dozier has enough presence to make a person wonder why he doesn't have more. When singing, he doesn't seem entirely sure what to do with his arms, so he often gestures vaguely. When bantering — mostly recounting anecdotes about his show-biz career — he gives the impression of being uncomfortable with what he has to say or is expected to say.
Someone around since childhood, as he says he is, should know to avoid show-numbing between-song remarks such as "Is there patter here?" In closing what is never less than an amiable set with a number of thrilling vocal moments, Dozier says that over the last months director Barnes helped him find "new meaning" in his music. At the moment, he could find even more meaning.
Presented by and at the Metropolitan Room,
34 W. 22nd St., NYC.
Oct. 22-30. Remaining performances: Wed., Oct. 29, and Thu., Oct. 30, 7 p.m.
(212) 206-0440 or www.metropolitanroom.com.