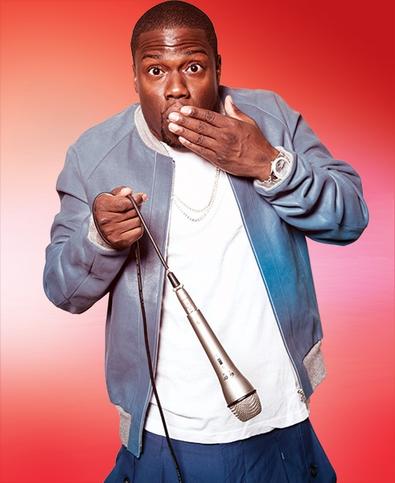 "You want a Lunchables?" Kevin Hart asks. "I have tons of them. That's all I eat."
This is not where you expect to find the current title holder for hottest working standup comic in the world—cradling a Lunchables, sitting behind a desk in an office a few floors above a bank branch in, of all places, Encino. The headquarters of Hart's Hartbeat Productions is nice, tasteful, and boring. Save a few posters touting the proprietor's films and standup tours, hardly a surface or piece of furniture isn't black, white, gray, silver, or translucent. Wherever you look, you find a disturbing lack of clutter. The only hint that the place is run by a comedian and not, say, a wealth-management adviser is the junk food. Bags of Doritos sit nested in a potted plant beside Hart.
"I like Doritos, so they do that," Hart says, referring to his staff. "They know I'm trying to eat right, so they'll just throw them all over the office." Members of his team will wait for Hart to enter the office, then watch through the door, timing him to see how long it takes for the first bag to pop open. "Ten minutes! It took 10 minutes!"
A steady diet of Doritos and Lunchables would kill most men. But Kevin Hart is not most men. He is a five-foot-five pinball of a human being, one who spends his standup performances careening around, hopping in place, turning comedy into a feat of physical prowess. He easily burns onstage whatever calories he accumulates behind the desk—which is not to say that his comedy isn't intellectually rigorous as well. Hart's personal brand of funny is built as much on exploring with his audience the dark corners of his life—his impoverished upbringing, his coke-addicted father, his divorce—as it is on his athletic delivery.
That brand has grown into a mini-empire. Screen audiences know Hart best from films such as "Think Like a Man" and his recurring role on ABC's "Modern Family." (Hart was also recently cast to play Chris Rock's character's agent in Rock's upcoming directorial debut, "Finally Famous.") Those are only the most visible elements of a multipronged business enterprise. A second season of his BET series "Real Husbands of Hollywood," which he produces and stars in, is on the way. His first standup film, the 2011 self-produced "Laugh at My Pain," was made for an estimated $700,000 and earned $7.7 million at the box office. His follow-up, "Let Me Explain," hit theaters July 3 and features Hart performing in front of a sold-out crowd at Madison Square Garden. He owns that movie too.
"It is great to sit and talk about business with him, because he gets it," says filmmaker Tim Story, who directed Hart in "Think Like a Man" and the upcoming "Ride Along." "There's a new form of business now for people who are self-made, self-contained. He's created his own platform. He has learned, 'Why not own some of that?' " The most impressive thing about Hart, according to Story, is how funny he is. "But I'll tell you, a close second is his business sense."
In the earliest days being funny was enough, and it was easy. A native of Philadelphia, Hart grew up in one of the city's notoriously tough neighborhoods and took his first comedic steps in front of its notoriously tough crowds. The first time he stood up, he relied on the power of his personality. That worked, but not for long.
"I was only onstage for three minutes. So for that three minutes, it was"—and here he slips into what's best described as Kevin Hart doing an impression of a young, hyperactive version of himself who is bad at comedy—" 'Hey! Oh, my God! This is crazy! Have you ever? Man! How many times? You know what kills me?' " End scene. "It was a bunch of that," he says, dropping "that" with no small amount of disgust. "So after three minutes of that, you think you killed. But then they put you up for seven minutes and you realize, 'Holy shit, I've got nothing else to talk about.' "
When Hart made the move to New York—which he calls "standup comedy mecca"—he realized he needed something else, and that something needed to be himself. He describes a typical night performing in New York, hitting five clubs in one evening, watching countless other comics take their turns refining their craft.
"Everybody was actually talking about something," Hart says. "These guys left the stage, and when they left, I felt like I knew that guy. They talked about their family, their kids, themselves, their dislikes, their hobbies, their fears. That's what comedy's about. Comedy's about opening up and being unique, but to a point where the audience can relate to what you're saying."
Having discovered what comedy is about, Hart is now, at 33, one of the form's young masters. "Let Me Explain" began as a series of theater dates before evolving into a tour of this nation's finest professional basketball arenas; it also took Hart to continental Europe and London's O2 Arena before culminating in its two-night, sold-out MSG finale. His previous tour earned him the reported honor of highest-selling comedian on Ticketmaster.
Hart has harnessed that popularity, turning his fan base into an asset that he exploits when promoting a project for an employer. More often than not, that employer is himself. Hart takes pride in developing and producing his own projects—following what he calls "the Tyler Perry method," in honor of the playwright-actor-cross-dresser who turned a devoted following among black Southern churchgoers into media-juggernaut status and Oprah BFF-dom.
"I'm a businessman as well as an entertainer," Hart says. "The reason why is because I want to own whatever I'm doing. I don't want to work for other people forever."
That attitude is no different from the one that has, for generations, spurred countless Americans who believe that being an employee is a bum deal into laying down their tools and becoming small business owners. It's an attitude that has overtaken comedy. Once a field ruled by gatekeepers—club owners, bookers, casting directors, TV executives, producers, Johnny Carson, Lorne Michaels—comedy, more than even most other performing arts, has been democratized (or anarchized) by the Internet. Comics such as Louis C.K., Aziz Ansari, and Maria Bamford now regularly sell their standup specials straight to audiences via the Web rather than go through HBO or Comedy Central. Sites such as Funny or Die and CollegeHumor present comedy sketches as sophisticated and popular as those shown on "Saturday Night Live." It is possible, even kind of easy, to create a Web series that outperforms NBC's prime-time lineup.
Hart, with his more than 7 million Twitter followers, has become an expert at using social media and all manner of promotion to marshal massive audiences to his performances, be they live or onscreen. It's tough work, almost as tough as being funny. But to Hart, it's no less important.
"As comedians, the great thing about us is our fans," Hart says. "You don't know my fans better than I do. I have a direct connect to my fans. So a middleman can do things, but he can't do it the same way that I can. It's the way of the world now."