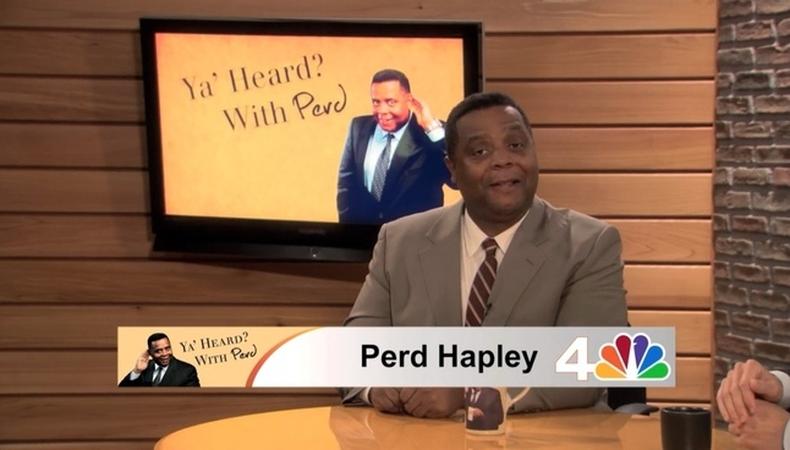 When you turn on your local news, you'll likely notice that the broadcast has its own sort of melody. You'll hear "news voices" that have been shaped and sharpened by years of daily reporting, and it's specific to that real-life role. Casting directors know this voice takes time to craft and can be difficult to duplicate, which means when casting the part of on-screen reporter, they might go for authenticity over a seasoned actor.
Jay Jackson knows this all to well. He fell into his first acting role by accident—he ran a reporter clinic and had appeared on someone else's demo reel as an anchor. An agent saw the tape, snatched him up, and within months, he landed his first role as a tv news reporter on "Dexter." "I worked as a reporter at the UPN station, KCAL, and then [KCBS]. Twenty-two years later, and I was still doing it," says Jay Jackson. "The transition to acting was very unusual."
His agent gravitated toward him because of his strong news reporting background, and she signed him in 2007. It seemed almost too easy. He had skipped the years of resume building that other actors toil through, but at the same time, he had unintentionally been preparing for that "role" for decades. "She was getting a number of different casting calls for reporters, and not just for actors," says Jackson. "They were getting more and more calls from casting directors looking for actual reporters. The timing worked out. It was a good market for real reporters to get into the business."
And it still is. Viewers these days are more discerning; they want authenticity in every aspect of their on-screen entertainment, and casting directors respond to that demand. That even includes a reporter, who, while typically nameless, delivers crucial pieces of plot-driving information. To Jackson, if the delivery of the reporter seems disingenuous, then the entire story is thrown off. He says the demeanor of a believable reporter can't be faked, no matter how enthusiastic the actor.
READ: 7 Steps to Bring Authenticity to Auditions
"It takes a long time to actually develop the look, sound, and feel of a news reporter. It takes years to get a certain tone and tempo that separates a broadcast news reporter from someone who is acting like a broadcast news reporter," says Jackson. "When an actor is doing it, you can hear there's something different about it. It's an imitation of the real thing. When you're working with a real reporter, you're getting the genuine sound you're looking for." There's a fine line between the cheesiness of Will Ferrell's "Anchorman" and the authoritative impact of a tv journalist.
"A reporter who's been talking [a certain way] every day on tv just develops a pattern, syntax, and cadence in the way they speak. It's very specific," says Jackson.
Jackson's news background and delivery have landed him television reporter roles from "Scandal" to "Fast Five" and fan favorite recurring role Perd Hapley on "Parks and Recreation," to his latest on Fox's "The Orville." Though it's been a pretty smooth transition from tv news to tv acting, Jackson cautions that the jump for other professions may not be as easy, despite some agencies making the move to sign people with specialized skills, like doctors or first responders. If acting is in your sights, it might be useful to take some classes or get used to working in front of a camera.
While the skills and training may be authentic in other roles, their typical day-to-day does not involve camerawork, which means they have to show up with acting chops that are already up-to-par. It definitely works in your favor to have a strength in a non-acting profession as well as the basics when it comes to acting and being on set. However, Jackson says, for a reporter who is cast as a reporter, there's rarely any acting involved. The camera skills are already there. Jackson notes, "Part of what actors do is what reporters do."
So if you're thinking about making the switch from your day job to becoming an actor, it's possible you already have some of the skills to land a role. Find out what professions casting directors search for to ensure authenticity on screen, and you could be well on your way to seeing yourself on screen.
Check out Backstage's TV audition listings!