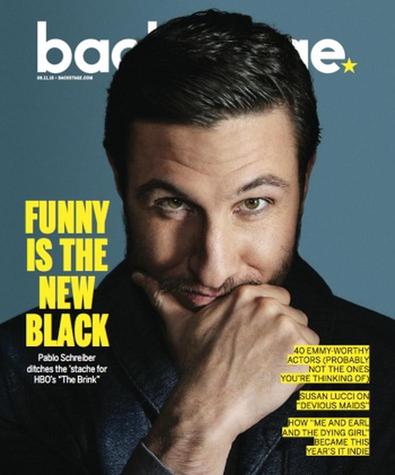 Pablo Schreiber has found the key to longevity in the acting business.
"Being successful is being able to put shit behind you," he says. "It's the hardest thing, but it's the most important to being able to [act] for a long time."
Letting go of the past and maintaining presence is becoming a mantra of sorts for the actor. And his upcoming role as Zeke "Z-Pak" Tilson, a military fighter pilot on HBO's new political comedy "The Brink," demands standing at full attention.
"To play comedy, it's important to be in the moment," he says. "That's really the best and only training for that type of role, to be really accessible and available to your scene partner. I find that's always when the best stuff comes."
Shifting from the White House's war room to the Middle East to a fighter ship in the Red Sea, the first episode introduces a lively cast of slapdash characters: the philandering politician (Tim Robbins) who loses top-secret documents after a boozy call-girl bender; the culturally illiterate American (Jack Black) trapped in riotous Pakistan with his local driver, Rafiq (Aasif Mandvi); and the drug-dealing military man (Schreiber) doing bad for the greater good by selling prescription meds to sleepy pilots in need of an energy boost.
The series' "full-blown satire" is what initially drew Schreiber to the role, but he also wanted to keep the comedic momentum he began as Pornstache Mendez, the character everyone loved to hate on "Orange Is the New Black." The ego-driven, sadistic prison guard was largely improvised, wildly hilarious, and likely paved a path to his role on "The Brink."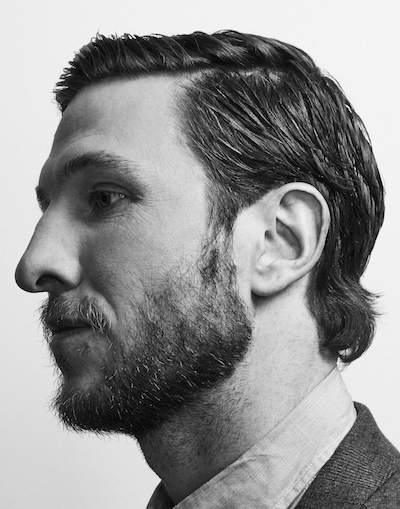 "For a lot of years people didn't think I was funny, or I wasn't allowed to exercise that and play in that arena," he explains. "It's a relief for me, and Jenji Kohan [creator of 'OITNB'] is mostly responsible for that. I can't thank her enough for that gift because it opened up other people's eyes to different things I can do."
Known previously for his portrayals of the twisted William Lewis on "Law & Order: Special Victims Unit" and Nick Sobotka on "The Wire," Schreiber hasn't shied away from complex characters, but wanted to appeal to his inner "good guy" by taking on a role that departs from the "heaviness" of his previous credits.
"There have been a lot of bad dudes in the last couple of years," says the actor, who notes he's always been drawn to dark characters driven by fear and insecurity. "So changing that around and playing a guy who, while he's not making the best choices in the world and is still dealing drugs, you always know he has a good heart, was part of the choice [to join 'The Brink']."
Outside of his career, Schreiber serves up a brand of humor similar to that of the series, citing the Internet fangirl as his favorite animal on Twitter, and is quick on his feet—perceptive qualities he was able to draw on to authentically react to the show's over-the-top situations. He says acting natural amid the lunacy—including one scene in which Zeke must fly on a bombing mission while covered in vomit from his co-pilot, Glenn (played by Eric Ladin)—was his biggest challenge.
"One of the functions that satire has provided through the years is to show, through a comedic lens, a culture and the choices that it's making, and put that in front of us to look at," explains Schreiber, who says the script for the first episode reminded him of "M*A*S*H*." "We could present a reflection of what's happening in the world to this country."
Schreiber's place in this hyperbolic America serves as only part of a fractured approach to a bigger story that spreads intersecting characters across the globe. It's a narrative style that had Schreiber spending most of his days on set with Ladin and few others.
Building a solid relationship was crucial, so prior to shooting, the two drove from Los Angeles to San Diego's Marine Corps Air Station to shadow fighter pilots and "fly" using a virtual simulator. The trip, Ladin says, played a huge part in building their chemistry.
"You can't help but gain a rapport doing that," he notes. "I think that we both, not to speak out of turn for him, learned early on that we could trust each other in terms of being with one another for a scene, because we both approach [the script] from an analytic place with what's happening with the dialogue.
"Pablo's extremely smart when it comes to text-based choices and ideas, because he's got a really clear view of not only what he wants personally for his character, but what will serve the story best."
For Schreiber, capturing the Zeke-Glenn trajectory outside the cockpit always came back to presence. He indirectly used his Carnegie Mellon training to maintain it, citing the late Victoria Santa Cruz as profound inspiration.
"Sometimes she would accuse you of being in your head and doing [things] by rote, and we all got to watch the tendency of the mind to latch onto things and say that it knows them; that's one of the biggest impediments of being in the moment," he says.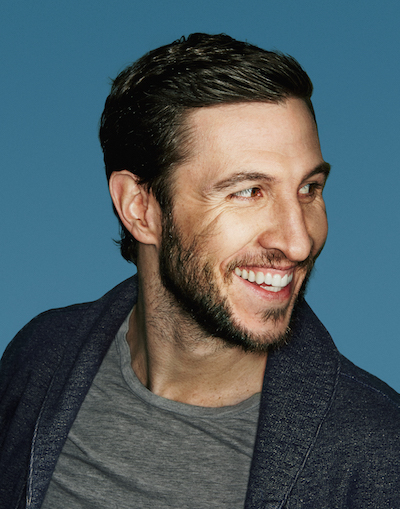 While "The Brink" required Schreiber to pull from his training, an especially crucial part of his work involved having lived fully enough to best serve the character—his second key to acting success.
"Learn to live your life—there's no recipe for it," he says. "You can't go to acting school to learn to be a deep person with a lot of experience to draw from; you can only become that person by feeling, by getting hurt, by feeling incredibly happy, by seeing the world; those are the things that make you richer as a person and give you a much bigger bank to draw from when you bring characters to life.
"Acting school is what it is—it's a way to get a toolkit that can be helpful at times, but it can't replace the real training of living."
---
In His Blood
Pablo Schreiber comes from an acting family. In addition to his brother, Liev Schreiber, his father was an acting teacher in rural British Columbia.
"He actually directed the first play I ever did," he says. "I played the Lorax in my Grade 3 production." Schreiber's defining memory from the experience? His terrible fear of the female Swomee Swans and their "cooties."
The role was the first of Schreiber's theater credits, which went on to include playing a servant in the Public Theater's production of "Julius Caesar," which he landed just out of Carnegie Mellon despite what he says was his worst audition ever; "Desire Under the Elms," opposite Carla Gugino; and his Tony-nominated performance in "Awake and Sing!"
But it all started with conquering fears in "The Lorax."
"I eventually did it. I picked up the Swomee Swans and sent them on their way; it was the beginning of a long and illustrious career. Once you can pick a Swomee Swan up off the ground, you can kidnap Olivia Benson."
Despite sticking to television for the moment, Schreiber says he's itching to go back to the theater. "It's a matter of getting my career to a place where I make enough money in my day job and then I can come and kill some time doing stuff for free, which is what theater is—you're basically paying to do it," he says. "It's amazing to be onstage, but I wish it was something that supported you better. I think a lot of people wish it was something you can make a realistic living at."
Want to read more? Check out our Backstage covers here!