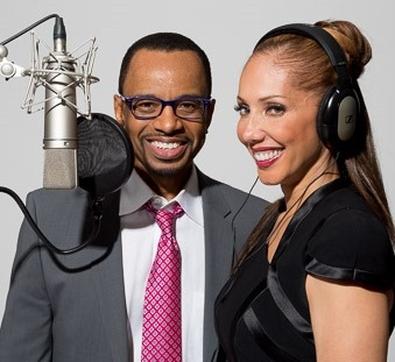 A commanding voice tells you to stand clear of the closing doors; a friendly one in your car tells you to turn left in half a mile; a sexy one on TV entices you to purchase a specific beer; an affable one reads you a clever new novel. That's not to mention the voices for your kid's favorite cartoon or the one behind the summer blockbuster CGI action movie character. Voice actors are everywhere, yet it's a career that remains mystifying and enigmatic to crack into.
Which is why prominent voice actor Joan Baker and her director husband, Rudy Gaskins, have organized That's Voiceover!, a daylong networking conference for voiceover professionals. Born from Baker's book "Secrets of Voice-Over Success" (which Baker wrote as a part of the grieving process after her father lost his life to Alzheimer's), That's Voiceover! is a high-quality event in an industry that represents the unsung, skillful side of entertainment—one that requires its performers to evoke a sense of place and character, as well as generate a reaction from the listener, simply with their voices. "What we're doing when we're connecting to our scripts is connecting to a truth and expressing it," said Baker of the importance of good voiceover. "It's a lifestyle. You have to be very focused on it. It's not a side job. When you come to That's Voiceover!, you will become very clear with that."
The next event will be held in Los Angeles at the Directors Guild Aug. 17 and will feature contests to land real-world union gigs with Audible.com and L.A.'s NBC4; seminars with agents from the top agencies in the field, such as speech and diction specialists Vox and Abrams; a microphone tutorial by Neumann (the microphone division of Sennheiser), which Gaskins calls "the Lexus of microphones"; and successful voice actors discussing their path to achievement. One of those voice actors is Keith David, who will receive That's Voiceover!'s first-ever Voice Arts Award for his lengthy career voicing everything from commercials to video games such as "Call of Duty" to Ken Burns documentaries, for which he won two Emmy Awards. At That's Voiceover!, David will examine his life and career in a one-on-one interview conducted by Pat Fraley, a longtime voice actor and voice acting coach.
Voice acting has had a surge with the emergence of gaming and audio books, but it's still difficult to know how to diversify and grow. "What we've sought to do with That's Voiceover! is to create a microcosm of the voice acting industry," said Gaskins. "Attendees will be immersed in the experience of what is involved in a voiceover career—from the very beginning when you're breaking in and you need training and coaching to those folks who are seasoned professionals whose careers have plateaued and they're looking to expand their repertoire, because most people tend to specialize in the beginning."
Above all, it's a well-run affair, and the atmosphere will be filled with unusual, resonant voices. "It's a very classy conference, representing a nucleus to the voiceover industry," said Fraley.
Baker added: "You get to see the people demonstrate and embody their careers right before your very eyes."