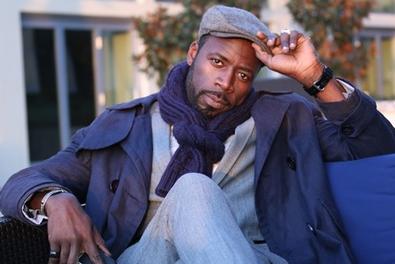 Demetrius Grosse's down-to-earth attitude and willingness to put in the hard work necessary to succeed make it no surprise that the actor has had such a stellar year, starring in his second season of Alan Ball's "Banshee" for Cinemax and appearing in the critically acclaimed "Saving Mr. Banks" with Emma Thompson. Although he is no stranger to the rigorous pilot testing process, Grosse was able to bypass much of that for his starring role as Emmett Yawners on "Banshee." Through the years, in addition to amassing a long résumé of credits, Grosse has built relationships with casting directors like Alexa Fogel, so when she was casting "Banshee," she brought him to the producers, and he was offered the job just days after screen testing.
While "Banshee" was an easy casting process, Grosse offers advice on the hard work and attitudes that have helped him succeed.
Prepare yourself.
Although Grosse has a typical preparation method, he also believes that sometimes "everything that you think you know about acting evaporates, because every role is different, every cast is different, every crew is different, every director wants different things and there are different demands based on a specific role." In fact, for Emmett Yawners, his approach to the role evolved season to season. "The first season…it was almost like playing a poker game. At first I wanted to hold the cards to my chest and create a little more intrigue and mystery as to who this person is and what makes him tick. For the second season, I wanted to encounter more of the spirit of this person." Because he couldn't rely on physical traits to key him in, he "had to look at the soul of this person, and the idea, and find out where those ideas were different from mine." He approached it by making Emmett Yawners an actual person. "I would wake up in the morning and I would greet him. I'd eat, and think about what he would eat; when I worked out, I would think about the way that he would work out…I kind of looked at Emmett as if he had his own soul and he was a friend."
Work hard.
Grosse works steadily in television and film, while maintaining a presence in theater as well. "I really strongly encourage working hard…If you do good work and you're really prepared, you'd be surprised at how casting directors will come after you and try to involve themselves in your life." The secret to getting casting directors to seek you out is to show them that you're prepared and will make them look good; they'll start thinking of you as "the girl or a guy who can make my job easier."
Be grateful.
Just because Grosse has several friends who are casting directors, doesn't mean he takes those relationships for granted. Sending thank you notes to casting directors is always a nice way to keep a good relationship going. "Everyone always likes to be thanked for doing something kind. I'm notorious for sending candles. I don't really do the flower thing, I usually send a candle or a hand-written card, and those are usually well-received."
Learn from the best.
"When you work with actors who are successful and have been working for so long, you realize that acting really is not acting." Grosse recently worked opposite Forest Whitaker in a television pilot, and Emma Thompson in "Saving Mr. Banks," and while working with them he noticed the same thing. "When a scene's really cooking and you guys are really rolling, it really plays that you don't know that you're acting. I think that's something that can't really be taught. So you'll be chit-chatting with Emma in between a turnaround or a camera reloading and then all of a sudden, the camera's reloaded, the sound is feeding, and they call 'Action!' and you'll just flow effortlessly into the scene."
Don't limit yourself.
While working at a restaurant in Washington, Grosse received important advice through a chance encounter with Maya Angelou: "There's a real quality and value to doing everything within your field." When he began his acting career, Grosse had a list of things he wasn't going to do. "I think sometimes we look at television or film or we go to a Broadway show and we say, 'That's what I want to do and I'm not going to do anything other than that,' and what happens is we limit our growth and our ability as an artist." But he has learned that all artistic endeavors are opportunities to improve.