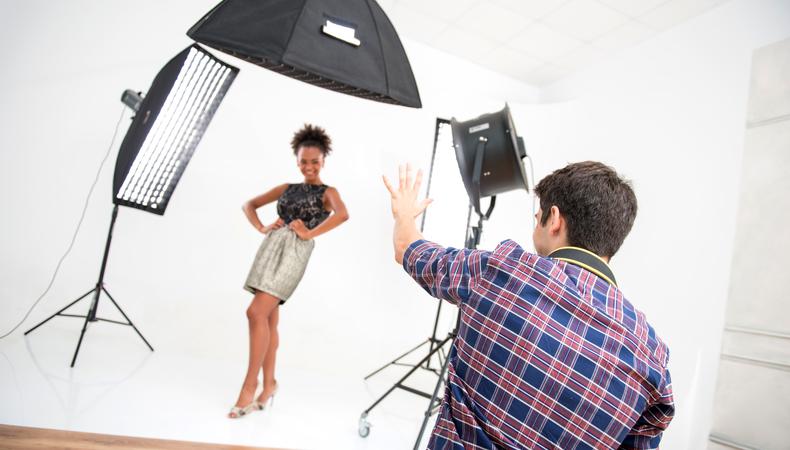 Headshots are an actor's number one marketing tool. They must read your type and brand; target specific roles; have an air of intrigue that will interest an agent, CD, or director; and look exactly like you on a good day. In order to accomplish all of that in one shot, you need a photographer who not only has skill and talent but is also willing and able to help you achieve those goals.
In this digital age when anyone with a camera and a computer can call themselves a headshot photographer, how can you find the right one? Just as with every other aspect of this business, it takes work. If you're willing to put in the work, I have four guidelines to help you along the way.
A great website does not necessarily make a great photographer.
Anyone with computer skills can create a beautiful website, but does it truly represent the photographer and his or her work? It is difficult to determine if those shots realistically represent the actors depicted in those "beautiful" shots. You also can never guarantee the shots on a site belong to that particular photographer. There are various headshots of me on numerous photographers' sites, and I haven't shot with half of them! Do not base your choice of photographers solely on a website.
An amazing deal is usually not all that amazing.
Just because your roommate's friend's cousin shoots headshots in his backyard and is willing to give you a great deal if you can shoot this Saturday, doesn't mean you're going to get a great deal. You're probably not. If you want to play in the big leagues, you've got to have the right tools. That means that your headshot needs to look as polished and professional as the other 2,999 headshots being submitted for the same role. By all means, go and shoot in that backyard this Saturday. Get as much time in front of the camera as you can to learn your angles, how to connect with the camera, how to target your marketability, how to best show your type and highlight your branding. Learn as much as you can, gain the experience, save the money, and then go to a reputable headshot photographer whose work gets results.
READ: 7 Tips for a Better Headshot
Paying a lot of money does not always mean better headshots.
Yes, there are incredible photographers who charge a high price for high quality shots. However, that's not always the case. Many times when photographers charge inordinate amounts of money because they believe they're that much better than everybody else, it becomes more about the photographers' egos and less about the individual actors they are shooting. Everyone knows who shot those headshots because they all look the same. In my experiences, it is the mid-price-range photographers who really care about bringing out the actor's type, brand, and individuality and less about creating beautiful shots in "their" style for "their" website.
Not every photographer is the right fit for every actor.
Maybe the guy you work with or the girl in your class got amazing shots from a photographer, but that doesn't mean you will. Headshot sessions are emotional and personal experiences. If you aren't comfortable, there's no way that you can expose your true self in front of a camera. I have watched many headshot sessions crash due to the same thing: the wrong mixture of personalities. For example, a Type A photographer cannot shoot a Type A actor. The entire time they'll be fighting for control, resulting in stiff-looking pictures. A very green or laidback actor should also never shoot with a Type A photographer. They are not strong enough to exert their individuality and/or power and are led down paths that just aren't right for their type or brand.
In order to make sure it is the right fit, you need to get out there and meet with photographers. If they don't have time to meet, they should be willing to have a phone conversation to help you get a feel for the possible working relationship. Beware of photographers who "don't do that" or only speak through their assistants.
Stay tuned for four more guidelines, coming soon!
Take your new headshot out for a spin with our theater auditions!

The views expressed in this article are solely that of the individual(s) providing them,
and do not necessarily reflect the opinions of Backstage or its staff.