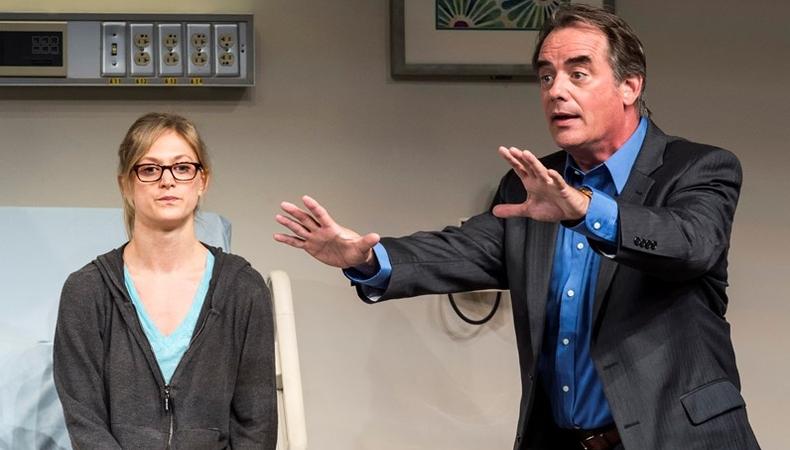 Even though he'd just finished shooting the first season of Lifetime's "Devious Maids," Tom Irwin didn't want to miss the opportunity to reprise his role in "A Parallelogram" when he heard it was coming to the Mark Taper Forum in Los Angeles. Irwin played Jay in Bruce Norris' new play during its world premiere at Steppenwolf in Chicago in 2010, and the play bends the rules of time as Bee, played by Marin Ireland, looks at how her life will play out.
Despite living in Los Angeles, Irwin has maintained his membership and ties with the Steppenwolf, and as a company member, Irwin typically gets offered something each season. "I go back every other year or so and do a play back there," he says. "And not to belittle or short-change any of the work I do out here, but I kind of look at it as earning money so I can afford to go back and do theater there whenever I want." While he can't do everything he's offered, when "A Parallelogram" came up, he was very excited about the opportunity. "I was available that summer and really liked the play, and so I jumped on it," he says.
Though he does a lot of Chicago theater, Irwin is no stranger to L.A. theater, having performed in a production of "Much Ado About Nothing" with Helen Hunt and "Pyrenees" at the Kirk Douglas Theatre. Irwin says he still considers Chicago his artistic home, but he says, "I love this play and I would do one of Bruce's plays wherever it was at."
Irwin shares with Backstage his experiences on the play and some advice for keeping on top of your acting game.
Keep it fresh.
With three years separating the Chicago and L.A. productions, Irwin says "half the cast is new to the show, so it was essentially like starting over. I had to relearn it and see it through the eyes of two new people." While there have been some significant (though not huge) changes to the script, the main difference for Irwin was the cast change. "They're discovering it in their own way and making it their own," he explains. The new cast members have different takes on their roles, so Irwin says "you have to be open and responsive to that." This process has provided him the opportunity to go back and rediscover his own character. "It's also a wonderful challenge to not try to repeat what you did before and really rediscover the play fresh, and see the play through the new actors' point of view and be responsive to them, as opposed to just sort of doing what's in your muscle memory from something that happened three years ago," he says.
Get to the emotion.
While the scale of a performance may vary based on whether it's for TV or live theater, Irwin believes the preparation should be essentially the same. He just goes for the heart of the character. "You're trying to bring an emotional and psychological reality to a character that's on the page and make them three-dimensional," he says.
Preparation always counts.
"I think one of the misnomers about working in front of the camera is that because its in front of the camera, and your performance is scaled down to a certain degree that its somehow easier," says Irwin. But while there may be different technical demands for television, he says "it still requires the same amount of preparation and focus and energy and concentration." Irwin believes that the rich, complicated characters are easier to find in the theater than when an actor is just starting out in film or television. "I think theater is a great training ground; I think it's a great opportunity to play," he says. According to Irwin, theater also helps to build up your acting muscles. "Doing theater requires a lot more stamina and focus, and theater is hard," he says. "It's even harder the older I get."
Exercise your muscles.
Though he says his first love will always be the theater, Irwin transitions seamlessly from TV to film to theater. "It's just a very different process from maybe working one or two days a week doing one or two scenes a day versus sustaining a performance over two hours or so eight times a week," he says. "And you just are exercising different muscles." And Irwin stresses the importance of keeping those muscles active. "It's important to keep yourself creatively active even when you're not working," he says. "Exercise your creative muscles all the time, either through classes or through other artistic avenues like painting or dancing or even gardening, [just] staying active and being creative so that when opportunities do come up you are in a position to take advantage of them."