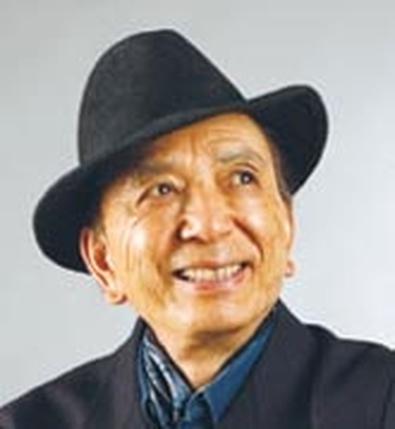 James Hong has played hundreds of characters in his 55 years of performing: a Chinese-restaurant owner who promises that a table is just a few minutes away in a famous episode of Seinfeld, a blind pingpong guru in last year's Balls of Fury, ancient sorcerer Lo Pan in the cult hit Big Trouble in Little China. But there are still roles the actor, who worked during Hollywood's golden age and made his film debut opposite Clark Gable, would love to tackle. "It would be nice to play some doctors or head businessmen or lawyers — the parts Asian Americans don't always get to do," he says frankly.
Perhaps the most recognizable Asian-American actor working today, Hong says no one would have guessed that he — a "shy, sheltered" boy — would ever pursue an acting career. Though Hong was born in Minneapolis, when he was 5 his father moved the family to Hong Kong, complaining they were becoming "too Americanized." After five years, with the threat of World War II on the horizon, the family returned to America, where Hong had to learn to speak English again and start grade school over. His loneliness — despite having six siblings — fueled his interest in performing. "I spent a lot of time talking to myself," Hong says with a laugh.
He caught the acting bug when he joined the drama club in junior high and played his first in what would be a long line of villains. "I think my teacher knew I had talent, but they never really encouraged you; it wasn't a custom to praise people," Hong notes. "In fact, I don't think anyone ever really said, 'You should take up acting.'" He had an inkling early on that his opportunities might be limited when he got to high school. "I was the only Chinese person in the whole school," he recalls. "We did The Barretts of Wimpole Street, and they just didn't know where to put me."
Hong chose to study civil engineering at the University of Minnesota, but his passion for performing never died. He and his friend Don Parker formed a comedy team, the aptly named Hong and Parker. Hong also began perfecting impressions, ranging from Mickey Mouse to Peter Lorre. An opportunity arose when he was sent with the National Guard to Alabama during the Korean War: He began to organize live shows for Special Services. "It saved my life, in a sense," he notes. "Because of my engineering background, I was a good organizer. And because of my performing background, I had the ability to entertain. It got me performing and producing; it was sort of my school."
Still, when the war ended, Hong moved west with his family and finished up his civil engineering degree at the University of Southern California. "It was the most boring summer of my life," he says of going back to his studies. But the change of scenery — and a sudden access to early game shows — gave his acting career a boost. He went on Groucho Marx's You Bet Your Life and did an imitation of the host. "I got [the show's] second-biggest amount of fan mail ever," he claims. "I even got nightclub engagement offers [from] it." It also convinced an agent he knew through the Chinese Social Club to represent him. "For the first time in my life, somebody said, 'This guy's got talent.' "
Why Wait?
Soon, Hong was working nonstop in films and on television. On several shows, such as Kung Fu and Hawaii Five-O, he even appeared several times as different characters. "I think I did 12 roles on Kung Fu; the producer would say I was money in the bank," he says with a laugh. "I played all kinds of roles: villains, good guys, and lot of old, ancient men — even in my young days."
Hong says there were good and bad things about the lack of Asian-American actors competing with him for roles. "It's an advantage in the sense that I would be able to play a full range of parts, from the sympathetic man tortured by the bad guys in the Westerns to the person doing the evil," he notes. "I got saved a lot on screen. Even Rin Tin Tin rescued me."
Still, the actor was frustrated by the lack of diverse roles available to him. "The impersonations I'd been doing made me think of myself as these people: I thought I was Peter Lorre or Jimmy Stewart," he says. "So why couldn't I play these parts?" In 1965 he and several other Asian actors — including Mako — established the East West Players, a theatre company in Los Angeles designed to give voice to the Asian Pacific-American community. "Mako and I were sitting around my semibasement apartment, and he said, 'What are we going to do? Why don't we just form a group and do our own plays instead of waiting?'" Their first production, Rashomon, was mounted with a budget of $150. Mako's father was the set designer; his mother did the costumes. Since then, the organization has grown into a prominent theatre company that trains hundreds of multicultural artists each year. Says Hong, "It's great to see a place where anyone — even a kid from Minnesota — can come and learn about this business."
Is Image Everything?
Hong has been active in fighting discrimination in the film industry since his early days as an actor. When the 1962 film Confessions of an Opium Eater was going into production, he organized a group of concerned actors to speak to producer Albert Zugsmith. "The film was full of those Fu Manchu types, sneaking around, eating opium," Hong recalls. "So we went in to see Albert, who didn't like me leading that protest. In essence, he warned me I might not work again."
Asked if he feels the roles have gotten better for Asian actors today, and Hong pauses. "I hate to say it, but I started in 1953, and it's 2008. In 55 years you'd think there has been a huge improvement. But I can't say that there is," he admits. "You can ask any Asian-American actor, and they'll tell you the same thing. There aren't many roles out there, and there aren't the most positive images. And yet there are so many talented people."
To that end, Hong is trying to encourage film development for Asian-American actors. He's heading to Houston to produce, direct, and star in the feature film Just Dance, which will also feature his daughter, actor April Hong. He hopes to contribute to what he feels will be a major surge for Asian-American actors: "It's coming anyway, whether I do it or somebody else. I've waited 55 years; I can wait a few more."
Outtakes
Other roles include Hannibal Chew, who manufactures eyeballs in Blade Runner; the ominous butler in Chinatown; and a regular role as Number One Son on The New Adventures of Charlie Chan
Says his favorite role is probably Lo Pan in the 1986 film Big Trouble in Little China; it's also the role he's most recognized for
Didn't enroll in professional classes until he'd already had success as an actor: "I felt that I didn't have the right training, and I wanted to do my best." Studied with Jeff Corey and Joe Sargent, who helped him "realize for the first time that James Hong does have talent."