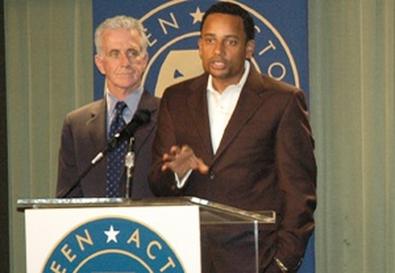 From 2006 to 2008, the Better Business Bureau received approximately 1,000 complaints and 143,000 inquiries related to acting and modeling scams in Southern California. And the frequency of such schemes—usually targeting child performers and their families, often costing the victims thousands of dollars—has been growing. From January to October of this year, the bureau fielded 78,055 inquiries and 544 complaints. Often the stories find their way to Mark Lambert's desk.
Lambert is the deputy city attorney for Los Angeles and one of the driving forces behind A.B. 1319, a bill signed into law Oct. 11 by Gov. Arnold Schwarzenegger and set to take effect in January. Lambert is convinced the bill will give prosecutors such as himself the tools necessary to curtail a growth industry that amounts to a drain on California's shaky economy.
"The labor code addressed talent representation services that charged an advance fee," Lambert said. "It did not address talent training services or talent website services, and that is where the scams have largely switched to since the original act became law."
Dubbed the Krekorian Talent Scam Prevention Act, the law targets so-called bad actors who mislead parents into thinking their children are engaging in a casting process, then charge those parents exorbitant amounts of money for services such as acting classes and headshots. Such scams can and do target adults, and A.B. 1319 applies to acts that victimize performers regardless of age. But according to Paul Krekorian, assistant majority leader of the California State Assembly and the bill's author, young people and their families are more likely to find themselves in the crosshairs of such cons.
"Everyone thinks that their child is beautiful," Krekorian said. "Once a child's dreams are taken advantage of by one of these wrongdoers, it's extremely difficult for a parent to try to resist the lure that if they just invest a little money in these services, their child will have their dreams fulfilled."
Meet the Parents
Krekorian's bill found wide support in the entertainment industry, with the Walt Disney Co., the Motion Picture Association of America, the American Federation of Television and Radio Artists, and other industry players lining up behind it. The Screen Actors Guild was among that group of influential co-sponsors. According to Zino Macaluso, SAG's national director and senior counsel for agency relations, the guild has long been on the receiving end of inquiries from parents about such scams. One of the stories Macaluso has heard firsthand came from a woman who called him "in tears" from Kansas City, Mo. Her son had heard an ad on the radio for a casting event touting connections to major children's entertainment networks.
"They went in for this so-called audition, had a brief interview," Macaluso said. "They got a phone call the next day saying, 'Your son has been chosen to be amongst a qualified group of individuals to move forward. We'd like you to come back in.' " But soon, according to Macaluso, the family was being asked to spend its own money on a trip to California to meet with supposed agents and casting directors. "People who are going to plunk down the money to do this are going to want to go to places they feel are production hubs," he said.
The biggest of those hubs, of course, is Southern California, which even in today's tough economy welcomes a steady stream of parents who believe their children have what it takes to succeed in show business. Anne Henry is a co-founder of the BizParentz Foundation, a nonprofit support service for the families of young performers trying to make it in Hollywood and another co-sponsor of the Krekorian Act. Henry knows that stage-parent stereotypes may undermine the severity of such scams in the public eye, but she claims that the stories of exploitation she has heard are no laughing matter.
"It's really easy to say, 'Well, those stupid, easy parents, they just want their kid to be on TV and they'll do anything,' " Henry said. "But I think that's a really simplistic view. I think that once you saw the con, any adult would fall for it. They are very, very good at what they do, and they prey on the love of a parent for their child."
Cops and Crooks
The Krekorian Act makes it illegal for talent representation services to charge advance fees, holds advertisers responsible for claims that they are holding auditions or have links to companies such as Disney or Nickelodeon, bars talent service providers from requiring clients to purchase one service in order to receive another, and requires service providers to post a $50,000 bond with the state's labor commissioner. Every willful violation of the act is a misdemeanor punishable by imprisonment in county jail for one year and a fine of up to $10,000 or both.
Lambert is confident the act is a necessary step toward ending predatory talent scams. His recent successful prosecution of Carl Carranza illustrates that point. Carranza is the owner of Scooter's Fab Flashcast, a children's talent broker that also operates under the names Scooter's Kids and Scooter's Kidz. In October he was sentenced to 36 months' probation, plus either 90 days in jail or 600 hours of community service on two charges of false advertising. According to the Los Angeles City Attorney's Office, Carranza posted ads on Craigslist and other websites touting a no-cost talent search for children and babies, then attempted to sell to parents who contacted him services at the cost of $1,495. He was forced to pay $17,145 in restitution to his victims, but he would face much tougher penalties under the new law.
"I've been prosecuting these cases for about 10 years now, and I have been the recipient of many, many complaints," Lambert said. "It's only because Assistant Majority Leader Krekorian agreed to do this bill that we can now help people."