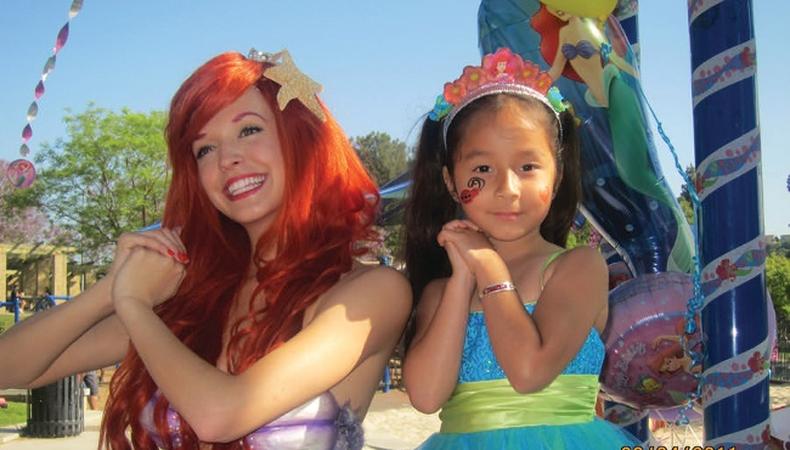 In 1989, Leesa Zelken was an actor looking for a day job that didn't involve waiting tables. After playing a clown at a birthday party for a friend's child, the former camp counselor and Gymboree teacher found her calling. For more than two decades, her company, Send in the Clowns, has been providing birthday party entertainment for children across greater Los Angeles. From superheroes to princesses to their trademarked Gentle Clowns, Zelken and her crew bring characters to life for kids and their parents.
Zelken lets her employees know about her acting past. She wants them to know that, even if working birthday parties is a side job, it is their primary role when they're on the clock. The veteran event-builder looks for performers who don't have much experience on the birthday circuit. "I want to mold people to the style that we've developed and branded in our company," she said. Zelken needs performers with lots of energy, the ability to work fast, and some experience working with children in other settings.
Realism is important when you're dealing with little ones and, at Hollywood-based party company True Enchantment Entertainment, Lisa Fabio strives to make sure that children believe her actors really are princesses. A costume designer and singer, Fabio built her company by reinvesting the money she earned from parties into a closet full of theme park–ready ensembles. When casting, she looks for people who not only fit into those costumes but also resemble famed princesses. "As much as I hate to say it, casting is all about knowing who you look like," she said. "I'll never send out someone who doesn't fit the role."
For Fabio, whose credits include a grown-up Halloween extravaganza for Neil Patrick Harris and an "ice princess" fete for Jamie Foxx's kids, looking the part is just the start. Her actors must sing, too. Beyond that, they should know every possible bit of lore surrounding the characters they play, and how to fill in the blanks when needed. "I say that a good actress can pull off just about everything as long as she knows who she's playing," said Fabio.
"The amazing thing about working for a party company is that it's the best possible improv training that you will ever receive in your life," said Virginia Hankins. A SAG-AFTRA member who primarily works in stunts, Hankins is also the owner of Sheroes Entertainment. Her company focuses on "high-end adventure-themed parties" between Santa Barbara and Orange County, with a satellite team in Sacramento, Calif. Like Zelken and Fabio, Hankins stressed that the gig is all about maintaining the facade no matter how hard the kids try to stump you. "If you can get good at that and get paid to essentially constantly work on that, what the actors see is that when they go into auditions, they're so much better prepared to deal with any kind of personality," she said.
Sheroes' hot acts are its archery team and swimming mermaids—and landing a spot on Hankins' team of athletes and actors is tough. Potential mermaids have to be very good swimmers and keep up their skills with pool practices. Archers must be certified by USA Archery. This crew is good at what they do; Hankins gets calls from production companies to hire her people for onscreen gigs. However, kids are at the heart of Sheroes' mission. "If you're going to be successful with a boutique party company, which is primarily serving children, you really need to care about more than yourself," she said. "You need to care about the client, their child, and their child's day."
Inspired by this post? Check out our audition listings!