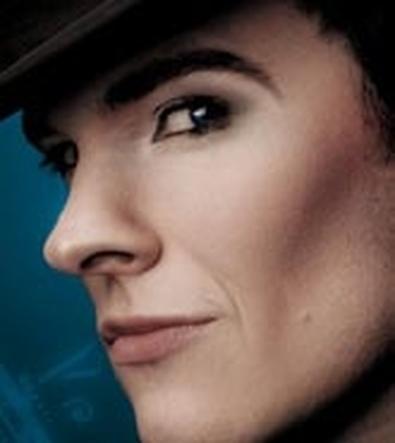 Though Kim Smith's press huzzahs say he's "a cabaret artist internationally known for his androgynous beauty," I knew nothing about him — androgynous beauty or no androgynous beauty — until this past weekend, when more than one person sought me out to say he's a must-see. And to think that their coaxing was based merely on Smith's first night at the currently being refurbished Don't Tell Mama. So, curiosity getting the better of me, I journeyed to Smith's second performance and am now equipped to recommend his third (see details below).
I have no doubt there will be many more of them, because Smith — having uprooted himself from Melbourne and other parts of the Eastern Hemisphere — is living in New York City and has been for the past while. The lad, who is truly something of an androgynous beauty, is already unandrogynously accomplished. Since there is, however, nothing new under the sun — or below the equator — I won't say it's as if he just sprang fully formed from the Goddess of Boitedom's solar plexus. He's quite noticeably a disciple of European cabaret and has been preceded in these parts by the likes of, for instance, Daniel Isengart. That he's being introduced by the Kabarett Kollektif's Karen Kohler should be the tip-off for local intimate-room connoisseurs to the kind of act he does.
Calling his show Johnny Come Lately, Smith performs as if he's a porcelain doll turning mechanically on a delicate music box. He's got a wide Mack the Knife smile (he enters through the audience in a bowler hat), which gives him that soupรงon of the sinister so dear to entertainers for whom the Weimar Republic is cabaret culture's cradle. He's a thin lad in a shirt open down to his sternum. His pipe-cleaner arms are expressive. Occasionally, he draws his supple hands across his chest as if wiping off illicit thoughts. With the snaky microphone cord, he does Judy Garland fling things. Women probably find themselves wanting to mother him; gay men probably think he'd be ooh such fun to take home; straight men probably figure he's puckish and not much of a threat. He's all safe decadence and sly appeal.
It should come as no surprise that the songs he sings — many of them strung together with no pause between them — slither surreptitiously through the dark alleys of life. Indeed, he's so intrepid and giddily provocative that he includes "Gloomy Sunday" (Rezso Seress-Sam M. Lewis), the moody 1933 hit from Hungary that could only have been written at a time when Hitler was given authority in Germany and the world sensed World War II was on the way. Familiarly dubbed "the Hungarian suicide song" at the time, the number gets a Smith delivery stirred with almost the right heebie-jeebie dose. When he finishes warbling about how he'd like "to end it all," he says the ditty is "my favorite love song."
Although I didn't swoon for all 13 selections — some sung through only once or, it seemed, not quite once — I liked Smith's mannered reprise of "O Mein Papa" (Paul Burkhard-Geoff Parsons-John Turner), the ballad Eddie Fisher lofted to the top of the '50s charts. And I wished that everything could have been on the high anxiety level of Amanda Palmer's "Missed Me," during which Smith took on the guise of a Lolita gloating that her sugar daddy is incarcerated. That's kabarett as us kabarett lovers desire it.
Presented by and at Don't Tell Mama,
343 W. 46th St., NYC.
Feb. 7-15. Remaining performance: Fri., Feb. 15, 9 p.m.
(212) 757-0788.