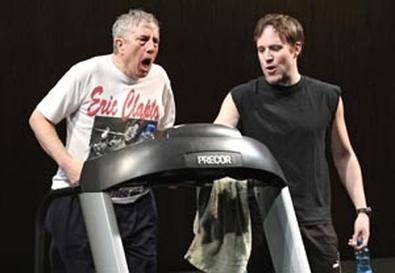 Bathsheba Doran's play "Kin" is a bit of a mess, but in this case that's a good thing. This intricate, multilayered comedy-drama follows the untidy fallout that occurs when two disparate people hook up. By painstakingly examining the impact of the romance on the couple's families and friends in all its confusing and ambiguous detail, Doran shows us the intricate web of connection that makes up a modern community. Along the way, the playwright also takes a look at how parents' tragedies can affect their children's lives, the demands and limits of friendship, the dangers of dating, and a dozen other themes. The result is a prismatic view of contemporary relationships, simultaneously funny and moving.
The two lovers are Columbia University Keats scholar Anna and Irish personal trainer Sean. Both have a bad history with the opposite sex, and though their union is not without its pitfalls, this is their first real shot at happiness. Yet their parents' sorry pasts are impeding them. Anna, whose mother died when Anna was a child, yearns for the love of her distant father, Adam, a high-ranking Army man. As if that weren't enough, Anna copes with the myriad dramas of her depressing yet sardonically amusing best friend, Helena, a failed actor who can't get over the death of her beloved dog. Meanwhile, Sean remains obsessed with his previous girlfriend Rachel, a suicidal alcoholic at the time they were together. This relationship is an echo of his bond with his mother, the agoraphobic Linda, who hasn't left her house in Ireland since she was sexually assaulted by an unknown assailant decades ago.
This may sound like grist for a soap mill, but director Sam Gold and Doran treat all the characters—who also include Kay, Adam's terminally ill girlfriend, and Max, Linda's goodhearted brother—with respect and delicacy. Gold emphasizes the relationships by keeping the staging simple—Paul Steinberg's poetically spare set facilitates this—and highlights the interconnectedness of these people by having some of them watch the action when they are not in a scene.
The only segment that doesn't really work is the one in which Anna discovers her mother's diary in the family attic and melodramatically confronts her dad with its revelation of a loveless marriage. While the rest of the play is an achingly real reflection of everyday life in all its pain and glory, this exchange feels like an excerpt from the latest prime-time serial.
Suzanne Bertish's Linda is particularly affecting. Rather than playing her as a damaged flower, Bertish stresses Linda's flaming anger and bitter humor. Likewise, Laura Heisler perfectly balances Helena's whiny self-pity and hilarious self-deprecation. There are also biting and moving moments from Cotter Smith's macho yet malleable Adam, Bill Buell's teddy bear of a Max, Molly Ward's tender Rachel, and Kit Flanagan's wise Kay. Matthew Rauch works wonders with two small roles, Anna's boorish professor and a Southern good ol' boy who briefly encounters Helena.
Interestingly, Patch Darragh's sad-eyed but ultimately sturdy Sean and Kristen Bush's insecure yet attractive Anna have relatively few scenes together; they participate in one group sequence and appear alone together only at the play's end. But this doesn't feel like a mistake. Doran wants to show that these two aren't really a couple until they have dealt with all the issues surrounding their loved ones. This daring choice shows that she's a playwright to watch.
Presented by and at Playwrights Horizons, 416 W. 42nd St., NYC. March 21–April 17. Tue., 7 p.m.; Wed.–Sat., 8 p.m.; Sun., 7:30 p.m.; Sat. and Sun., 2:30 p.m. (No performance Wed., March 23.) (212) 279-4200 or www.ticketcentral.com. Casting by Alaine Alldaffer.