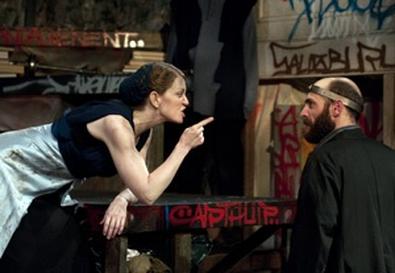 It's the dawn of the 13th century, and England's a mess. How sorry a mess is made evident almost immediately when the curtains part to reveal the set in the Guerrilla Shakespeare Project's production of "King John." The stage is filled with a dark jumble of graffiti-covered platforms, and the grit is matched by the players' heavily distressed costumes, contemporary in cut but suggestive of a brutal era in the past.
It seems that King John's ascent to the throne is nosily disputed by Constance, the wife of John's dead brother Geoffrey. Constance claims the crown belongs to her young son, Arthur, and she's gotten the French to side with her. Furthermore, there's murmur of rebellion among the English lords, while the Pope in Rome is unhappy with John and threatening excommunication.
Popular in the past, "King John," a maze of politics and history, is these days one of the more neglected works in the Shakespeare canon. However, the company of nine actors, under Jordan Reeves' inventive direction, gives the play a vibrant and muscular rendering. The text has been trimmed, some characters eliminated or combined, and running a little more than two hours (including intermission), the production keeps in the forefront Shakespeare's ever-resonant themes of muddled leadership and political expediency .The show only rarely engages the emotions, but it keeps you involved following the abrupt turns in plot and the shifting allegiances of the characters, brought to life in well-etched performances.
In the title role, Jordan Kaplan exhibits a boyish bravado fading believably to anguished self-doubt as his fortunes turn. As the bastard son of Richard the Lionhearted, another of John's deceased brothers, Tom Schwans is an audience-pleaser, enlivening this key character, who serves as John's right-thinking right-hand man, with the ingratiating demeanor of an ironic action hero. In other key roles, Ginger Eckert is an effectively snarling Constance, although her mounting distress may be a bit too overwrought; Kern McFadden endows Hubert, the man John orders to kill Arthur, with intelligent compassion; and Patricia Lynn makes a credible Arthur. Playing both the Pope's arrogantly mannered emissary and the rugged English Lord Pembroke, Jude Sandy gives strikingly individual portrayals, as does Jacques Roy, embodying both the King of France and the English Lord Salisbury.

Presented by the Guerrilla Shakespeare Projectat the Medicine Show Theatre, 549 W. 52nd St.., NYC. May 6–23. Thu., 7:30 p.m.; Fri. and Sat., 8 p.m.; Sun., 3 p.m. (212) 868-4444 or www.smarttix.com.