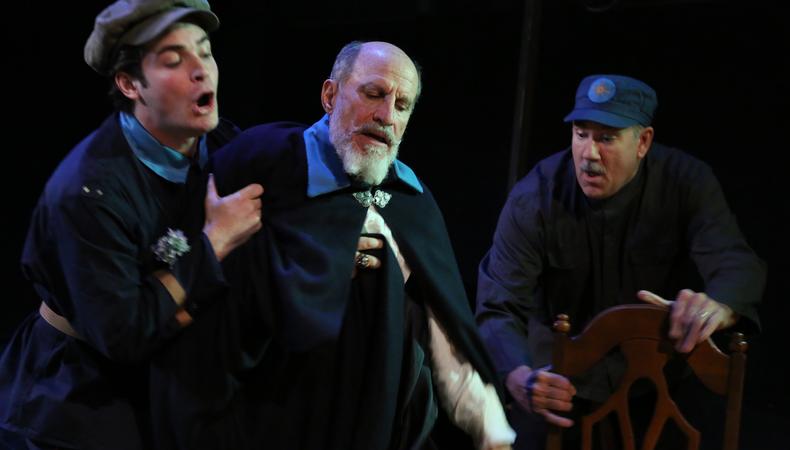 More than any Shakespeare play, perhaps save "Hamlet," "King Lear" requires a compelling, empathetic performance in the title role. The full name of this work is, after all, "The Tragedy of King Lear." It is essential that an audience relate immediately to this medieval, mostly mythical monarch in order to understand his full character and internal conflicts as well as his ultimate fall. Players and playgoers over the centuries have been drawn to Lear's plummet from relative grace and goodness into derangement. Great actors such as David Garrick, in the 18th century; Edmund Kean and Edwin Booth, in the 19th; and Paul Scofield, Michael Redgrave, and John Gielgud in the 20th have brought Lear to vivid schizophrenic life despite the play's multiple versions, endings, and lengths.
Stephen Mo Hanan, an actor deservedly celebrated for his comic work in musicals, has decided to play Lear for laughs in the first half of this rendition of the play, which runs nearly three hours with one intermission. At times he could have been auditioning to play Fagin in "Oliver!" I half expected him to call daughters Goneril (Cheri Wicks), Regan (Natalie Doyle Holmes), and Cordelia (Kelly Zekas) "My dears." Lear may have been foolish, even while sane, but foolish isn't the same as silly. No laughs came from the audience, nor should they have. What little humor Shakespeare put into "Lear" belongs to his fool (Tom Wolfson, who does get the laughs), and it is mostly bitter.
Hanan does better with the histrionics of Lear's dotage, but unless we have connected immediately with the aged but not yet senile king as he tries to divide his kingdom among his three daughters, we are left with just another clutch of scheming greedy offspring and other royal-court denizens. Here these include the Duke of Gloucester (David L. Carson, whose straight-ahead performance in the first act also doesn't presage his character's decline in the second); Gloucester's legitimate son Edgar (John Graham) and illegitimate son Edmund (a snappy Montgomery Sutton). The Gloucester family's story of fractious, ungrateful, scheming children usually meshes better with Lear's own family tale than it does here, where it seems a more parallel subplot than integral.
Among other questionable choices, director Dev Bondarin has set her production in the late 19th century, when they no longer put miscreants in stocks or fought sword duels to the death, as they do here. She and costume designer Jennifer Jacob haven't even taken full advantage of the sartorial possibilities of the era, apart from the grim mock–Boer War mufti worn by the military characters. The men's business suits could have come from the 1930s or '90s, and the three daughters' white nightgowns are simply inexplicable.
Presented by American Bard Theater Company at the St. Mary's, Times Square, Third Floor Theatre, 143 W. 46th St., NYC. Oct. 18–Nov. 4. (212) 352-3101, (866) 811-4111, www.theatermania.com, or www.americanbard.org.
Critic's Score: D+