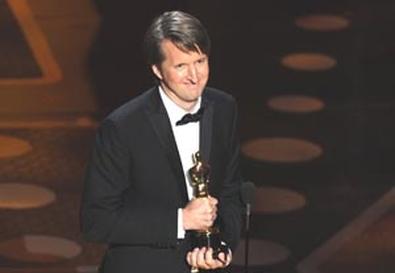 "The King's Speech" reigned at the 83rd annual Academy Awards on Sunday night, when it took the prize for best picture against such rivals as "The Social Network." The British drama also collected three other awards—for best actor Colin Firth, director Tom Hooper, and screenwriter David Seidler.
Producer Iain Canning thanked Hooper and the trio of actors, calling them "our acting royalty"; fellow producer Emile Sherman acknowledged that the relatively low-budget $14 million movie was a "huge risk" as he tipped his hat to the Weinstein Co.'s Harvey and Bob Weinstein; and refusing to give up the stage even as the music began to swell, Gareth Unwin called the win "a boyhood ambition come true tonight."
Warner's thriller "Inception" also picked up four Oscars—for cinematography, sound editing, sound mixing, and visual effects.
Picking up three Oscars—for adapted screenplay, score, and editing—"The Social Network" came closest to stopping "Speech's" rule, although that ultimately proved impossible.
As the awards headed into the home stretch, Firth was named best actor for his performance as King George VI in "The King's Speech."
Always self-deprecating in a tony British manner, Firth began, "I have a feeling my career's just peaked." He eloquently paid tribute to the movie's writer, Seidler, "whose own struggles have given so many people the benefit of his very beautiful voice"; director Hooper "for immense courage and clear-sightedness"; and his own wife Livia Giuggioli "for putting up with my fleeting delusions of royalty."
Natalie Portman won her first Oscar for playing a neurotic ballerina in "Black Swan."
Taking the stage to the music from "Swan Lake," the pregnant Portman composed herself and began by expressing her appreciation to her parents. Citing directors who had championed her such as Luc Besson and Mike Nichols, she moved on to hail "Swan" director Darren Aronofksy as "a fearless leader, a visionary." And she thanked the movie's choreographer, Benjamin Millepied, with whom she is expecting a child, for giving "me the most important role of my life."
British director Tom Hooper was named best director for "The King's Speech."
The first-time nominee breathed a huge sigh of relief when he took the stage—just two weeks ago at the British Academy's awards, he lost directing honors to "The Social Network's" David Fincher.
"This is an extraordinary honor," he said before going on to thank his stars, Colin Firth, Geoffrey Rush, and Helena Bonham Carter; writer David Seidler; and the film's producers. But he reserved special acknowledgments for his mother, who first spotted Seidler's material at a play-reading and called to alert her son, telling him, "I think I found your next film." Added Hooper, "the moral of the story is listen to your mother."
Melissa Leo won the first acting award of the evening for her performance as fiercely controlling mom in "The Fighter."
The veteran actress immediately established a first as she uttered a bleeped-out F-word amid her excitement. First, though, she had to wait for presenter Kirk Douglas, who milked opening the envelope for all it was worth. "Pinch me," she said to Douglas as she accepted her Oscar. "Wow...mine..for me?" she vamped, as Douglas told her, "You're much more beautiful than you were in 'The Fighter'" before he was escorted to the side of the stage.
Her "Fighter" co-star Christian Bale was named best supporting actor for taking on the real-life character of fighter-turned-addict Dicky Eklund. Acknowledging Leo, the sometimes volatile actor said, "I'm not going to drop the f-bomb like she did. I've already done that plenty before." Instead, he thanked director David O. Russell and gave a shout-out to Eklund, who stood up and waved from his seat in the audience.
Aaron Sorkin, who was clearly the odds-on favorite in his category, claimed the Oscar for best adapted screenplay for the fast-talking "The Social Network," adapted from Ben Mezrich's book "The Accidential Billionaires." As he began his acceptance, Sorkin noted that the great Paddy Chayefsky won a writing screenplay 35 years ago for another movie with the word network in the title. He also offered extravagant praise to "Social" director David Fincher, saying, "David Fincher made this movie and he did it with an ungodly artfulness."
David Seidler's victory in the original screenplay category for "The King's Speech" was equally expected. "My father always said to me I would be a late bloomer," he said as he began his remarks. And he concluded, "I accept this on behalf of all the stutterers around the world. We have a voice, we have been heard, thanks to you, the Academy."
When it came to best score, the "Social" versus "Speech" rivalry resulted in a win for "Social" and Trent Reznor and Atticus Ross, who collaborated on its uniquely moody score. Rock musician Reznor admitted the Oscar was "humbling and flattering beyond words."
The movie, which cut relentlessly between a series of legal depositions, also rose to the top in the editing category, where Angus Wall and Kirk Baxter shared the prize. "Alice in Wonderland" led off the trophy parade as it took home the first award of the evening, for art direction.
Production designer Robert Stromberg was visibly nervous as he took the stage with set decorator Karen O'Hara. As he rushed into a litany of thank-yous, he referred to his Disney bosses as "Iger and Ross and Bailey," referring to Robert Iger, Rich Ross, and Sean Bailey, but reserving most of his thanks to the movie's director, Tim Burton.
"Alice's" fantasy world also resulted in an award for its costume design, the third such Oscar that Colleen Atwood has won, and she also hailed "the singular Tim Burton."
Wally Pfister took home the night's second trophy for his cinematography in "Inception." It was the fifth nomination and first win for Pfister, a longtime collaborator of director Christopher Nolan, and he acknowledged that fact, saying, "Nothing I did would have been possible without the incredible vision of my master Christopher Nolan."
The first award of the evening, presented by Tom Hanks, followed an opening in which the evening's first-time hosts Anne Hathaway and James Franco took an "Inception"-like trip into Alec Baldwin's dreams, as well as the other best picture nominees, in search of the secret for hosting the Oscars.
When it came to sound, "Inception" executed a double play: It earned the prize for sound editing, which went to Richard King, and for sound mixing, which went to Lora Hirschberg, Gary A. Rizzo and Ed Novick.
The elaborated-imaged film picked up its third Oscar of the night when it proved victorious in the visual effects race. Paul Franklin, Chris Corbould, Andrew Lockley, and Peter Bebb all came to the stage to accept their prize.
Even though presenter Cate Blanchett shuddered, "That's gross," after watching a clip from "The Wolfman," in which Benicio Del Toro turns into the title character, the movie still took the prize for best makeup. The award was shared by Rick Baker (marking his seventh Oscar win) and Dave Elsey (accepting his first).
Pixar's "Toy Story 3," directed by Lee Unkrich, claimed the Oscar for best animated feature, while the corresponding prize for best short animated movie went to the Australian-made "The Lost Thing" and its creators Shaun Tan and Andrew Ruhemann.
Expressing his debt to Pixar founders John Lasseter, Ed Catmull, and Steve Jobs, Unkrich called Pixar "the most awesome place on the planet to make movies" and thanked audiences who "embraced a movie about talking toys that hopefully had something very human to say."
"Strangers No More," which looks at a school in Tel Aviv, Israel, that is attended by children from 48 countries, earned the prize for documentary short subject, which was accepted by Karen Goodman and Kirk Simon.
The prize for best live-action short subject went to "God of Love," which focuses on three musicians in a love triangle, directed by Luke Matheny, whose thank-yous included one to "my mother, who did craft services for the film."
Charles Ferguson and Audrey Marrs, who were previously nominated for the Iraq War documentary "No End in Sight," both won their first Oscar for their new feature doc "Inside Job," a look at the worldwide financial crisis of 2008.
Ferguson interjected some politics into the ceremony as he began his acceptance by saying, "Forgive me, I must start by pointing out that three years after a horrific financial crisis caused by massive fraud, not a single financial executive has gone to jail, and that's wrong."
"Job's" win did mean, however, that one of the night's great mysteries went unanswered. Was Banksy, the mysterious graffiti artist who was nominated in the same category for directing "Exit Through the Gift Shop," in the audience? Who knows?
Susanne Bier's Danish feature "In a Better World" was named best foreign-language feature. The film ranges from a refugee camp in Sudan to a Danish provincial town, where two boys strike up a friendship as they confront local bullies. Thanking the Academy, Bier also tipped her hat to Sony Pictures Classics and its two co-heads, Michael Barker and Tom Bernard, for distributing the film in America.
Heading into the evening at the Kodak Theatre in Hollywood, "The King's Speech," the uplifting account of how England's King George VI overcame a debilitating stutter, threatened to dominate the proceedings, having amassed 12 nominations. Its closest competitors were the Western "True Grit" with 10 noms, followed by the brain-twisting thriller "Inception" and "The Social Network," an account of the behind-the-scenes battles that accompanied the founding of Facebook, with eight each.
Also jockeying for position in the race were the other best picture contenders: Pixar's animated hit "Toy Story 3"; the ballet drama "Black Swan"; the boxing tale "The Fighter"; "The Kids Are All Right," a warmhearted movie about a lesbian couple and their children; "127 Hours," a harrowing adventure tale; and the backwoods drama "Winter's Bone."
While "Social" appeared to be the early favorite, dominating the year-end critics awards and claiming the Golden Globe as the year's best drama, "Speech" then rallied and took home a steady string of guild awards, including top honors from the Directors Guild of America, the Producers Guild of America, and the Screen Actors Guild.
COMPLETE WINNERS LIST ON NEXT PAGE
83rd Academy Awards Winners List (in order of appearance):
Best Art Direction
Robert Stromberg, Karen O'Hara ("Alice in Wonderland")
Best Cinematography
Wally Pfister ("Inception")
Best Supporting Actress
Melissa Leo ("The Fighter")
Best Animated Short Film
Shaun Tan, Andrew Ruhemann ("The Lost Thing")
Best Animated Feature
Lee Unkrich ("Toy Story 3")
Best Adapted Screenplay
Aaron Sorkin ("The Social Network")
Best Original Screenplay
David Seidler ("The King's Speech")
Best Foreign Language Film
Denmark ("In A Better World")
Best Supporting Actor
Christian Bale ("The Fighter")
Best Original Score
Trent Reznor and Atticus Ross ("The Social Network")
Best Sound Mixing
Lora Hirschberg, Gary A. Rizzo, Ed Novick ("Inception")
Best Sound Editing
Richard King ("Inception")
Best Makeup
Rick Baker, Dave Elsey ("The Wolfman")
Best Costume Design
Colleen Atwood ("Alice in Wonderland")
Best Documentary Short Subject
Karen Goodman, Kirk Simon ("Strangers No More")
Best Live Action Short Film
Luke Matheny ("God of Love")
Best Documentary
Charles Ferguson, Audrey Marrs ("Inside Job")
Best Visual Effects
"Inception"
Best Film Editing
Angus Wall, Kirk Baxter ("The Social Network")
Best Original Song
Randy Newman ("Toy Story 3")
Best Director
Tom Hooper ("The King's Speech")
Best Actress
Natalie Portman ("Black Swan")
Best Actor
Colin Firth ("The King's Speech")
Best Picture
"The King's Speech"
Producers Iain Canning, Emile Sherman and Gareth Unwin
—The Hollywood Reporter