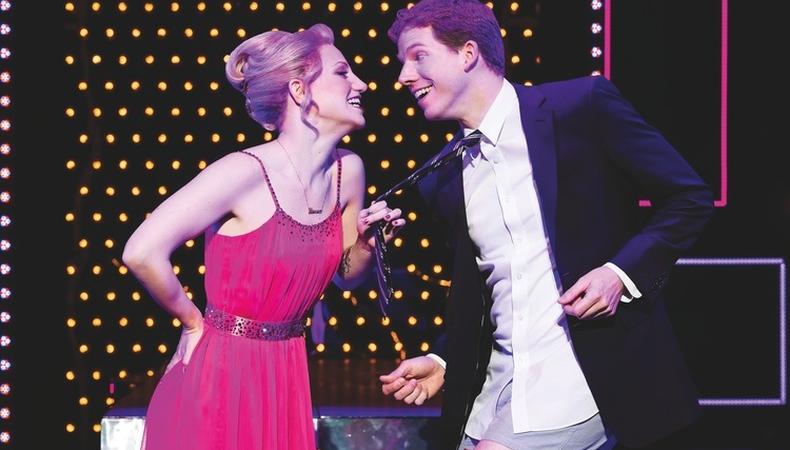 "Kinky Boots" might look like it has a cast of hard-working—though largely unknown—musical theater actors. There are no glitzy marquee names, but to casting directors Bernard Telsey and Justin Huff, the actors in this year's Tony-winning best musical have been the stars of their audition room for years.

"We knew all of them through seeing them, even if we didn't cast them in something else," says Huff.
One particular actor comes to mind: Annaleigh Ashford, who plays love-struck factory worker Lauren and was nominated for her first Tony Award for her performance.

"She's been in all of our movies, television shows, and musicals by nothing to do with us!" Telsey says with a laugh. "We joke about how we put her in a million shows. Now she finally got to create and shine, and for the rest of the world, they're asking, 'Who the hell is she, and where has she been?'—even if she's not new to us."

Ashford is the only principal who has been with the show since the first reading three years ago. "Once Cyndi got to know her voice, it was interesting to watch [the score] change and develop and be really written for her," Telsey adds.

However, the initial casting challenge was the two male leads. Based on the 2005 film, "Kinky Boots" tells the story of Charlie, who takes over his father's failing shoe factory when he meets drag queen Lola, who just might save Charlie's business and his life.

Though director-choreographer Jerry Mitchell always wanted Billy Porter for Lola, Porter was performing in "Angels in America" and unavailable for early readings. When he finally came in for the show's final workshop before the pre-Broadway Chicago tryout, it was a perfect fit—one that led to a Tony win for leading actor.

"He was all those variables that they kept talking about," Huff says. "They started building it around him."

And for Telsey and Huff, the only person who could play Porter's counterpart was Stark Sands. Even though Sands had been in "American Idiot" on Broadway, he was still new to the musical theater world. He was filming a TV show and unable to do the first readings, but thanks to a longtime collaboration with Mitchell, book writer Harvey Fierstein, and producers Daryl Roth and Hal Luftig, Telsey and Huff were able to convince the team to see Sands.

"He came in on that November day, and everyone was blown away," Telsey says. "They moved the reading to the end of February, and Stark was able to do it. And then he fell in love with it, so he committed to it, took himself out of the television market, and the rest was history."

In addition to top-notch leads, "Kinky" boasts a diverse ensemble portraying the factory workers.

"[It's] not a typical musical theater ensemble," Huff says. "[Mitchell] didn't care what they looked like or what their body shape was. He just wanted talented people who were believably working in a factory and who would service the material."

The six "Angels" who support Lola, however, needed to be a tight-knit group as well as distinct individual performers.

"They really do have different personalities, and that was fun because I think those guys will be the first to tell you they don't get to do that all the time," Telsey says. "They all get their dance moves or singing line or two. But here they really got to create, and that made the auditions much livelier."

For Huff, casting "Kinky" has been a career highlight.

"It was such an enjoyable process from beginning to end," he says. "It's icing on the cake that it got the awards and the accolades that it did."